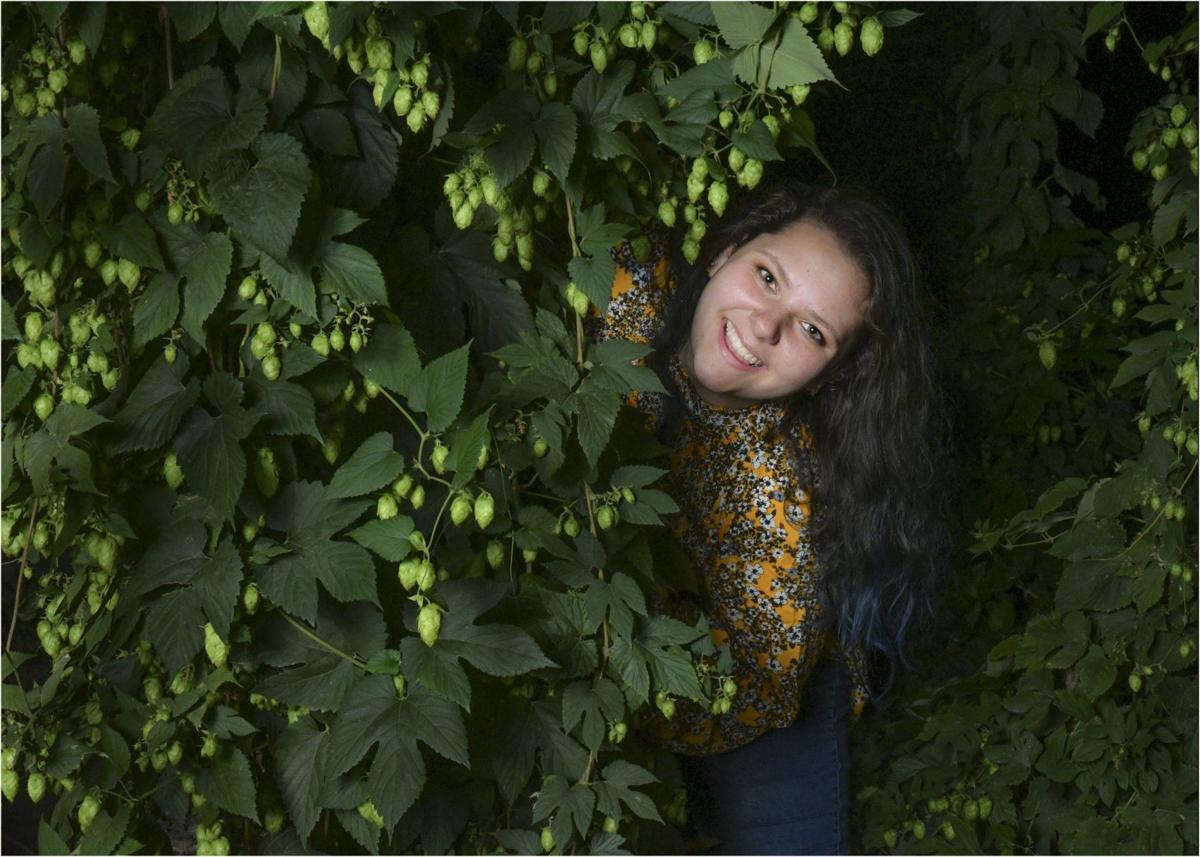 Editor's note: This is the fifth in our annual "Standout Grads" series. The series continues through most of next week.
Woodland High School senior Elisabeth Patnode hopes to teach in Africa after graduating from college — an ambitious journey for the once-shy graduate who's found a range of passions from horticulture to theater.
Her days have been packed with Girl Scouts, honor society, agricultural club and volunteering in addition to her classes, which have been diminished to several hours of schoolwork due to the coronavirus pandemic.
Elisabeth misses school and her friends, but she found a silver lining. She's had time to work in the family garden, quilt and take up baking.
"As weird as this sounds, it's been really good," she said. "I didn't realize how much stress I was under with the different clubs and stuff I was working with. Having time to step back and be able to focus on me, and being with my family ... I feel a lot better."
Her work ethic and leadership can be traced back to when she got involved in theater as an 8- or 9-year old.
"I was really, really shy. I wouldn't talk to anyone," Elisabeth said. "My director once said, 'I don't even understand why this girl is here, she isn't doing anything.'''
She began going to theater camp and met other kids with the same passion.
"You have to be really silly in theater," she said. "I like being around people who like having fun and being silly. ... Every year, they helped build my confidence."
Elisabeth was heavily involved in her high school drama club for her first two years, and she's spent hundreds of hours volunteering at Woodland's Love Street Playhouse.
She's also discovered another love through Future Farmers of America.
"I found a passion for agriculture that I didn't really know I had," Elisabeth said. "Way back, my family used to be farmers. That background's always been there."
Mary Ellen Vetter, a retired horticulture and floriculture teacher, convinced Elisabeth to join FFA her sophomore year.
"She did every well at it," Vetter said. "She excelled and had strong leadership. ... I could see, every time we traveled, her confidence got better and better."
The team won the state competition and competed in nationals. Elisabeth has been president of the club starting last year and is regional district officer.
"I have watched Elisabeth transform over the last two years from a very kind, thoughtful, fairly shy young woman to a leader," said Kendra Pearce, the school's current horticulture teacher.
Elisabeth finds working with plants an almost meditative experience.
"When I work in the greenhouse, it's like the best kind of relaxing, where you're just working with plants and you don't really have to think outside of the plant you're working with," Elisabeth said.
She picked up a love of teaching through the Girl Scouts, teaching hiking and camping skills and arts and crafts to elementary and middle school girls.
Elisabeth is one of two younger sisters of Albert Jacob "A.J." Patnode. A.J. made headlines in his early years due to the intense devotion his family showed him after his improbable survival of childhood birth defects. A.J., who wasn't expected to live beyond two weeks, turned 21 this year.
Elisabeth, the middle child, said she and her big brother listen to music together, and she steals his T-shirts from time to time.
"It's just like any other sibling relationship. When I was little, I would do fun stuff with him all the time. Now we play music together. ... Our house is constantly, 24/7, playing music and stuff. That's my bro."
The pandemic has led to the cancellation of most of her planned end-of-school activities, but Elisabeth doesn't dwell on what could have been.
"Yes I'm sad that I missed out on them, but ... the journey is kind of what matters most to me," she said. "I had so many opportunities to learn different things this year and meet new people because of FFA. … I've learned so much about myself as a leader (and) connecting with others."
Elisabeth, who has visited England and India, has wanted to tour Africa since childhood. After meeting a Malawi priest through her church, she now wants to teach in Africa after college.
It's a far cry for a once-shy teen who stepped into the limelight a decade ago.
"It was amazing to see the transition from a shy sophomore when I first met her into this really dynamic leader her senior year," said Kim Novack, Elisabeth's American Sign Language teacher. "She never quit. She always persevered."
Get local news delivered to your inbox!
Subscribe to our Daily Headlines newsletter.