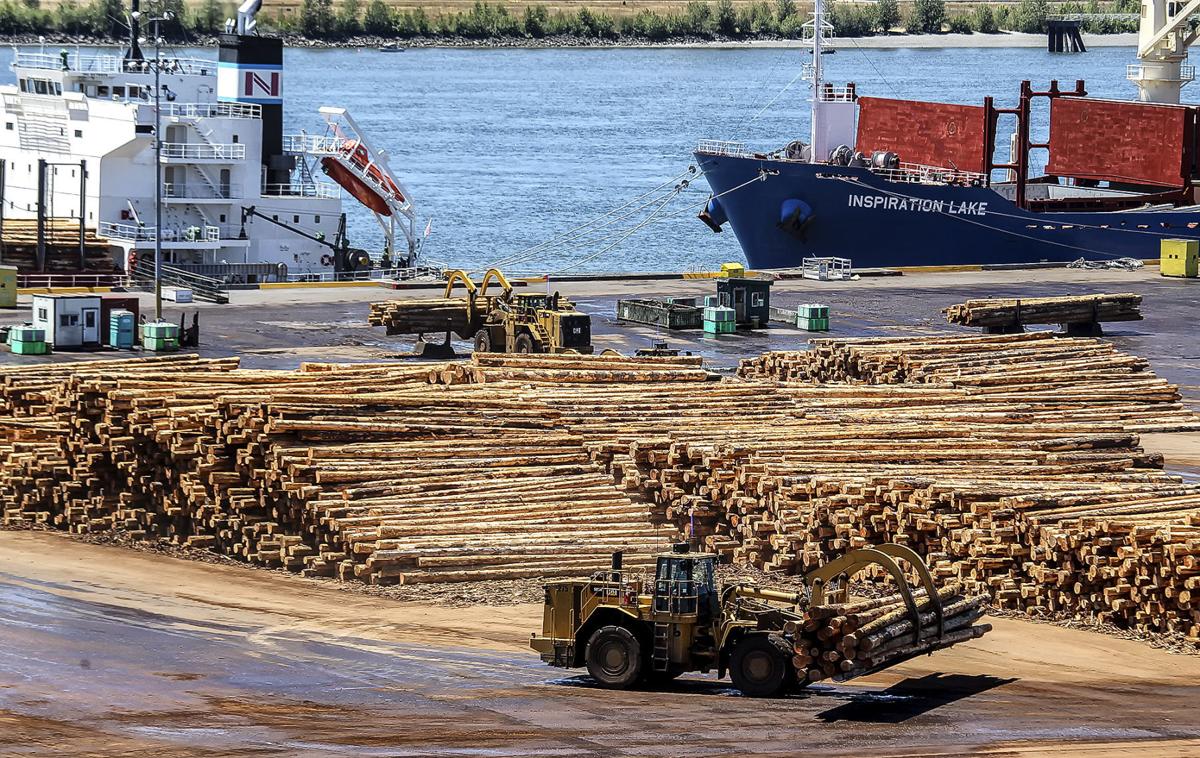 Weyerhaeuser Co. reported a second-straight spike in quarterly earnings growth Friday along with record-breaking wood product sales as the U.S. housing sector remained hot.
The report coincides with a stalemate in contract talks between the company and its western woodworkers, including about 400 employees based in Longview.
The company posted $332 million in second-quarter profits — a 57 percent increase compared to the same period last year. Net earnings were also up 20 percent from $275 million in the first quarter of this year.
Net sales in the second quarter were $2.1 billion, up $300 million from a year earlier.
And year-to-date monthly housing starts through June averaged approximately 1.3 million, up 8 percent from a year earlier, the company reported.
Wood products contributed $349 million to second-quarter sales, a record for Weyerhaeuser and a 40 percent increase compared to a year ago.
Weyerhaeuser also reported $126 million in log export revenue from its West Coast timberland operations, a $25 million increase from the same period a year earlier. The bulk of log exports — some of which passed through the company's log dock in Longview — went to Japan and China.
"Our second-quarter performance was the strongest in over a decade, and I'm incredibly proud of the effort our teams have put into achieving these results," President and CEO Doyle R. Simons told investors Friday on an earnings call.
The company said it expects third-quarter earnings to be slightly lower than the second quarter, but higher than those from the same period last year.
Despite the strong earnings report, data released this week suggests home construction could be cooling off. PulteGroup Inc., a national homebuilder, reported that orders declined 1 percent from a year earlier. The company blamed rising federal interest rates for the dip.
But Simons said Weyerhaeuser expects current lumber prices to hold steady through 2019.
"Prices will continue to be at favorable levels supported by lean inventories, strong U.S. housing demand and a lagging industry supply response," he said.
As a result of the federal tax law passed last December, Weyerhaeuser paid $30 million less in income taxes compared to the same quarter last year — a 46 percent decrease. The company used some of its profits for a $19 million increase in dividends to shareholders. The company has paid $485 million in cash dividends so far this year, according to its filing with the U.S. Securities and Exchange Commission. Using stock buyback authorization granted in 2016, Weyerhaeuser also spent $75 million on share repurchases in July.
Weyerhaeuser is also in the midst of stalled labor negotiations with about 1,200 union employees with the International Aerospace and Machinist/Woodworkers Local District W24, including the company's workers in the Longview-Kelso area.
"There had been some headlines regarding labor negotiations," Simons said Friday in response a question from an analyst. "We are negotiating with our labor union in the West. We are continuing to work with union leaders, and we look forward to reaching an agreement on that front."
After voting in favor of strike authority in late June, the Local District W24 overwhelmingly rejected the company's latest contract offer last week. But the two sides are still in contact, union sources told The Daily News on Monday.
One of the main points of contention is Weyerhaeuser's annual logging commitment levels, which dictate how many trees the company is willing to harvest using union logging crews.
Get local news delivered to your inbox!
Subscribe to our Daily Headlines newsletter.