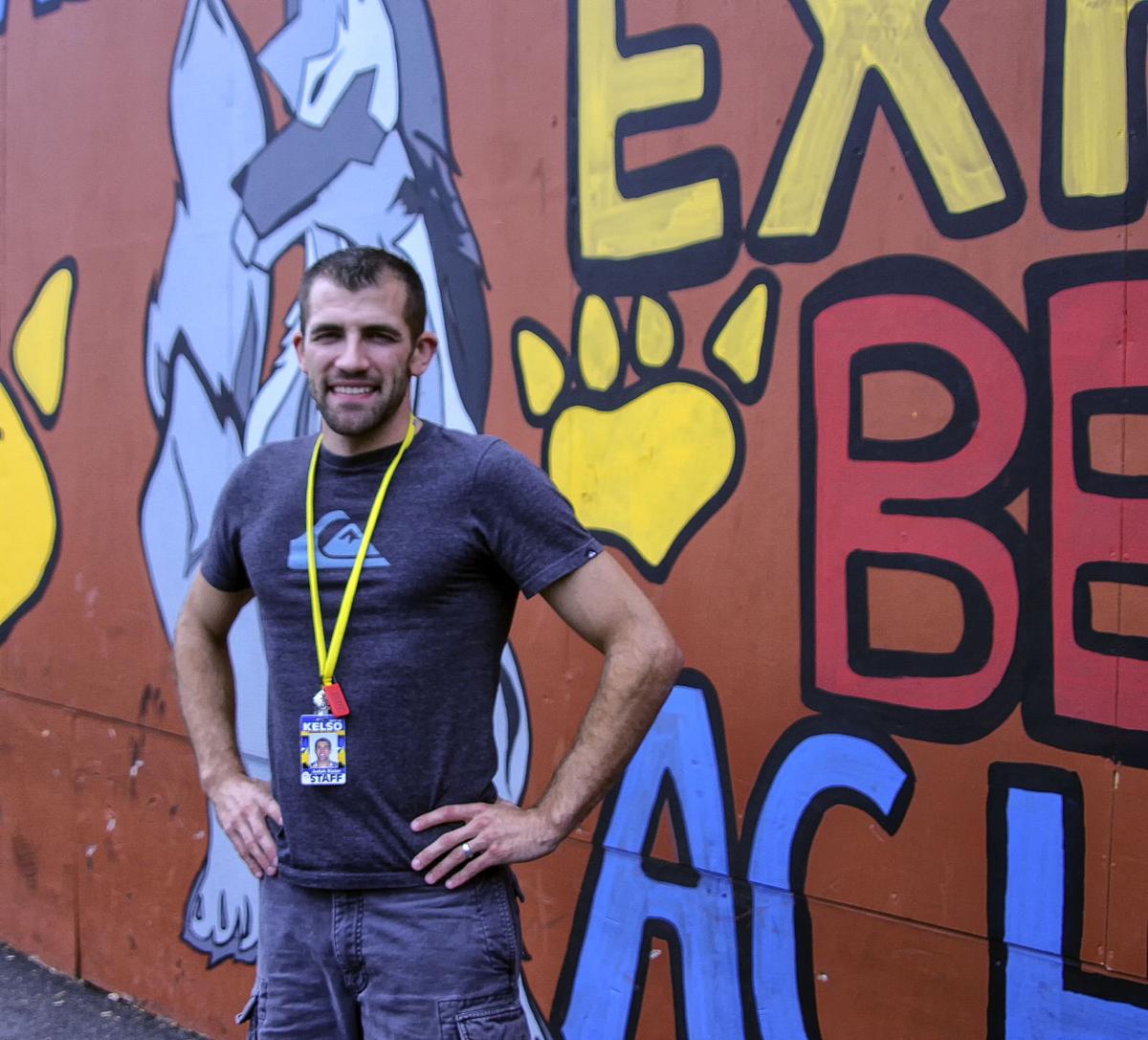 With Washington facing a historic teacher shortage crisis, there's a new kid on the block when it comes to certifying much-needed educators.
Created by the state Legislature in 2011, Western Governors University of Washington has become an increasingly popular alternative for prospective teachers looking to earn a teaching certificate on their own time and at a fraction of the regular cost.
With an average of about 2,700 students enrolled in the school's Teacher College during the 2016-17 academic year, WGU Washington had roughly double the number of students pursuing education degrees at the University of Washington.
It's no surprise then that the online, not-for-profit school's local footprint has steadily increased since its inception.
That footprint could grow even larger now that WGU Chancellor Rich Cummins and Lower Columbia College President Chris Bailey are engaged in discussions that could lead to a physical presence for the school in Longview.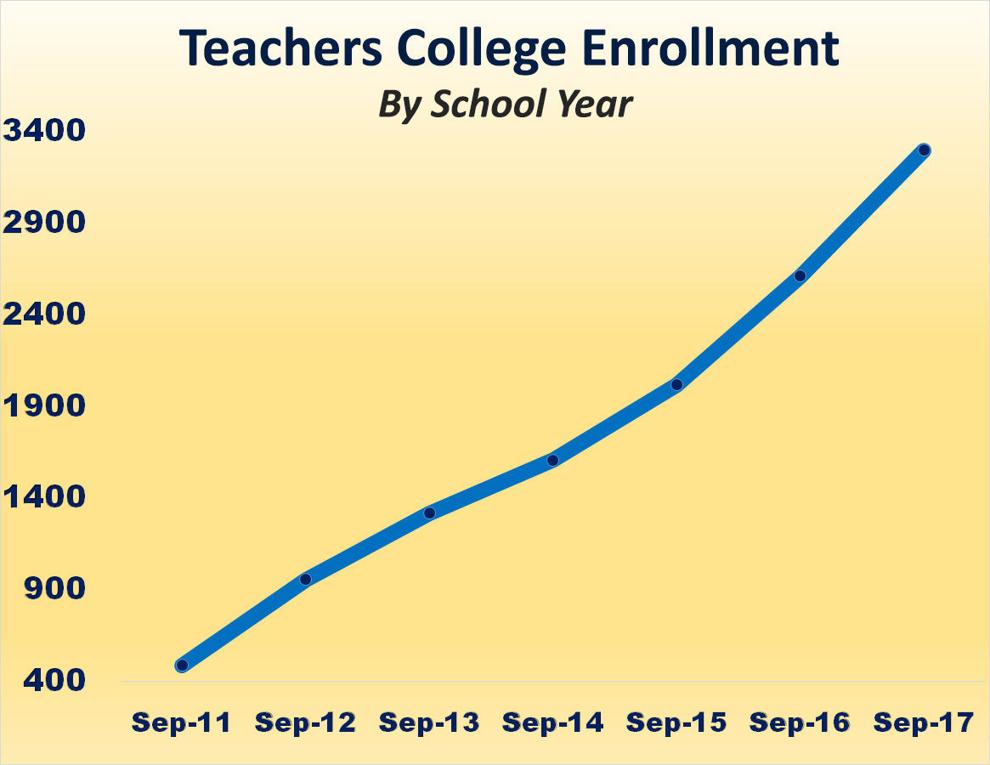 In April, Eastern Washington University informed LCC that it will vacate its office space in the Lower Columbia Regional University Center next year and wind down its business baccalaureate degree program by the end of next spring.
LCC's university center houses offices where students pursuing baccalaureate degrees can meet with advisors employed by partner universities. LCC currently has relationships with WSU Vancouver and City University of Seattle, and is looking for another school to take Eastern's place.
In a recent interview, Cummins said WGU is seriously considering making a play for the space. Bailey later confirmed in an email that negotiations are ongoing but noted there's no signed agreement yet.
With no obvious local alternative for Cowlitz residents interested in earning a teaching certificate, it's not hard to see why WGU Washington would want to gain a foothold in the Columbia Basin region.
"You like to go fishing where the fish are," Cummins said.
Cowlitz County has averaged about seven graduates each year since 2011, although it produced 15 to 17 graduates in two of the last three years. To date, the school has produced 46 graduates from within county lines.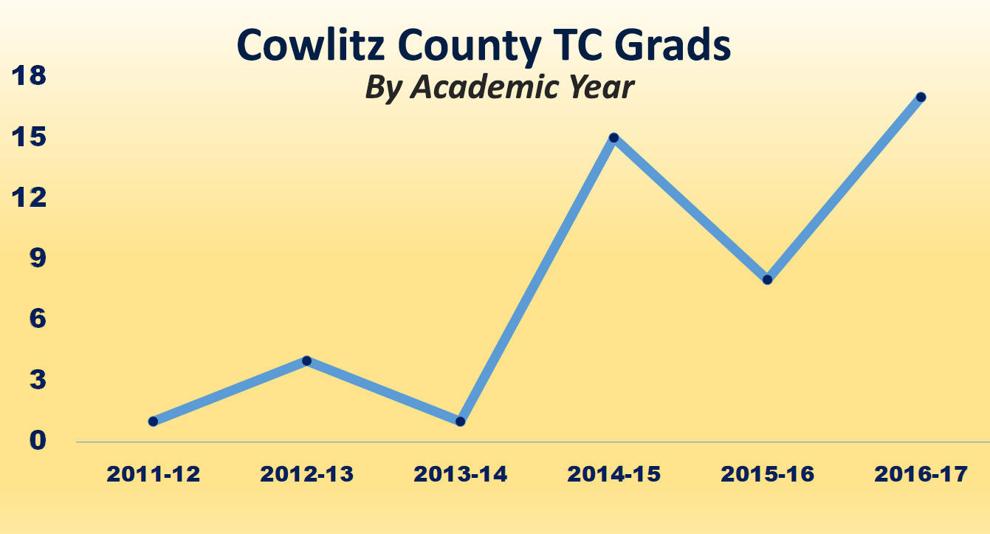 There are now 50 WGU Teacher College graduates living in Cowlitz, with 28 reporting that they are employed locally in their degree field (11 have yet to report their employment status).
A new model
For prospective students, two main differences stand out when comparing WGU Washington's Teacher College to more traditional teacher training programs in a university setting.
The first is cost. WGU charges a flat rate of roughly $3,000 per term every six months, or about $6,000 per year. That's almost $20,000 less per year than the estimated cost of a full year of tuition, room and board at the University of Washington's nationally-ranked college of education.
The price can be even lower for school employees in all nine of the state's educational service districts, who are eligible for a 5-percent discount on tuition for up to four terms. In August 2016, WGU Washington signed a deal with Educational Services District 112, which includes Cowlitz County. The school also offers fee waivers and scholarships of up to $2,000 to school employees.
Students can also take advantage of the flexibility that comes with WGU Washington's online course structure.
Teacher College graduate Brennan Bailey said in an interview that his favorite aspect of the program was that it allowed him to move at his own pace and progress quickly.
At WGU, students only take one course at a time. When they feel that they've learned the material, they take a pretest followed by a final test. Then they move on to the next course.
There's no limit on how quickly students can pass a course, a perk that has allowed some students to fly through their studies.
The unique course structure allowed Bailey — who's now pursuing a master's degree in education policy at Harvard University as well as running for the state Legislature — to finish the program in a year.
"It would have taken me four years at a brick-and-mortar school," the 27-year-old noted.
The added flexibility also allowed Judah Rister, 31, of Castle Rock to earn a dual teaching endorsement while working a full-time job and raising a family.
Rister graduated from Castle Rock High School in 2005 and worked in the auto repair industry for nearly a decade. After his wife gave birth to their daughter, he decided to change careers so he could spend more time with his family.
Rister enrolled in the WGU program in December 2014 and graduated in January of this year with a certification in special education.
With 47 out of 50 states reporting a shortage in special education teachers, it's not likely he'll ever have to look hard for a job again.
Rister said it would have been hard to make the transition from collision repair mechanic to special education teacher without a program like WGU Washington.
"Even night classes would be incredibly tough with a family and a full-time job," he said.
Rister now works at Wallace Elementary as a teacher in a special program for students in the Kelso School District with emotional and behavioral disorders.
But he's also still attending WGU Washington — this time as a graduate student.
"I loved it so much I signed up again right away after I graduated," he said in an interview.
Now he's pursuing a master's degree in learning and technology, another area where the state sorely lacks qualified teachers.
Drawbacks
With an average age of 37, it's fair to say WGU Washington isn't for everyone.
Since it was created, the school has marketed itself to self-paced adult learners, many of whom already have professional experience in a different field.
As with all online degree programs, there are trade-offs that come with affordability. For WGU students, it's not possible to drop by during a professor's office hours or form a study group that regularly meets in the student lounge.
"You do miss out on some interaction and face-to-face discussion," Bailey said.
Courses don't have traditional professors; instead, the school employs course mentors who serve as guides. WGU Washington also pairs enrollees with student mentors for regular check-ins via video calls.
It's also difficult to gauge whether the quality of online instruction and coursework is on par with the level of instruction at traditional four-year universities.
Longview School District Superintendent Dan Zorn said that the degree of academic rigour students in a teacher training program are exposed to is important.
"There's a real, essential philosophical base that teachers need to develop in terms of understanding how kids learn and what quality instructional practice is," he said in an interview.
But Zorn also recognizes that new teachers are far from a finished product when they first step into their own classroom.
"We hire all kinds of people that have been trained in online programs and we hire all kinds of people coming out of traditional teacher preparation programs," he said. "It's not like we have an elementary teacher opening and we've got 200 applicants that we're sorting through," he added.
What's most essential, Zorn said, is that students complete a rigorous student teaching program that places them in classrooms working with real teachers.
To that end, WGU Washington is no different than other traditional universities.
In order to graduate, WGU enrollees are required to apply for six-month placements as student teachers where professional teachers serve as their mentors. Students are then observed teaching lessons at least six times in the classroom by an official from WGU Washington and need to submit a final assessment to OSPI.
It's difficult to make an apples-to-apples comparison between graduation rates at WGU Washington and other traditional four-year programs.
Students in Washington State University's elementary certification program boast a graduation rate between 96 and 98 percent. However, students in that program also represent a smaller percentage of enrollees who did well enough to qualify for their major.
WGU Washington's graduation rate over six years is 49 percent. But is it fair to compare full-time students, who are generally younger, to older students who can't devote nearly as much time to studying?
"For most of the traditional programs, if you have a non-traditional student they stand out because they're an exception," said Brandon Chapman, director of marketing and communication for the College of Education at WSU. With students at four-year institutions, "they move to a campus and it's all they do," he said. "They move for the experience, they're 100 percent in it and there's a lot less of any kind of issue with graduation or retention."
Filling the gap
While data suggests that the number of qualified teachers in Washington is dwindling, WGU Washington's enrollment has increased every year since 2011. The not-for-profit school's combination of affordability and flexibility have helped produce thousands of qualified teachers so far — helping to meet one of the state's most acute needs.
The Legislature recently passed a law to make it easier for paraeducators to become certified teachers; local districts are considering other ways to address the teacher shortage. At a recent meeting, the Kelso School Board voted to make it easier for schools to hire substitute teachers for longer periods of time.