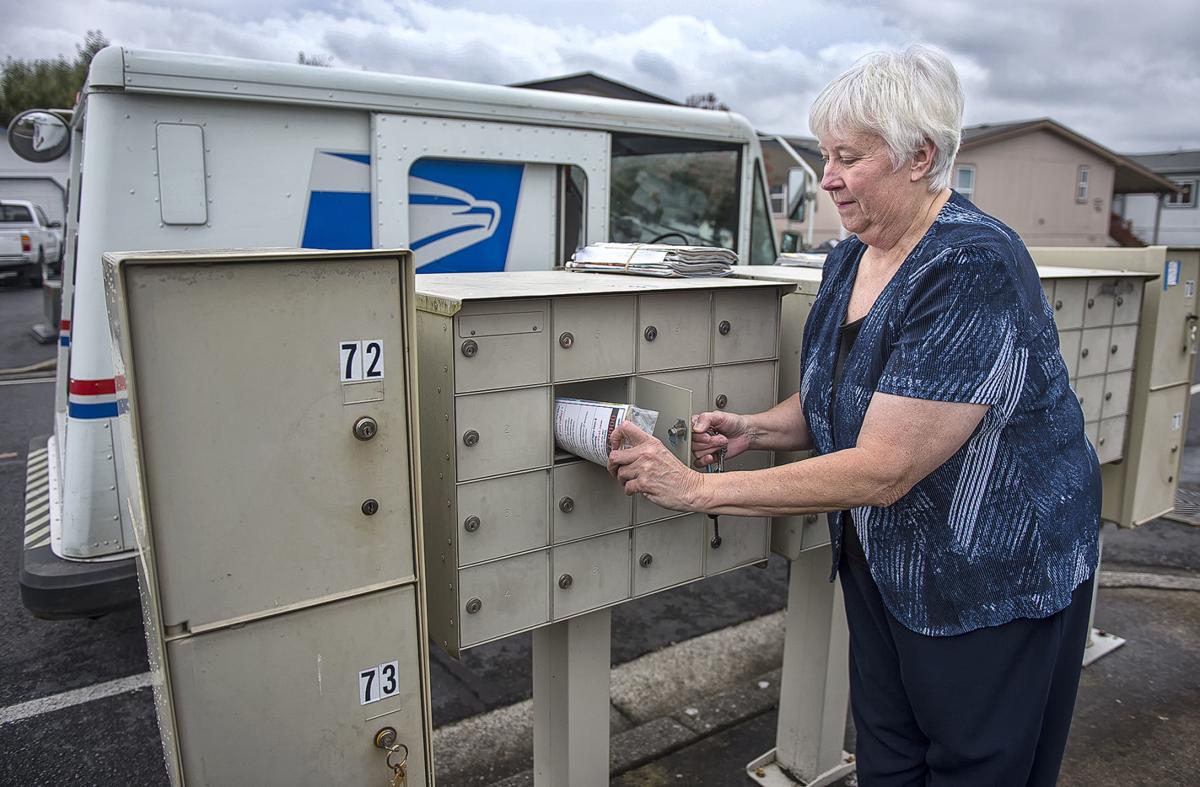 In the 50 years Laurie Sagan lived in California, she knew of only two instances when her mail got lost. But in the past year, problems with late, lost and mixed-up mail have become a regular occurrence for Sagan and many of her 230 neighbors at the Heron Pointe manufactured home park in West Longview.
Some mail gets delivered to neighbors or returned to the sender. Important mail such as bills and financial statements have just vanished, the 59-year-old said.
"So many people are having problems. We're going to the mailboxes and shuffling through it like cards," she said. "Everyone has gotten used to the fact that they will get the wrong mail."
Sagan said she's been subject to late fees for failing to pay bills on time because they arrived late or not at all. The City of Longview's Utility Department has told her many Heron Pointe people have called to alert the office that they have not received bills.
Sagan's sister Janet Sagan has lived in Heron Pointe for three years. She said problems with mail delivery began about a year ago and have worsened over the past six months.
"We're just not getting them, so we're saying, who is getting our mail?"
Residents attempts to work with the postal service to get an explanation and solution have not worked, and the USPS did not respond to multiple TDN requests for comment.
Janet Sagan, 66, said over the past few months she's gotten at least one piece of her neighbor's mail every day — on the days she actually gets mail. Sometimes, Sagan doesn't get mail for a couple days, then a large stack shows up.
Heron Pointe includes six mailbox sites that include a small lockbox for each residence and a fewer larger boxes for packages. The sisters have observed a variety of postal carriers delivering mail at the park at inconsistent times of day.
Janet Sagan said some outgoing mail sent from one of the park's outgoing letterboxes is not making it to recipients. The mail can get stuck in the bottom of the box, and postal workers don't always have time to get it all out, she said.
Sagan said the problems have increased despite efforts park manager's Candice Scot efforts to work with the postal service. Sagan said Scott, along with other park residents, have spoken to postal carriers, the postmaster and written letters to state and federal postal staff. Scott declined to comment for this story.
Laurie Sagan said she has filed online complaints with USPS about her missing mail with no results. She has also tried using the informed delivery service, which allows users to preview images of incoming mail and packages and get notifications when it is delivered. Sagan said she's gotten two photos of mail; one ended up being delivered and one did not.
The Sagans said they are unsure of where the issue is stemming from: the Longview Post Office, the carriers or the distribution center in Portland.
"Whoever is in charge needs to do their job and figure it out," Laurie Sagan said.
Sagan said she talked to the Longview Postmaster Lisa Davis about the issues in March and in May and was told the post office was understaffed. Davis also told her she had only been on the job for two months, she said. But according to the postal service's "postmaster finder," Davis was appointed as Longview postmaster in 2012.
Sagan said she could not reach Davis by phone or email at the end of September. When she visited the post office, a postal worker told her Davis had left. It's not clear if or when she will be replaced, Sagan said.
Sagan said she is worried about her information in the lost mail falling into the wrong hands, even though so far no evidence of fraud or identity theft stemming has arisen from the lost mail.
"Whoever has my mail has a personal profile of me," she said.
The Sagans also are concerned about residents who receive prescription medication through the mail. They said some of their neighbors have received each others' medications, or not delivered at all.
Janet Sagan said she feels bad for older residents or those who don't realize they are missing a bill or know why they are getting a late fee.
"When you think of mail, that's an important part of your life."
Get local news delivered to your inbox!
Subscribe to our Daily Headlines newsletter.