Several hundred people recognized American Independence at Lake Sacajawea on Saturday, celebrating and protesting at the unsanctioned "We the People" event that attracted fewer people than organizers had once hoped.
The event featured kids games, political speeches, music, some food sales and other activities under sunny skies. It took place amid a rise in coronavirus infections here and across the nation.
The dispersed gathering at Martin Dock and the Hemlock Plaza never numbered more than 350 people at a time. However, it was difficult to estimate total attendance considering the coming and goings of those who attended the event, which was part festival and part political demonstration.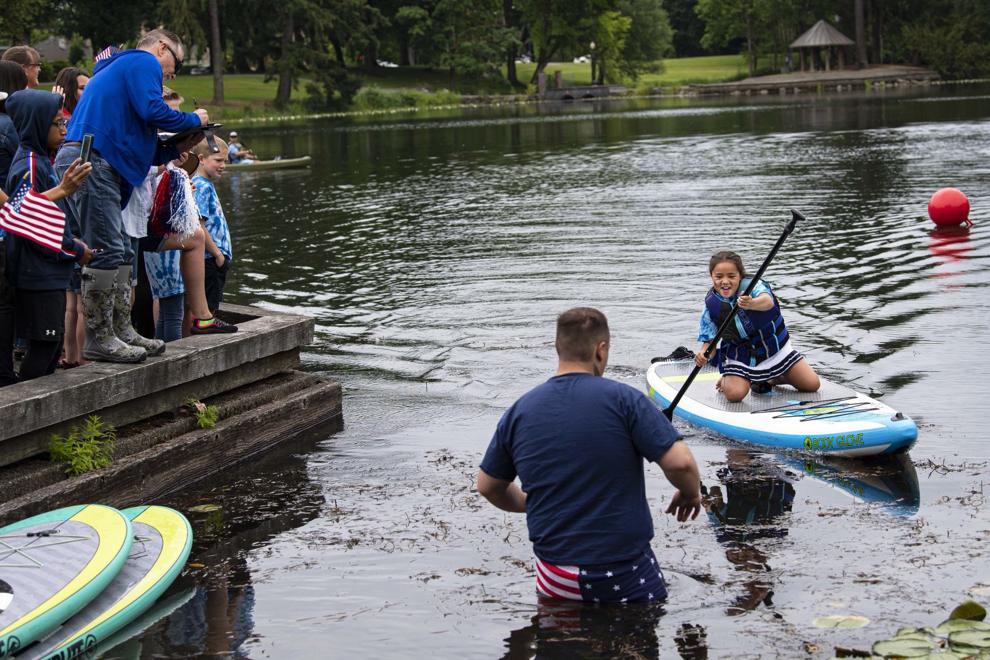 Parking spots along Kessler Boulevard next to the venue were full for several blocks, but adjoining streets in the Longview's Old West side had nothing but normal neighborhood parking, unlike the throngs that typically jam the area for the annual Go 4th Festival.
Organizer Larry Wood said early Saturday afternoon he was happy with the event so far, despite the fact that turnout was a fraction of the thousands he had hoped for.
"It's off to a great start," he said. "I almost threw in the towel because it was going to be a big, amazing thing but got smashed down. … But we realized we can't quit. That would do more harm than good."
As he addressed the crowd around 5 p.m., he encouraged them to get closer to the speakers.
"It's been a hard last month and a half fighting for this, but it means so much that you came," he said.
The event took a blow late in the week when the headline entertainer, country music star Lee Greenwood, canceled his appearance. The City of Longview blocked Wood and other organizers from setting up a sound stage, threatening to confiscate it and any vehicles brought on to park property. In addition, city and health officials feared the outdoor event will help spread the novel coronavirus and urged Wood to reconsider.
Wood started organizing the event after the Go 4th Committee canceled this year's three-day festival due to COVID health concerns. Wood previously said he hoped the event would bring in up to 10,000 people, but he acknowledged last week that attendance would be lower due to Greenwood's absence and city restrictions.
Longview resident Kelli Millard praised the event and said everyone has been respectful of others' space. "I think it's important to celebrate our country," she said.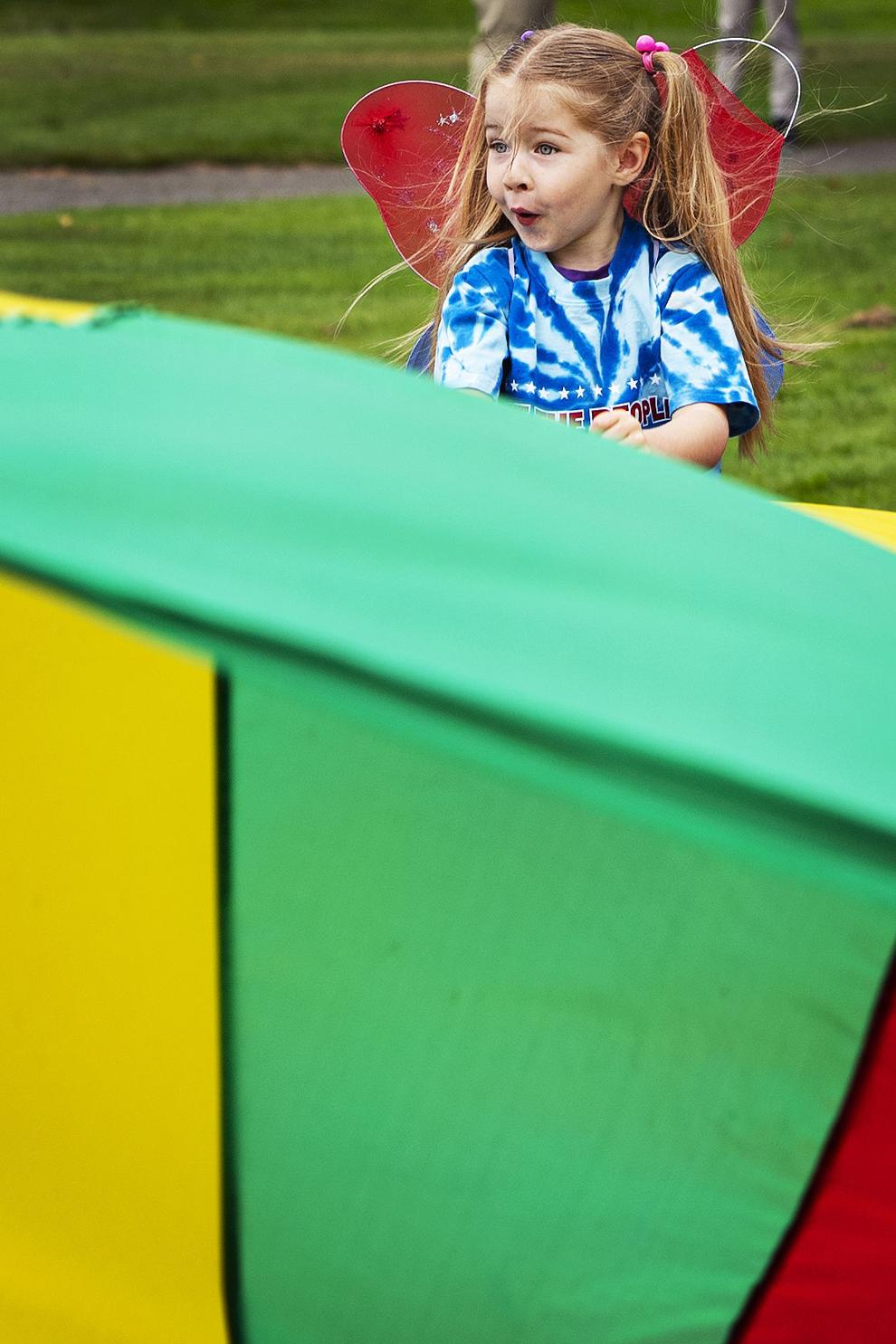 Wood said he believed many of the attendees were from the Longview area, partially because the lack of bathrooms makes it difficult for people to stay for long. Although many people were frustrated about the bathrooms, the crowd was a positive, like-minded group, he said.
The company slated to provide portable toilets for the event backed out earlier in the week because of concerns over losing their business license, Wood said.
Wood said he had a "frustrating" discussion with a county health department employee who stopped by Saturday morning and said that vendors are supposed to have bathrooms to operate.
A handful of vendors selling popcorn and corn dogs operated under tents, and a sandwich board outside one stand urged people to make donations "to support our freedoms."
Three food trucks were parked along Kessler Boulevard, where several loud, gurgling pickups sporting Trump banners revved engines and blew smoke while making laps around the park.
Josue Hernandez, who parked his Tacos y Tortas food truck along Kessler Boulevard, drove down from Chehalis to participate.
He said the health department came by in the morning and told him if he didn't leave he would be would fined and have his business license revoked.
"I was ready to go home," he said, but he asked God what to do and decided to stay.
The day had been busy, he said, and there had been no other sign of the health department or police.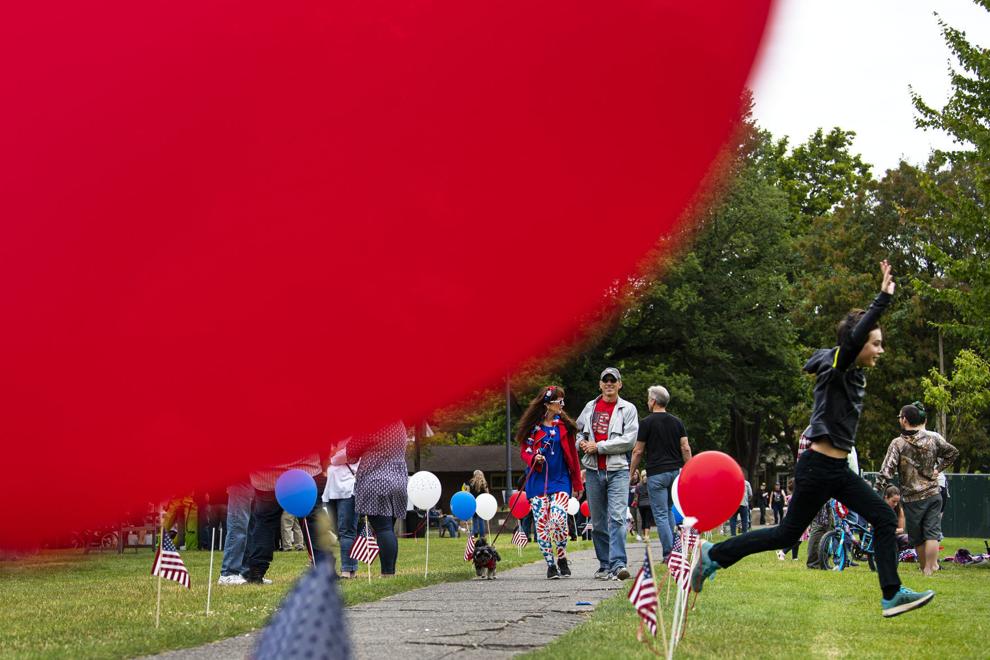 Greg Williams parked his family's food truck, Jaw's No Forks About It, at the lake as well. He said he had not spoken directly with the health department and drove up from Vancouver.
"We're 100% Washingtonian, through and through, and we support what they're doing here," he said.
He did not comment on if he had a permit to sell food in the city, but said it had been a phenomenal day.
"These people totally support us just as we support them," he said of the crowd. "This is what America is about right here."
Joshua Freed, a Republican candidate for governor, was among a speaker lineup that also included state Rep. Jim Walsh, R-Aberdeen. Joel McEntire, a Cathlamet Republican running for 19th District representative, and County Commissioner Arne Mortensen also attended.
Freed addressed the crowd in the late afternoon, arguing for less government and solutions for drug use, homelessness and unemployment scams.
"We are enjoying the freedom we are granted by God," he told the attendees. "This country was founded by these fathers who gave their lives to make sure we have the freedom that we're able to enjoy today. We're celebrating that freedom."
Walsh has been an impassioned critic of Gov. Jay Inslee's coronavirus social distancing restrictions, and his presence at Saturday's event underscored the political nature of the event.
Walsh encouraged listeners to remember that government exists to protect and maintain individual rights.
"Remember all political power is inherent in you," he said. "Do the right thing with it."
The mood throughout the event was buoyant and there were many smiles, which were visible because few people were wearing facemasks. However, people did set their chairs away from each other.
Caution tape that had sealed off the playground the day before had been taken down and kids were frolicking on the swings and slides and playing organized games nearby, including a bean bag race.
Longview resident Jennifer Solverson brought her children to play at the park and to see what was happening. She said she was not concerned about COVID-19, saying few people were taking precautions.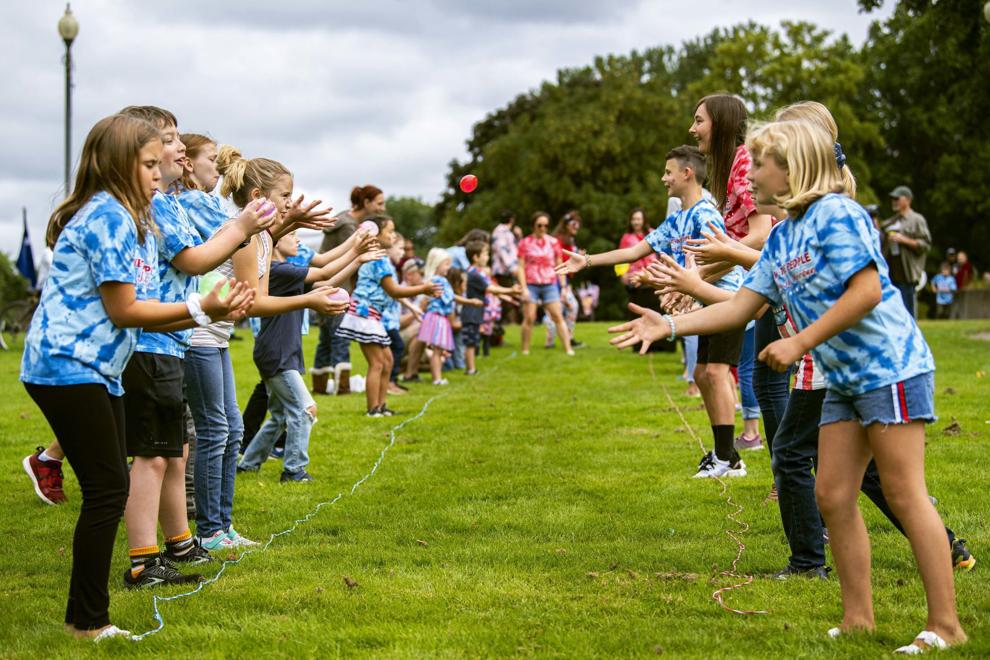 And local resident Emily Clemetson had her mask wrapped around her arm as she stood in line for Jaw's food truck.
She has health risks but "refuses to live my life in fear."
"We need to take our lives back," she said.
While she's concerned about the virus, she said she was "more afraid of what's happening" to individual freedoms.
The event continues Sunday with a prayer walk at 9:15 a.m. and a worship service at 10 a.m. at Martin Dock.