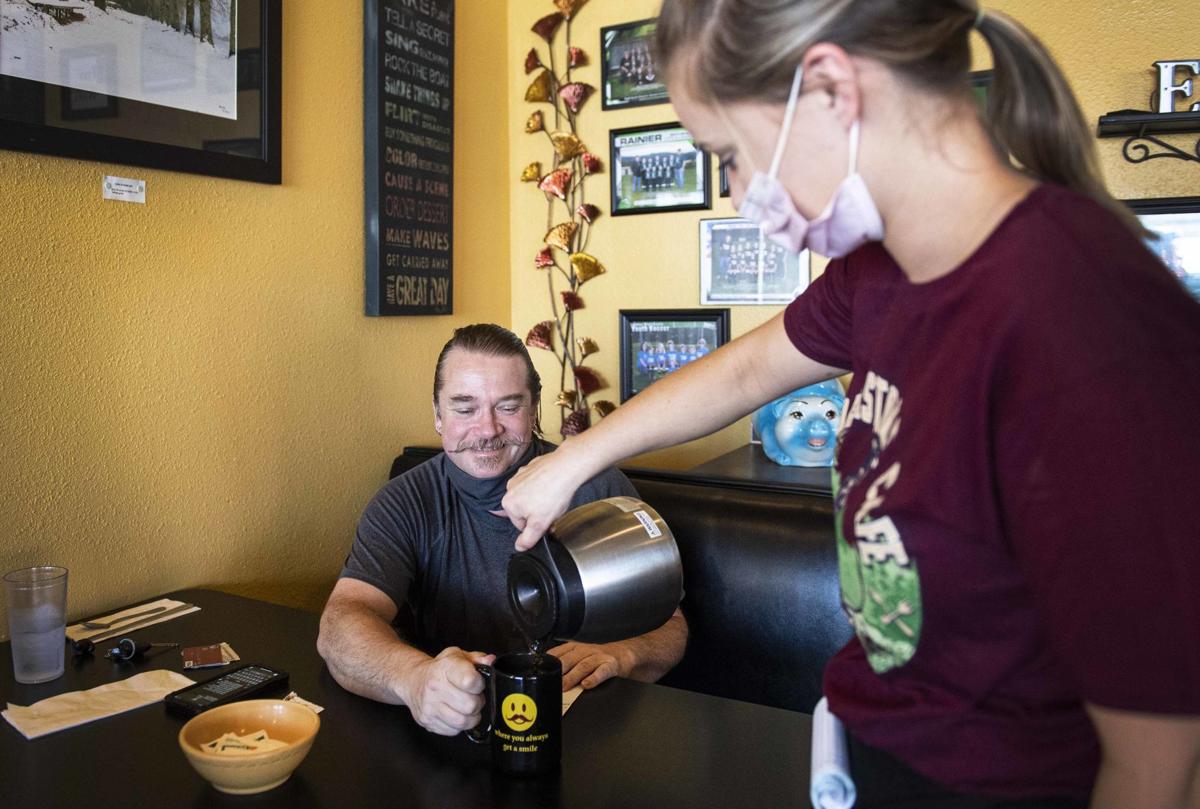 RAINIER — After 198 days with a 'closed' sign on the door, the Cornerstone Café is once again humming with the clatter of plates and happy greetings between longtime customers and waitresses.
"I've been chomping at the bit to get back," said Michael Roberts, who has been eating at Cornerstone regularly since 2014. "I call this my second living room."
He ordered his favorite meal—pecan waffles with bacon, scrambled eggs and "all the coffee I can drink"— to celebrate a return to some normalcy.
"It's been 2020 for a decade," he said.
Owners Viki and Mark Overbay said it was beyond exciting to see that "we made it." They made the decision to close in early March, after the state said restaurants could only do take-out.
"Well, we don't have a to-go window," Viki said. "We've never done to-go before, we don't do delivery here. We're not a pizza place."
She said third-party delivery services like Grubhub don't operate in Rainier, but "if we were a little bit bigger of a city we would have tried (to stay open)."
On top of COVID-19, construction work on A Street meant that the café didn't even have a curb for curbside pickup for months. And the couple also didn't want to choose which of their 17 employees to bring back part-time.
"We have 17 employees and if we just did to-go we would only need like four of them. What would the others do? How would we pick who works and who doesn't?" Viki said.
Mark Overbay said with the CARES Act unemployment benefit, it also felt unfair that the four employees they might have chosen to bring back would make less than those on unemployment.
"We felt it would create animosity so we decided to the let CARES Act carry out so everyone got all of the benefits," he said.
Customers flowed in all day, helping ease the Overbay's fears that people would be too afraid to eat indoors and fears about paying the bills.
"Thank goodness for the Paycheck Protection Program," Viki said. "We would not have been able to reopen without it."
The long-term closure had some silver linings, however. Mark said by now, people are already familiar with the new rules that govern daily life. While they first wanted to reopen in July, he said they quickly learned the supply chains were "decimated."
Viki said in initial conversations with suppliers, they learned they would have trouble getting staples like bacon, which would have made their popular breakfasts impossible.
"We were having conversations with our suppliers that went, 'I can't get you this, we don't have this,'" she said.
But by opening later, the cafe is all stocked up, she said. The only thing in short supply is lettuce, due to the wildfires in California.
It's not quite the same inside, both because the couple deep-cleaned, repainted and renovated over the closure, and because of COVID-19 protocols.
Gone is the Seat Yourself sign; now there's a hostess. Only nine of the 15 tables are open, and there are plastic barriers in between booths. Signs about social distancing and hand-washing pepper the walls, the bar counter is closed and even the menu is different.
Viki said instead of a five-page booklet, now the menus are one large, laminated sheet that the wait staff can easily wipe down between customers. And everything from ketchup to creamer is single use.
"It's a bummer for the environment, but it helps us be safer," she said.
She said she tried to have wait staff serve individual paper cups of ketchup to customers to avoid plastic, but it ended up adding too much work for them.
"It seemed perfect to us, but the girls were running around like crazy," she said. "So they asked to switch to plastic cups with lids so they could make 10 at a time and keep them in the fridge."
Implementing the changes took "a lot of training and creativity," she said, but it helped that the East Coast restaurants opened first and tested it all.
One thing that's familiar are the faces, Viki said. They kept their hours the same because after 12 years in Rainier, everyone has a favorite time to come, she said.
Regular Roberts said while the changes were interesting, he understood them and was just happy to see things opening back up.
"I understand that everyone needs to feel safe," he said. "The community is ready to get back to some kind of normalcy."
While the official reopening was Thursday, they held a soft opening Wednesday for a select group of longtime supporters. Viki said the staff used it as a training day, to test new protocols and get back in the groove of things.
"It was wonderful to see how happy they were," she said. "I'm so excited to see this."
"We're happy to come back," Mark added.