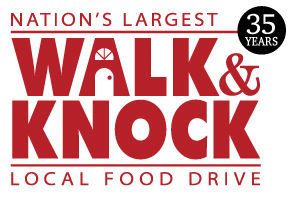 Hundreds of volunteers will be hitting the streets Saturday to collect donations for Walk and Knock, the largest food drive annually in Cowlitz County.
The food is collected at Lower Columbia CAP's Help Warehouse and distributed to the local food banks, said Ilona Kerby, CAP executive director.
Last year, the drive collected nearly 38,300 pounds of food. This year's goal is 40,000 pounds, Kerby said.
The Daily News will distribute donation bags to readers on Thursday, but it is not necessary to use an official bag. Any bag will do.
Bags of donations can be placed on front doorsteps by 9 a.m. Saturday. Volunteers will collect food between 10 a.m. to 4 p.m.
You have free articles remaining.
Preferred items include dry and canned goods, nonperishable food, infant formula and toiletries such as toothpaste, toilet paper and diapers.
CAP can't accept home-canned goods, fresh produce, fresh meat, bulk foods in plastic bags or open food items.
Kerby said hundreds of volunteers are involved, including Boy Scouts, church groups, service club members, Lower Columbia Amateur Radio Association, Altrusa, Interstate Wood Products, Signature Transport as Help Warehouse's volunteers and staff.
Anyone who would like to volunteer can show up at 9:30 a.m. Saturday at CAP's building at 1526 Commerce Ave. in Longview to check in and be assigned a route.
People in outlying communities can drop off food at their local food banks: Castle Rock Lion's Club, Kalama Helping Hands Food Bank, and the Woodland Community Service Center.
Drop off sites in Longview and Kelso areas are:
Riverside Park, first parking lot on the left as you enter the park, Lexington Fire Station
Rose Valley Grade School, lower parking level
JC Penney at the Three Rivers Mall in Kelso
Lowe's on Ocean Beach Highway in Longview
Walmart on Ocean Beach Highway in Longview
Help Warehouse at CAP, 1526 Commerce Ave., in back parking lot.