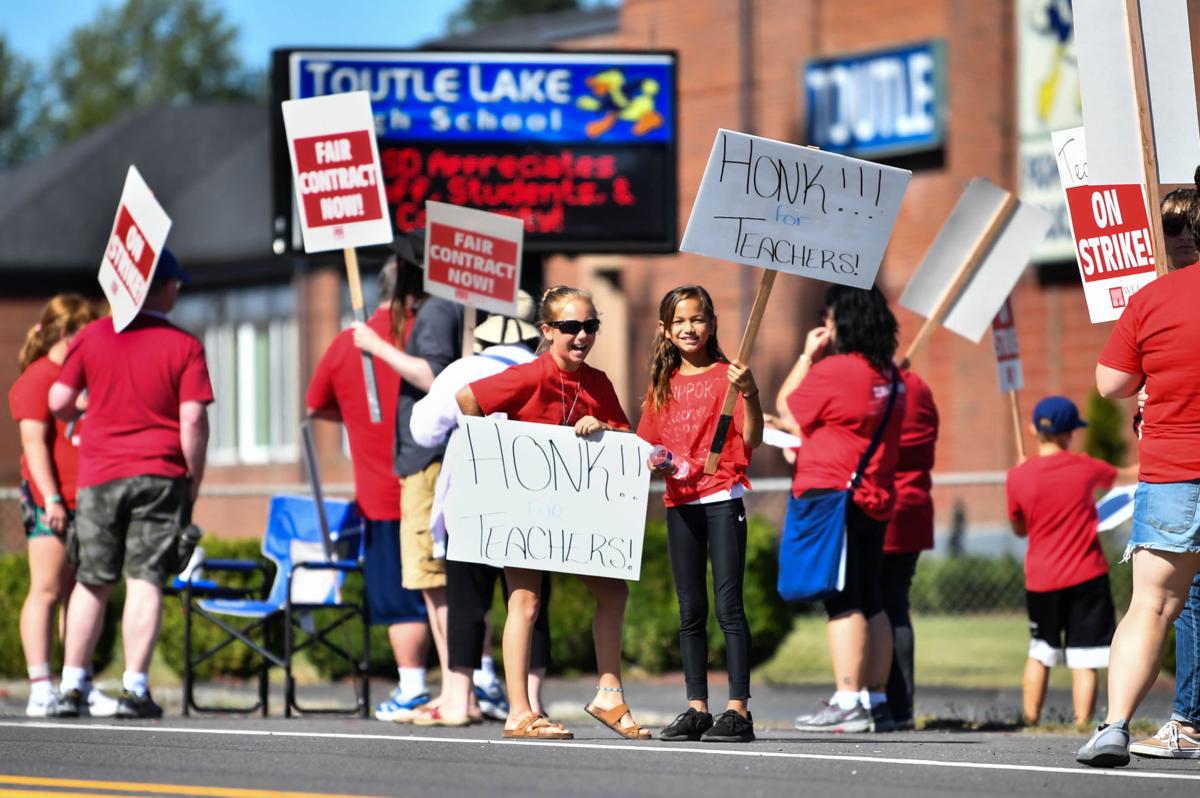 Labor Day this year finds the Cowlitz County workforce on the verge of a number of strikes, with hundreds of union-represented employees poised to walk out if their contract negotiations fail to reach a settlement soon.
In the words of one of TDN's Facebook commenters, "Striking must be in the air."
If unions at Fred Meyer, Safeway, Kaiser Permanente and Nippon Dynawave each decide to call for a walkout, it could result in almost 815 employees walking out. That would be among the largest walkouts the county has seen in years if they overlap.
Union officials say their assertive actions are triggered by deepening income inequality that is pushing middle-class laborers to boost stagnant wages.
But business owners caution unions from pushing too hard for raises, noting that an improving economy doesn't always mean there's more money available for workers.
"Strike activity tends to pick up when the economy is doing better, and it tends to diminish when the economy is not doing so well, said Maxford Nelsen, director of labor policy for the Freedom Foundation, an Olympia-based free-market think tank.
That's because there's a perception that a good economy means there is more money, so unions are "more confident in their ability to win concessions for their members," Nelsen said.
"We're seeing more of this militant labor action than we've seen in a while because the economic picture is looking better than it has in some time," he added.
Unemployment has decreased steadily since 2009, reaching historic lows this year. According to the Department of Labor, the national unemployment rate in July was 3.7%. That's compared to 3.9% and 4.3% in the same month of 2018 and 2017, respectively. The Cowlitz County unemployment rate in 2019 has hovered around 6.5%.
Also since 2009 the average income has grown for workers at every level. According to the Pew Research Center, the average hourly wage grew from about $17 an hour in 2009 to about $23 an hour in 2018. However, the average wage earner's buying power has not increased, the center found.
"I think what's different today than in years past is that we've had a period of sustained economic growth, but the gains have consistently gone to people at the top," said David Groves, spokesman for the Washington State Labor Council. "Even though we are told that the economy is doing great and unemployment is low, most everyday working people are still struggling to meet their basic needs: housing, family (and) healthcare."
The nonpartisan Center for Budget and Policy Priorities shows that income for most middle-class workers has grown by 47% since 1979, while income for the top 1% of earners grew by 226% in the same time period.
The center also notes that in the early post-war decades (the late 1940s through the 1970s), income grew at relatively the same rate for all earners. The organization calls that 30-year period an "era of shared prosperity."
But shortly after 1973, the gap between high earners and the middle class grew exponentially. The average income for the top 1% of earners almost quadrupled, while the middle and bottom portions of the spectrum showed significantly smaller growth.
Representatives with the Service Employees International Union Local 49 highlighted that disparity in their argument for raises from Kaiser Permanente.
"Kaiser has had the most profitable year in the company's history … and they've given their CEO a raise from $9 million to $16 million over the last couple of years," said Meg Niemi, president of SEIU 49. "Kaiser is absolutely making money off of the patients … so there is no reason our members should not be getting good raises and also have no cuts to their benefits."
Tara McElligott, president of the Cowlitz-Wahkiakum Central Labor Council, said that "trickle-down economics, clearly, are not working."
"Wages have been stagnant, (but) production is up. Meanwhile the guys at the top are making record profits with huge tax breaks on the backs of the middle class," McElligott said.
McElligott said companies "across the board" expect more for less.
"They want to keep wages low (and) work people to death, yet reap the benefits and amass wealth without passing it on to workers," she said. "With that being said, we are seeing more and more labor disputes nationwide."
Strike authorization votes and strikes are a "last resort" tool to leverage against a company that "refuse to negotiate in good faith," McElligott said.
"When workers walk out, it shows who makes the company profitable: the workers," she said.
But a booming economy doesn't necessarily mean every business owner is raking in the dough and keeping it for himself, said Patrick Connor, Washington state director of the National Federation of Independent Businesses. He said it's often a false perception that when the economy is good, then all businesses are prosperous.
Connor used grocery stores as an example.
"The grocery stores in Kelso-Longview probably aren't enjoying the same profits as Amazon's delivery service," Connor said, adding that "what's good for Wall Street isn't necessarily good for Main Street."
Small, independent businesses fall in the crosshairs of the union-corporation fight, Connor said. When unions ratify a contract with a corporation, similar terms often appear in smaller contracts between workers and independent businesses. That can be tough on a small business, which often has less financial strength than a big corporation.
Moreover, as the economy has grown, so have costs for minimum wage and employee benefits, Connor said. Some companies might be making more money than in previous years, but they are also paying more to support their staff.
A lot of those benefits and wage boosts are thanks to the legislative push by unions, which sometimes seek a better deal from the government if they can't secure it at the bargaining table, Connor said.
While that's an important tool for improving workplace conditions and worker rights, it also means higher costs to all businesses, he said.
Connor pointed to recent laws that raised the minimum wage and guaranteed paid sick leave.
"There are legislative and initiative-driven mandates on what we pay as employers on wages and benefits, and we have to find a way to eat it," Connor said. "If you are not making a profit already, you're in trouble … The number of sales and revenue each year are not necessarily growing as quickly as the demand to spend those dollars."
Connor acknowledged that laborers probably feel "left behind in an improving economy," given the real wage disparity between the top 1% and middle class workers. His organization is "sensitive to the argument."
But "your desire to want to treat your workers well has to be matched with the reality of how much an employer can pay," and that varies by each company, he said.
When unions "flex their muscle" with a strike or strike vote, "it's great for those who are able to enjoy a higher wage and improved benefits, but it's bad for the workers who might lose their job" at a small business that can't afford the increased costs, Connor said.
Unions may be less demanding of smaller companies, though. Kelley McAllister, spokeswoman for the Unified Food and Commercial Workers Local 555, said that small, individual negotiations between unions and one business tend to finish faster — and unions feel better represented in those discussions.
"I think a small individual negotiation is typically with an employer who is more connected to their employees. Whether or not someone treats their employees poorly really has a lot to do with whether you know those people," McAllister said.
Her union's hangup with several national grocery store chains hinges on that point, she said.
When their contract with Fred Meyer, Safeway and other grocery stores reopened last year, UFCW members shared their stories of economic hardship with the company executives and asked for raises. But the company officials "just shrugged and said, 'It's not our fault. … We don't care about your economic situation,' " McAllister said.
She added that it's easy for companies to make a decision that's bad for employees when they are separated from them. For example, a Kroger executive who balances the company's budget is just "moving numbers around on a spreadsheet. He's not the one who has to tell someone, 'You're not going to get a raise this year,' " McAllister said.
All three of the contract disputes on the brink of causing strikes locally are with multimillion dollar companies. And if the strike authorization votes are any indication, big corporations are facing plenty of anger.
"I believe that all unions have been pushed to the brink, so to speak. The corporations have seemed to have the upper hand, and organized labor is under attack politically and by our employers," said Jim Anderson, representative for the Association of Western Pulp and Paper Workers Local 633. That group also passed a strike authorization vote this month — with unanimous approval of its membership.
"The gap has grown between the haves and have-nots," Anderson said. "And whenever that gap gets too large, people tend to fight back."
Get local news delivered to your inbox!
Subscribe to our Daily Headlines newsletter.