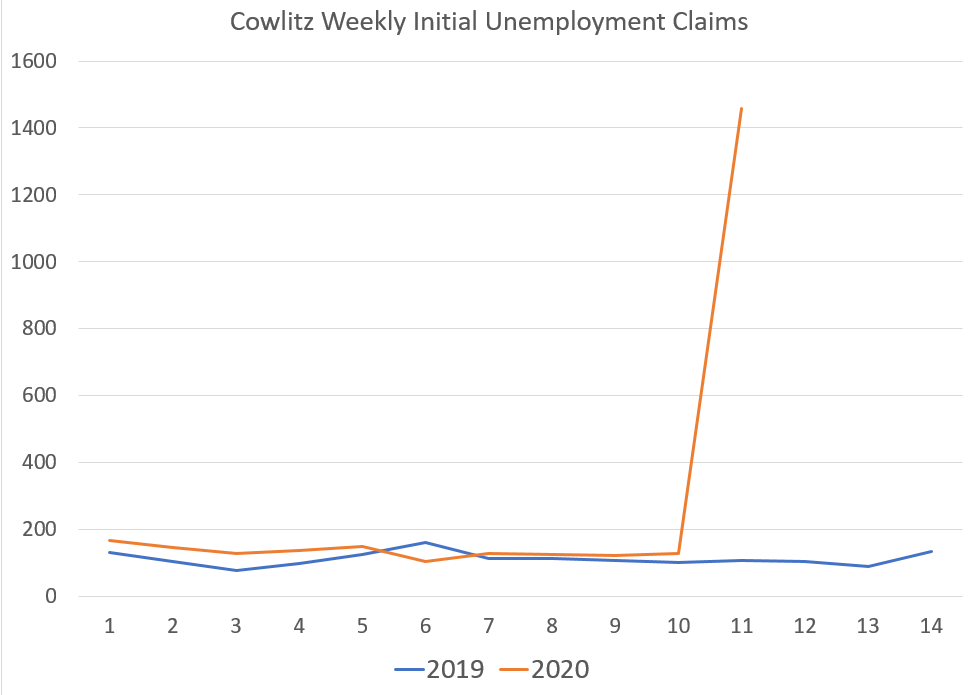 In an economic tsunami caused by the coronavirus outbreak, a record 3.3 million Americans applied for unemployment benefits last week, a number that included 133,000 Washingtonians and nearly 1,500 Cowlitz County residents.
Cowlitz County unemployment filings were up tenfold over the norm, said regional economist Scott Bailey, and unemployment claims are so far the best measure of economic fallout from the virus.
"It's certainly the highest number of initial claims in the state of Washington going back to 1986," the oldest year on the employment security department's data record, Bailey said. "Nothing else is even close."
Kelsi Mattison, a specially trained bookkeeper for a trailer company, is among the newly unemployed. She said this week she believed her job was safe even though business had slowed and a portion of the staff was previously laid off. But Mattison, a Longview resident, said she expected the shop's work with farmers and ranchers — which are considered essential activities — would shield her from layoffs.
"I really really thought I was considered essential because I take phone calls. I bookkeep and I schedule service appointments," said Mattison, 24. "I was considered essential. It felt good to know we would be taken care of ... that my husband and I would at least have our jobs."
But on Wednesday Mattison's bosses learned their sales department had to close under Inslee's order. So they suspended that part of the business, and Mattison's job along with it.
"They laid me off and I'm sure it's because they can't pay my wage, and I'm sure it's to help me out financially because they know I will be eligible for unemployment (benefits)," Mattison said.
The national number of new employment claims quadrupled the previous record set in 1982, according to the Associated Press.
"And we are just getting started," said Bailey, the state economist. "I don't know what next week's numbers will look like, but I wouldn't be surprised if they increased. With the governor's order … it looks like it will be a majority of activities restricted. … It means a lot of the economy is grinding to a halt."
The huge wave of layoffs also strains the application process for those that are eligible to apply.
Peggy Hoffman said she lost her job as a teachers' aide at Three Rivers Christian School this week. She tried to submit an online application for unemployment insurance with the state Employment Security Department, but the system couldn't find her employer, she said.
"I couldn't move forward. I emailed for help and the reply was it could take four days to get back to you. I have tried several times to call and the recording says all lines are busy and kicks you out," said Hoffman, 59.
Her application eventually went through about three hours later after she made tweaks to the form, she said. She's listed as "active" on the website, but she still hasn't heard back from agency representatives.
Nick Demerice, spokesman for the state Employment Security Department, asked applicants like Hoffman to remain patient. Right now the department is receiving 13,000 to 20,000 phone calls each day, he said.
"We are doing everything we can to get as many people the help that they need. It's just a tremendous amount of people who need this help right now," he said. "I understand people's frustration when they can't get through. They should just know that thousands of their fellow Washingtonians are trying to do the exact same thing."
Mattison said there's some comfort in knowing she's not alone in losing her job, even if it's upsetting to think about what these sweeping layoffs mean for other families.
"But I don't feel like we are just going to be completely left on our own by the government. They know this is happening, and they are trying to figure it out for us," she said. "They are not just going to leave us out on the street." (A sidebar about assistance for unemployed workers is attached to this story.)
Still, that doesn't make the current situation less frightening for Mattison and her husband. Although he can continue to work in the auto parts industry, their budget will become tight with just one income.
"I definitely feel uprooted. I'm scared, more than I was before of just the virus. I'm scared financially," Mattison said. "Frankly I'm at home alone all the time now, so I have a lot of time to think when I am used to working 40 hours a week and seeing family and whatnot. You have a lot of time to reflect."
"We are just worried," she added. "We don't know what the future will hold, and that's unsettling."
Sterling and Debbie McCoy of Longview also fret about the uncertainty caused by the COVID-19 outbreak. Both of them lost their jobs as sole proprietor hairstylists March 16 after an earlier state order shut down restaurants, bars and other entertainment or leisure service, including hair salons.
Neither qualify for unemployment benefits because they do not pay into the program as sole proprietors.
"If this is something that is just two weeks, we can get by on that. But I guess it's scary, the unknown," said Debbie McCoy, 48. "I definitely feel like as it approaches two weeks, it'll be another week or another two weeks. I don't know how a person is supposed to get by if they can't work."
The couple might find help in the federal stimulus package moving through Congress. The package includes unemployment benefits for sole proprietors and stimulus payments for individuals, among other assistance. The U.S. Senate unanimously approved the package Wednesday. The U.S. House of Representatives is set to vote on it later this week.
If the package is approved, most Americans will receive checks for $1,200. Sole proprietors like the McCoys could potentially earn unemployment assistance.
But it's unclear how quick that money would reach them, Debbie McCoy said.
"I've seen some reports that say three weeks (until the checks arrive). I saw another that said December this year."
For now her husband, 51, has launched a job search. On Monday he applied for a position at a Kalama sawmill. McCoy is holding onto hope that she can wait out the storm and eventually return to hairstyling.
"I just happened to make my house payment right before this stuff hit, but for the next month I'm thinking I can call them and maybe just pay the interest and not the actual principal part, so that's something I can check into," she said. "It's kind of on a day to day thing, waiting to hear what happens today."
Concerned about COVID-19?
Sign up now to get the most recent coronavirus headlines and other important local and national news sent to your email inbox daily.