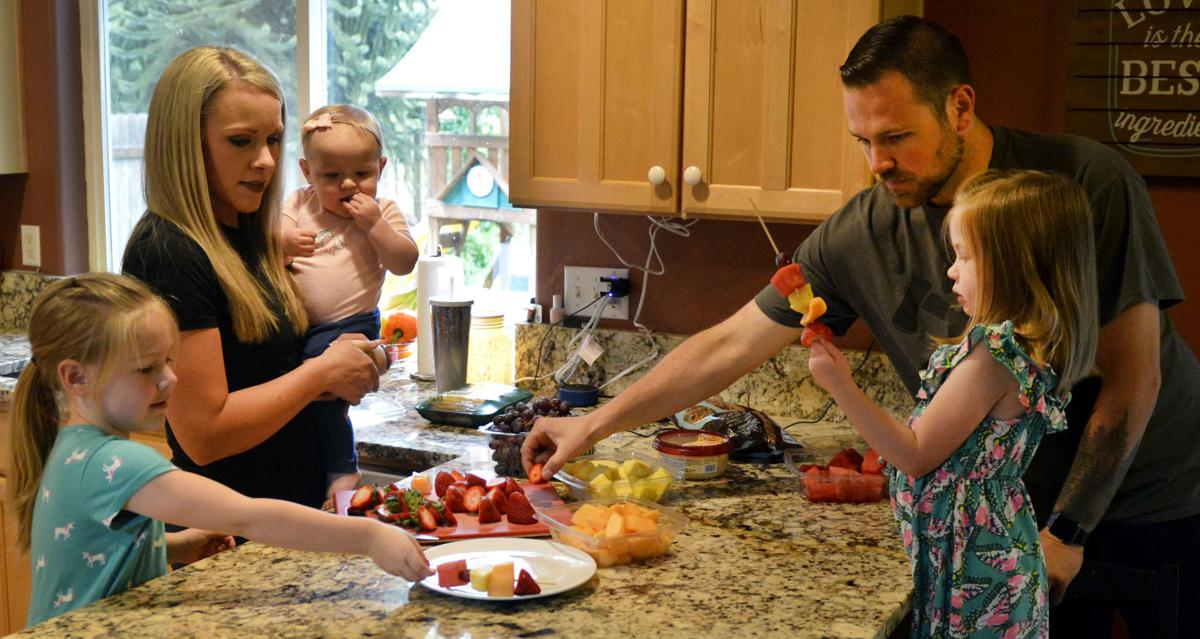 After losing 100 pounds as a couple on Weight Watchers, Josh and Emily Donaldson received a note inviting them to participate in a national advertising campaign.
The Longview teachers jumped at the chance.
"They basically said they would call and do it through FaceTime," said Josh Donaldson, who teaches at R.A. Long High School. "We didn't think anything of it, but we thought it was really, really cool. … We thought maybe it was for a poster or an online video."
Their jaws dropped on March 13 when the FaceTime call started — with Oprah Winfrey on the other end of the line.
"We thought it was a joke. We thought it was a spoof or someone was playing a trick on us, and then Oprah (said), 'Josh and Emily?' " Josh Donaldson said.
The couple said they shared several looks of disbelief before the shock wore off and they started sharing their story with the celebrity icon and Weight Watchers spokeswoman. For 10 minutes, they discussed the program, their personal weight loss and their year-long journey building a healthier lifestyle together.
'I want to be around for my kids'
The Donaldsons' Weight Watchers story is one of two parts: Emily Donaldson's solo journey, then the couple's commitment to lose weight side-by-side.
Emily Donaldson, a Northlake Elementary teacher, first signed up for Weight Watchers in November 2016, she said. She joined with her mom after seeing a "scary word" on her chart during a doctor's appointment: "obese."
According to the state Department of Health's chronic disease profile, 34 percent of adults in Cowlitz County were obese in 2017. That's compared to the statewide rate of 27 percent. Obesity can lead to many health complications, including high blood pressure, type 2 diabetes, stroke and heart disease, among other conditions.
A former athlete, Emily Donaldson, 31, had never struggled with weight before. But she she didn't lose pounds gained during her second pregnancy, and the doctor's note was a wake-up call.
"I wanted to be around for a long time for my kids, and I was headed in an unhealthy direction," she said.
Josh Donaldson, 31, chose not to sign up with his wife the first time around. "I had always sort of thought weight watchers was for older women," he said. I thought, 'I'm not going to join. How embarrassing as a young male?' "
Instead, he became his wife's "sideline supporter," he said, cheering her on as she dropped from 178 pounds to her goal weight of 150 in March 2017. She maintained that weight for almost a year, earning a lifetime free membership to the program.
"Throughout that time Josh was supportive, but he was not interested in joining me yet," she said. "But then I got pregnant with (our youngest daughter) in August, and when I joined again in May, Josh joined with me."
#BetterTogether
Josh Donaldson told Oprah he joined Weight Watchers after his own wake-up call.
"I have a (6)-year-old, and I couldn't keep up with her. I'd get really winded," he said during the FaceTime call. "And it really came down to one day (when) she told me, "Daddy, your body is not really straight. ... It's round," he said.
Around the same time after a regular checkup, he learned he was morbidly obese and had liver problems, he said. His weight was damaging his health.
"I don't think you are ever naive to the fact that you are overweight … but I never thought of myself as obese," Josh Donaldson said. "You hear these stories of people who let their health go, and they end up dying, and they leave their family (behind)."
At that point, he joined Weight Watchers with his wife. His goal: lose 80 pounds and maintain a doctor-approved goal weight of 205, he said.
"Sure enough, at the end of May last year we started (the program) together," becoming an example for Weight Watchers' #BetterTogether campaign, he said. As a team, the couple worked toward their goals and "lost a ton of weight" over the summer, he said.
The Donaldsons said their successful collaborative approach likely helped them stand out as Weight Watchers members — and get selected for their interview with Oprah. She focused their FaceTime call on that topic, asking questions about what it was like to participate as a team.
"It seems obvious, but it's easier when both of us are doing it," Emily Donaldson said. "The healthy mindset is just so much better when the whole family is on board, and there's less temptation (to stray)."
'You're hot, hot, hot!'
When Josh Donaldson returned to school this August, he was 55 pounds lighter. Some of his high-school students said they barely recognized him — his favorite compliment to get, he said.
Emily Donaldson's second- and third-grade students also noticed change in their teacher. A "pre-Weight Watchers" photo of her hangs outside of her classroom, and students often ask, "Is that really you?" she said.
The couple said Oprah ended their FaceTime interview by saying, "You guys are burning up my screen. You're hot, hot, hot!"
"I looked at Emily (afterward) and said, 'Oprah just called us hot,' " Josh Donaldson said, laughing. He added that it was the highlight of the interview for him.
As educators, the couple are proud to show their students a living example of how to be healthy.
"Teaching (high school) leadership classes, one of the things we talk about a lot is self care, and putting yourself first. For the longest time we never put ourselves first," Josh Donaldson said.
"It's way more meaningful to a student to see their teachers doing what they say they are going to do," he added. "I tell them that I'm not dieting, I'm just making smarter choices."
Those "smarter choices" rub off on the entire Donaldson family. Even their 4-year-old daughter "eats bell peppers straight out of the bag," Emily Donaldson said. Their 6-year-old often asks how many Weight Watchers points different foods are, she added.
The Donaldsons don't force their daughters to participate in the program, and their mother said they can "eat like kids." But the girls are learning about "sometimes foods versus anytime foods," like vegetables versus cookies, Emily Donaldson said. As parents, the couple says they now feel they are better role models for their daughters.
"As a mother of daughters, (Weight Watchers) meant ... showing them the importance of a healthy lifestyle and a positive body image," Emily Donaldson said. "I don't want them to struggle with their weight. But more importantly I want them to live a healthy, balanced life," she said.
'A new spark of motivation'
After a year of doing Weight Watchers together, the Donaldsons said things had started to "plateau" for them. They were both approaching their goal weights, and "those last (few) pounds are the hardest ones," Josh Donaldson said.
Their FaceTime with Oprah "definitely gave us a new spark of motivation," he said. "We were like, 'Let's get out there and show her.' "
The Donaldsons are also "holding out" that Oprah will post a full link to their interview on her Instagram account before the end of the month, like she's done for the four other members whom she surprised in March.
And while the couple are excited their personal weight loss and digital meeting with Oprah, they said it's even more "encouraging and inspiring" that their story might help motivate others.
"If I say, 'I can do it,' then anyone can do it," Emily Donaldson said.
Get local news delivered to your inbox!
Subscribe to our Daily Headlines newsletter.