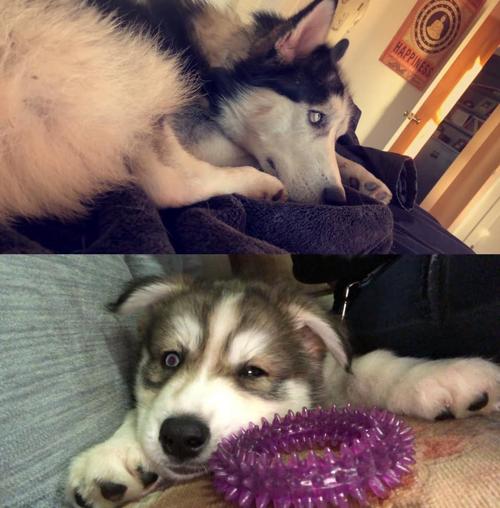 A Longview family is furious and heartbroken after learning that someone shot and killed Marley and Link, their 2- and 3-year-old huskies.
The killing was apparently in retribution for Link accidentally killing the shooter's cat about three or four months ago, owner Luke Moore said Monday, although he said that's no excuse for what happened to his dogs.
"They could have come talked to me, said, 'Hey, can you pay for the damages that you did to our cat.' Worked it out like normal people, not wait to retaliate against my innocent animal. ... I can understand being mad at Link ... but Marley was innocent."
Longview police are investigating the case and said more information may be available Tuesday. The director of the Cowlitz Humane Society was not available Monday.
Moore, who lives in the Northlake neighborhood off Ocean Beach Highway, said he does not know the name of the suspect, who he said lives nearby in the Terry-Taylor neighborhood. Moore still had not recovered the remains of his pets as of early Monday afternoon.
Roughly three months ago, Link escaped from Moore's yard and wrestled too hard with a cat, killing the other animal. The family agreed to have Link be monitored by the Cowlitz County Humane Society, Moore said.
The dogs escaped from the family's yard again in the evening of Sept. 6, Moore said, and he later learned from a witness that they had been loaded into someone's truck at John Null Park (that's across Pacific Way from the Terry Taylor area). The witness told him that the person loading the truck mentioned one of the dogs had killed his cat.
Moore said he called the Cowlitz County Humane Society Friday, and Longview police became involved Saturday. Moore said he was told by officers Sunday night that the suspect admitted to taking the dogs out and shooting them, then dumping their bodies into a slough near Coal Creek.
Moore said he wants the dogs' killer prosecuted to the fullest extent of the law.
"I want anything and everything thrown at them," he said. "I don't want them to ever be around another animal again. I want his gun rights taken away for shooting (them.)"
Moore said he's not sure where exactly the dogs were killed, but he said planned to search for their bodies with a diver specialist Monday afternoon.
The family has owned Marley since she was a baby and have had Link for about a year, Moore said. Right now, he said he's still in shock, and his daughter Cassidy is "devastated."
"They were just average, friendly, outgoing huskies," Moore said. "They loved everybody they came in contact with. You come over to the house, they'd jump on you, give you love, lots of attention."
Get local news delivered to your inbox!
Subscribe to our Daily Headlines newsletter.