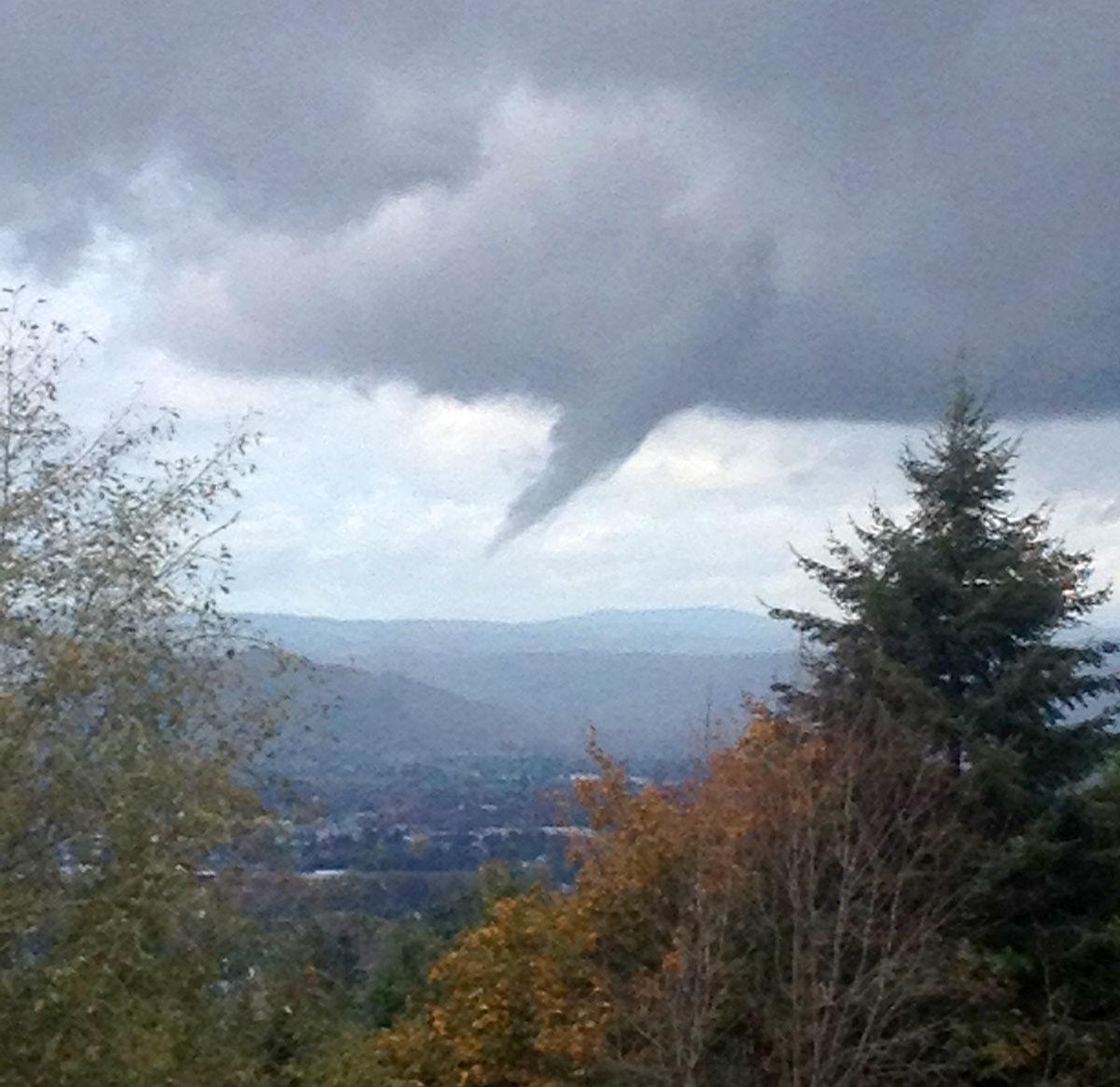 A tornado cut through Longview and Kelso on Thursday afternoon, tearing roofs off buildings, knocking over trees, shattering windows and scattering debris in a nearly 3-mile-long swath that included some of the busiest parts of town.
No injuries were reported, no one was displaced from their home and crews were quick to clean up under sunny skies that followed the brief event just after 1 p.m.
Longview Police Chief Jim Duscha said the tornado formed above the 200 block of Beech Street and broke up at around the Kelso-Longview border. It touched down in at least two places — near the 15th Avenue Safeway and a stretch of Vandercook Way near the West Kelso border, according to Cowlitz County Emergency Management officials.
Duscha said the extent of the damage will be known Friday after city crews finish assessing the wreckage, which could lead to some buildings being condemned.
Longview Fire Chief Phil Jurmu said all the area first responders came together to help with the "extraordinary event in our community. Things are getting cleaned up rapidly and it's quite amazing to see how everything's coming together."
Neither Jurmu nor Duscha could recall a tornado ever moving through town, and both were grateful no one was hurt by the storm.
Tornadoes in this area are rare but not unheard of. Typically, the region gets a few a year. They tend to be isolated and weaker than tornadoes seen in the Midwest, said Weather Service spokesman Andy Bryant.
The strength of Thursday's storm and its specific cause were not immediately available Thursday afternoon.
Cowlitz PUD spokesman Brent Arnold said the tornado left 47 customers without power for nearly 45 minutes. The power went out just after 1 p.m. and was back up by 1:45 p.m. Arnold said most of the PUD customers affected by the outage were commercial businesses.
Video Courtesy Christopher Zimmerman:
Following the damage, police closed Vandercook Way from 12th to Eighth avenues due to damaged property and downed power lines, which the Cowlitz PUD worked quickly to repair. Power outages were spotty throughout town Thursday.
Manchester Bros. had a roof blown into their windows, and Searing Electric and Plumbing at the Longview/West Kelso border was littered with debris. The roof of Carl's Towing in the area was ripped off and windows were shattered.
Another roof was torn off an assisted-living facility behind the 15th Avenue Safeway, and damage also was reported to trees and buildings in the area of the Columbia Threatre at Vandercook Way and Commerce Avenue.
---
Dispatches from the streets: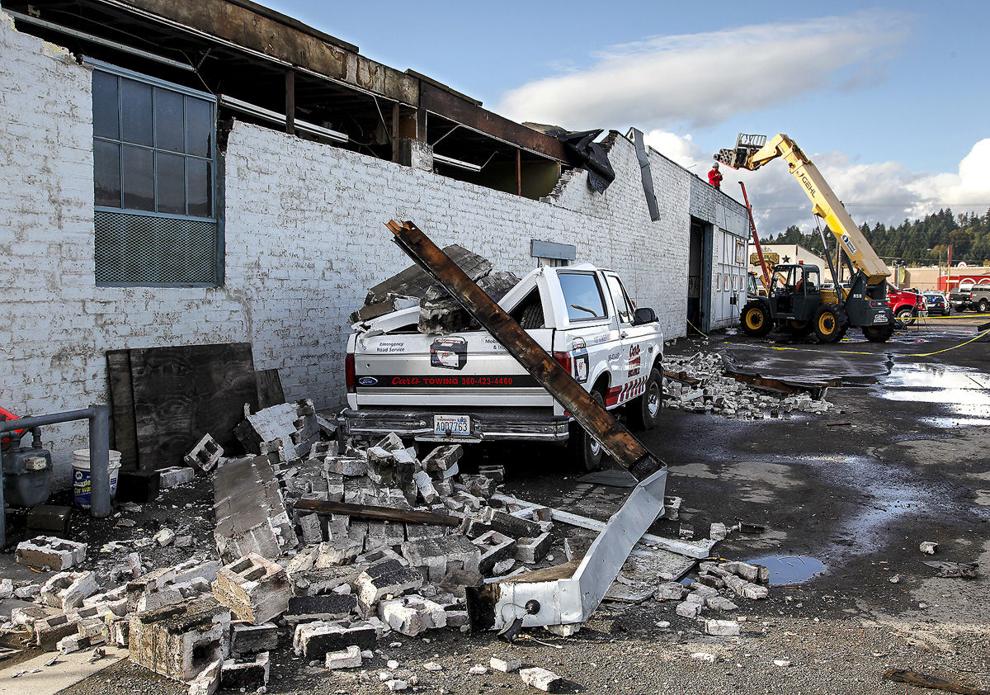 "It was so majestic and so terrifying at the same time," Jordan Yoke said of the twister.
Yoke was driving back to work at Carl's Towing, one of Vandercook Way's most heavily damaged structures, when he saw leaves begin to swirl. He thought it was a small wind storm, until the debris floating around him changed from leaves to roofs. "It was insane."
"That's when I realized it was an actual tornado," Yoke said
Yoke's coworker Bob Miller had been standing behind Carl's with two other employees when he spotted the twister about two blocks away. He watched it move from building to building —tearing away roofs as it went — before he took cover in a door frame. The twister reached Carl's about a minute after it formed, he said.
"S---t was flying by 100 miles per hour," Miller said. "It was so fast it was unreal."
The business' owner, Greg DeSpain, learned about the twister while he was visiting St. John Medical Center.
"I didn't believe it," said DeSpain, who could only see sunshine out the window.
The storm left debris strewn across the area around Carl's. Winds ripped off large portions of the roof and left holes in the walls. Mortar and pieces of roofing crushed a Ford Bronco next to the building, and numerous other cars sustained damage nearby. Items were knocked off shelves inside, and water leaked from broken pipes, employees said.
DeSpain predicts he will need to demolish most of the structure. He couldn't put a dollar amount on damage but said the building is insured.
The business, located at 1137 Vandercook Way, may need to close for a day or two, DeSpain said, and damage may slow their repair services. Towing services, however, won't be interrupted.
---
Keri Fleming, dairy manager at the 15th Avenue Safeway, was in the store's back room when the tornado hit.
"I thought the roof was collapsing because it was so loud," Fleming said.
Safeway has safety procedures for emergency situations, but Fleming said the tornado passed so quickly there was no need to activate any.
"It was so fast," she said. "We didn't even realize what was going on until it was all over."
She said the store's refrigeration unit, located on the roof, had some damage.
---
Dustin Ferguson of RC Northwest Inc. at the Longview downtown streetscape project near 14th and Broadway when he noticed a big dark cloud forming in the distance. It wasn't until a funnel dropped from the sky that he realized it was a tornado. He pulled out his phone to take video.
"You could see roofing material just getting sucked off the top of the roofs. Actually in one the buildings it sucked a sky light right out of the roof," Ferguson said.
He said construction signs were blown away and are missing. Anyone who finds them is asked to return them.
---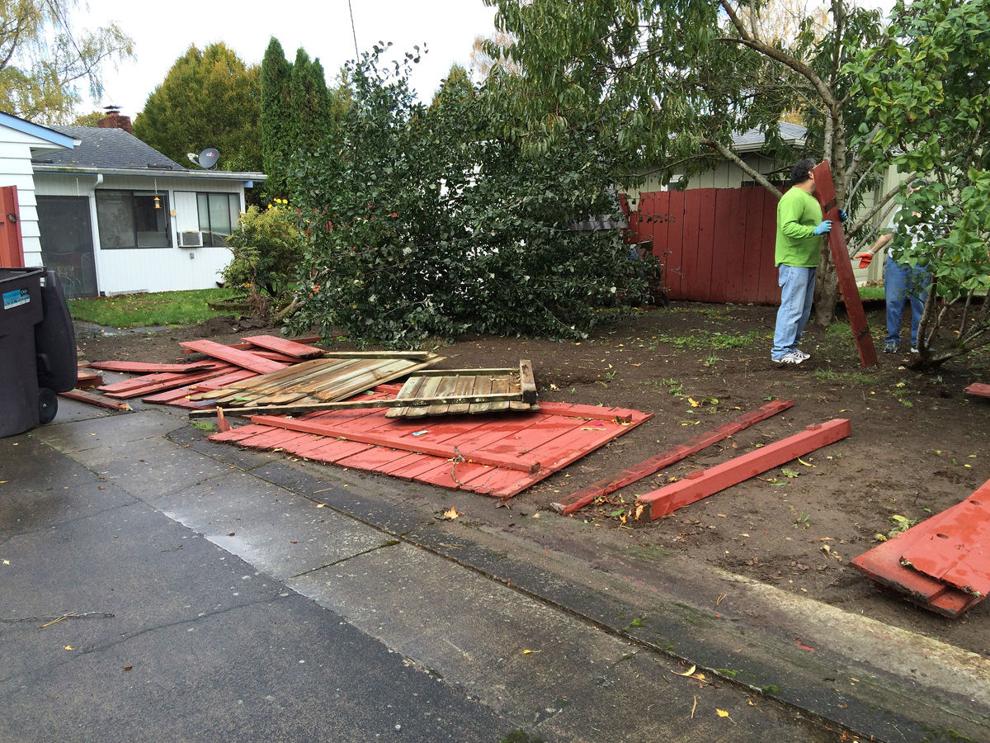 Val Nelson, who lives on the 1100 block of 17th Avenue, said the tornado ripped apart the fence that fronts her Longview property.
"I came out and my entire fence was gone. My plum tree is uprooted and my lilac tree is uprooted," she said, adding that she was still shaking minutes after the incident occurred.
Vera Morrow, the director of nursing at the New Westside Terrace Retirement Home and Assisted Living nearby Nelson's home, said staff tried to take safety precautions as the tornado hit .
"The left office window shot open and the front doors kept swinging. My first thought was that a lot of the residents (were vulnerable because) they sit outside," nurse Michelle Ashby said.
Adam Derby was up on a lift doing construction on the building when he saw the eye of the tornado.
"We noticed leaves spinning in the air, and it started raining hard. As soon as we saw other debris mix in we went inside," Derby said, adding that he could see the tornado hit other buildings.
"I went by Safeway (on 15th Avenue) and could see it stopping and hitting other buildings as it traveled," he said.
Portions of the retirement home's roof were blown off. Administrator Eric Rosgen said no residents were hurt, just "shaken up".
John Foges, 94, who lives on the third floor, said there was 10 to 15 seconds of thunder before he saw trees and branches whip past his window. An hour later, a group of elderly residents clustered around the television in the lobby, watching the news. Outside, maintenance workers tossed the broken roofing into a big dumpster below the building.
---
Across the street, clean up crews raked fallen branches and chunks of yellow insulation in front of the Living Word church and the Flaskerud apartment building.
Shingles on the church's roof had been torn off but no other damage occurred.
Brianne Most and her mother, Kristin, were in their apartment sleeping.
"I had just fallen back asleep and felt a rumbling. I didn't know what it was. I thought it was an earthquake, until I saw trees blowing through the air," she said.
Afterward, crowds of people flooded out in the streets to snap photos with their phones, Most said. According to Most, the apartment complex was getting improvements to its plumbing, so parts of the building were exposed when the tornado ripped through, explaining why insulation was strewn about the street. Three or four windows were broken, but no other major damage occurred.
A tree at the apartment building was uprooted and fell over, but it did not cause any damage to any units.
"I saw the leaves getting sucked into the sky," said apartment resident Ryan Shaw.
---
Lisa Strock, owner of L Salon on Vandercook Way, was with a co-worker and a customer when she noticed the wind picking up.
"My co-worker said, 'It looks like we're in Kansas!' There was a rumble and all of a sudden you could see it," she said of the funnel cloud.
She said 2-by-4 pieces of lumber and big green garbage cans whirled through the air.
"I was waiting for a horse to fly by!" she said, laughing.
Then the door to the salon flew open and debris and leaves swirled in. The tornado ripped the power line off the top of the building and a fallen tree crushed a nearby gazebo, Strock said. "Then it shot up into the sky and took off into Searing."
---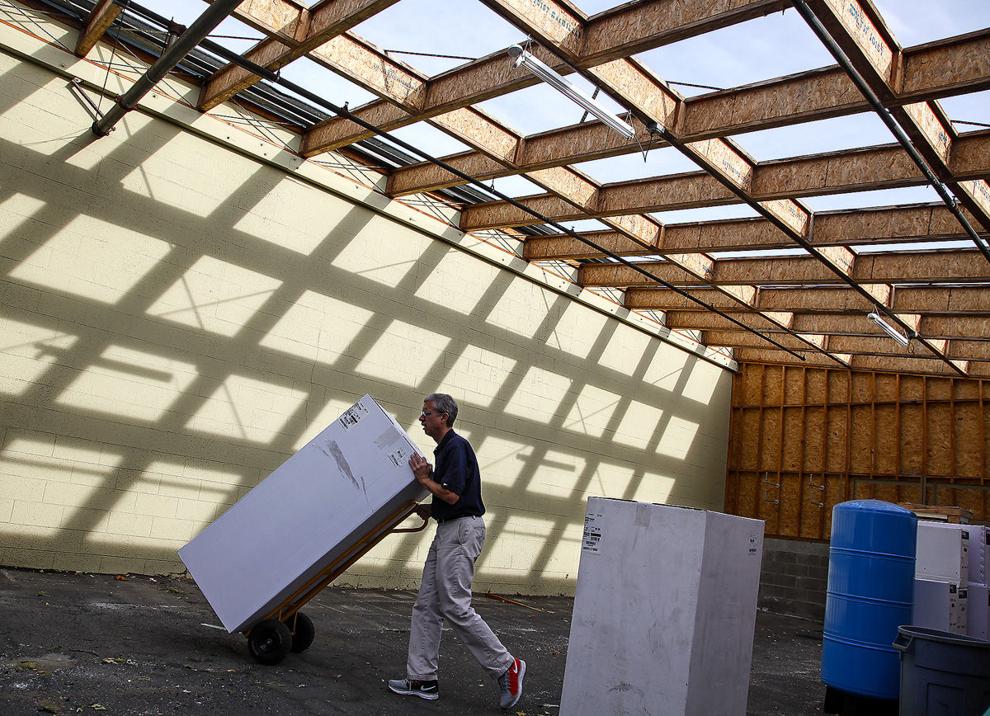 Searing Electric & Plumbing employee Dave Grimm compared the storm's sound to the noise of 10 freight trains. He was walking back into Searing, at 802 Vandercook Way, after his lunch break and saw people looking into the air. He looked up, saw the "massive," swirling funnel cloud and ran.
"I was thinking, "This isn't good,' " Grimm said.
The wind blew so hard he couldn't open the back door to Searing's building. Other store employees said the winds ripped a corrugated roof off the building and threw it 100-feet into the air.
Searing owner Chris Searing said the glass doors on his building flung open at 1 p.m.
"I thought it was a big wind and tried to hold down the doors. Then I realized it was too big of a wind and that's when I saw the roof go up," he said. The wind ripped the roof off of the back portion of the building, hurling pieces toward Manchester Brothers across the street.
Ian McNew, 20, was working in Manchester's when he noticed people driving quickly down Vandercook.
"We saw leaves flying everywhere, and then I saw the roof flying off the (Searing) building, and then we ran and took cover in the office," he said.
Moments later the flying Searing roof tore through the window, shattering glass and blowing debris, trash and pieces of the roofing throughout the store. One major window was broken, and at least two others were damaged.
Store owner Mike Manchester said most of his merchandise appeared undamaged, although some of the washing machines may have been dinged. He said the big 300-gallon city garbage cans were flying 10 feet in the air outside.
---
Washington State Trooper Steve Jones said he was eating lunch with his family at a restaurant near Safeway when he went out to his car and saw what he thought was a tornado.
"I ran into the restaurant and said 'Look! There's a tornado!' and they looked at me like I was crazy. And I said 'Yes, way!' I could it see it coming down on 15th."
Jones then drove over to Safeway to check if everyone was okay. They were unaware that a tornado had even occurred, he said, and just thought it was a loud noise.
Reporters Marissa Luck, Shira Moskowitz, Justin Pittman, Shari Phiel and Lauren Kronebusch contributed to this report.
The Daily News, Longview, Wash.