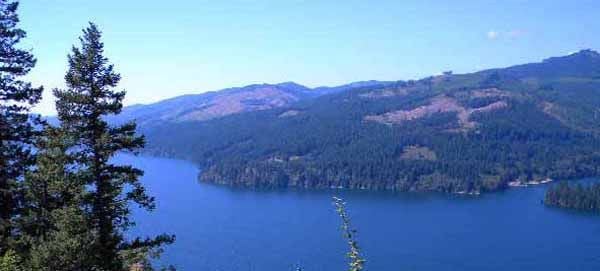 Forty-four years later, for the second time in his life, George Simonsen was saving the lives of three more people from drowning. On Friday afternoon, Simonsen, Mallory Smith and Randy Lonborg were leisurely fishing for Kokanee salmon on Lake Merwin. Lonborg noticed a strange sight about 200 yards away and asked if what he saw was a kayak with a sail. It was not. It was three people whose boat had taken on water and was now sinking rapidly. What he saw was the stern of the boat pointing straight up. The three men aboard were drowning in 38-degree water.
"That's a wide lake. They were probably half a mile to shore. There's no way they could make it to shore," Simonsen, who was the former conductor for the Southwest Washington symphony orchestra, said.
You have free articles remaining.
Once they figured out there were people in the water, Simonsen, Smith and Lonborg raced their boat the short distance to them. They quickly tried to get the three men in the boat, gave them warm clothes and put them inside the cabin with a heater, to help fend off the potential hypothermia, Simonsen, 68, said.
The three men were in a small aluminum boat, and none had life vests on. One of the men told Simonsen and the others that when he put the boat in reverse, water came over the stern and began filling the boat. Smith said when they got the three men aboard, who he believes was a father, son and a German man, they asked if Smith and the other two had heard them yelling. Smith said they didn't hear a thing, and that it was lucky that Lonborg noticed an odd-looking scene.Another boat further down the lake noticed the commotion as Simonsen and crew were rescuing the men and later helped Simonsen and the others gather the three men's gear.
"The most memorable thing is just how fast things can happen, how fast things can change and how you can't assume that an accident won't happen. Accidents happen when you don't expect them," Smith said.
Contact Daily News reporter Denver Pratt at 360-577-2541 or dpratt@tdn.com
Get local news delivered to your inbox!
Subscribe to our Daily Headlines newsletter.