After swallowing a bite of home-cooked turkey Thursday afternoon, Kelso resident Cory Nikolas looked around the dining room in Longview's Salvation Army and smiled.
"This is my family," he said, gesturing to the roughly 50 people enjoying the Salvation Army's free Thanksgiving lunch.
Nikolas said he enjoys the community meal because the food is always good and he doesn't have family in town to celebrate the holidays.
"It's great that they put on something like this," Nikolas said.
Roberta Boursaw, a Salvation Army board member, said the agency didn't have a Thanksgiving meal last year and she wanted to change that this year.
"These people deserve to be treated like humans and have a holiday, too," she said. "We are all blessed to have family to go to for dinner. Most of these people are blessed to be able to get out of their tents and go somewhere warm."
About 20 volunteers gave up their holiday to serve the meal, Boursaw said, including her husband, daughter and three grandsons.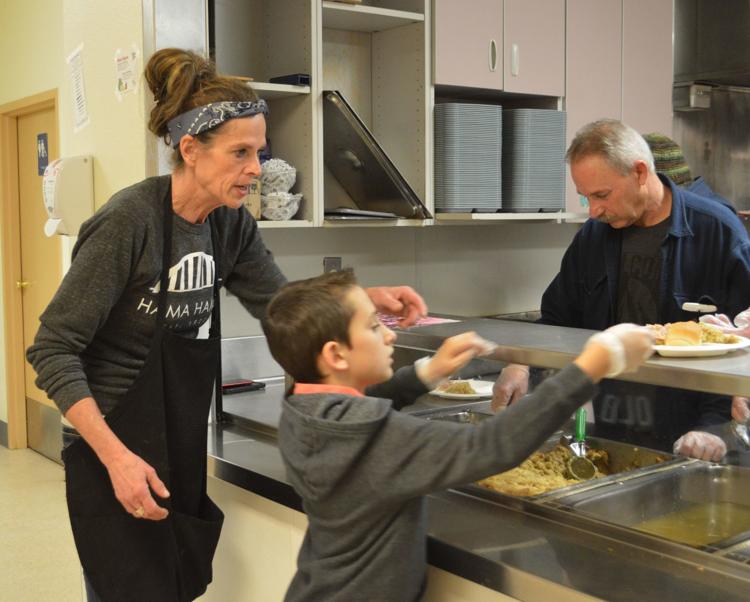 "It really is a family affair," Salvation Army Captain Julie Feist said.
Feist and her husband, Larry, became the agency's new leaders in June, but they've both been officers with the Salvation Army much longer. And they've served many community meals together, she said.
"Some of these faces are people we see all the time," Feist said. "It's about relationships and family. That's what it all boils down to."
You have free articles remaining.
Almost all of the food for the meal was donated from the community. Boursaw said she started cooking the first of 17 turkeys at 3:15 a.m. Thursday.
By the time the lunch ends, Feist said she expects to have served about 200 people.
Tim King of Kelso said he enjoys the holiday meals at the Salvation Army because everyone is always smiling and in a good mood.
He's the youngest of eight siblings who live all across the country, King said, so it's nice to have somewhere to spend Thanksgiving with people he knows.
Tim Cave said volunteering to serve the meal was the only Thanksgiving plans he and his wife made.
"It's part of the Christian thing to do — to serve and help others," he said while scooping green beans onto paper plates.
The youngest helper of the day may have been Boursaw's 8-year-old grandson, Mason Marrero, who eagerly carried plates out to the seated guests.
"He loves to do this stuff," Boursaw said. And it's important for young children to learn how to give back to their community, she said.
Major Larry Feist said the Salvation Army's goal is to find out how to serve people so they don't need to keep coming back for help.
"This meal won't change a whole lot, but it could help a little."