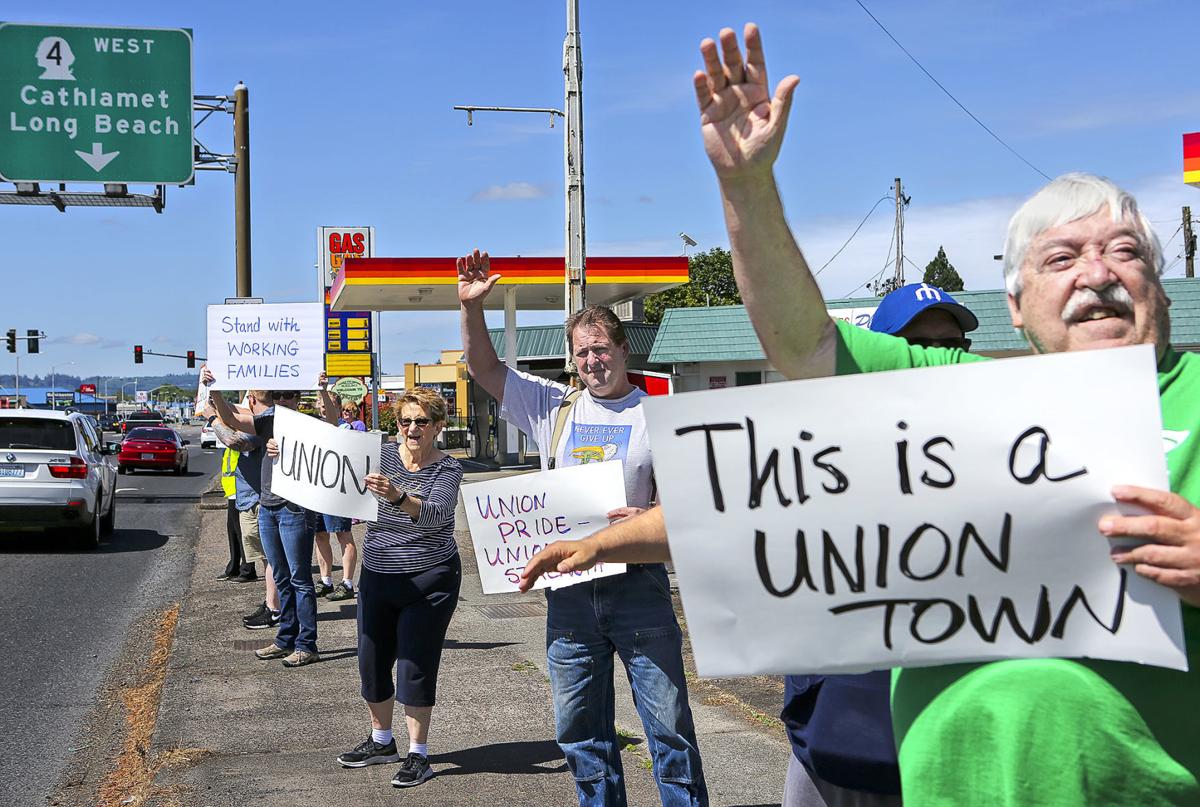 Local labor supporters — including two Democrats running for state and federal office — rallied Wednesday in Kelso following a U.S. Supreme Court decision that is expected to weaken public-sector unions.
In a 5-4 decision, the court overturned a 40-year legal precedent allowing public unions to collect so-called "fair-share fees" on the theory that the payments cover the cost of collective bargaining. The conservative majority ruled that the payments were a form of "compelled speech" that violates the First Amendment of the U.S. Constitution.
Wednesday's ruling was widely viewed as a blow to the Democratic Party, which has traditionally relied on financial support from labor unions.
But Carolyn Long, a Washington State University Vancouver professor running as a Democrat for the state's 3rd Congressional District, said she doesn't view unions through a partisan lens.
"I don't think union membership is a partisan issue," Long said as passing motorists honked at about a dozen union supporters waving signs near the Catlin Rotary Spray Park in West Kelso. "I think it's important to protect workers, and if people who want to protect workers are folks who are aligned with the Democratic Party, that's because the values that unions represent are aligned with the Democratic Party."
Jim Anderson, area representative for the Association of Western Pulp and Paper workers, said unions need to re-educate the public about how they do more than simply negotiate higher pay. Unions also helped write the state administrative code that governs worker safety regulations and grievance procedures, he noted.
"I just think a lot of people don't understand what unions do for working people," he said Wednesday at the rally.
The Freedom Foundation, an Olympia-based free-market think tank, hailed Wednesday's court ruling as victory for workers' rights.
"Nothing in this decision prevents workers from organizing or bargaining collectively if they choose to," CEO Tom McCabe said. "From now on, instead of just being handed someone else's money, the unions will have to earn it."
The anti-union National Right to Work Foundation, which funded the legal challenge, estimated the ruling would free more than 5 million public employees from supporting their unions.
Washington has one of the highest rates of union membership in the country, with 17 percent of all workers represented by a union compared to 10 percent nationwide, according to U.S. Bureau of Labor Statistics.
"I believe that workers understand the benefits of being in a union, and I expect that you will not see large numbers of decline in Washington state," said state Rep. Brian Blake, an Aberdeen Democrat running for re-election in the 19th Legislative District. At the rally, Blake displayed a sign that said "Union Pride — Union Strength."
"I think it's important for us to emphasize that we are a union town," Shawn Nyman, president of the Cowlitz and Wahkiakum Labor Council, said in an interview. "We were before this decision and we will be after this decision."
The case is "an attempt to defund unions," said Nyman, who toted a sign at the rally that said "I'm sticking with the union" — a reference to the pro-union song by Pete Seeger.
The high court's ruling in the Janus v. AFSCME case is expected to hit teacher unions the hardest by hampering their ability to raise money. But Rich Wood, a spokesman for the Washington Education Association, said the organization will continue to focus on collective bargaining and lobbying the Legislature to invest in public education.
"Clearly the wealthy extremist groups and corporate interests behind the Janus Decision and other attacks on public workers want this to have an impact, but our resolve is strong," he said Wednesday in an interview.
Longview Education Association President Ray Clift said the local teachers union has already been working hard to show its members the value of membership in anticipation of Wednesday's ruling.
"We don't think we'll lose a whole lot," he said Wednesday in an interview.
However, Clift acknowledged that the decision could prompt at least some members to forego the association's union dues.
Local teachers pay roughly $85 per month in local, state and national union dues.
"It's a financial thing for some people," he said.
Mike Bixby, a seventh-grade science teacher at Monticello Middle School, said it's no surprise that the country has seen a wave of teacher strikes in "right to work" states such as West Virginia and Arizona.
"When you look at public employees, we're not getting rich," he said Wednesday at the rally. "We're fighting for a living wage, and this hurts our ability to have the resources we need to fight."
One bill guarantees unions the chance to explain the benefits of union membership to new employees, and another bill allows public unions to automatically deduct dues unless workers opt out. A third bill allows community college staff to form unions and collectively bargain contracts for the first time.
And a fourth bill authorized the state Department of Social and Health Services to transfer oversight and management of the state's 37,000 home caregivers to a private entity. The change will allow SEIU 775 to bargain a new labor contract that could potentially remove workers' ability to opt-out since the independent providers would no longer be considered public employees.
Opponents argued the raft of legislation would coerce workers into paying unwanted membership dues.
Correction: This story has been corrected to reflect that multiple pro-union bills were passed by the state Legislature this year.
Contact reporter Zack Hale at (360) 577-2523. Follow him on Twitter at @zackhale.