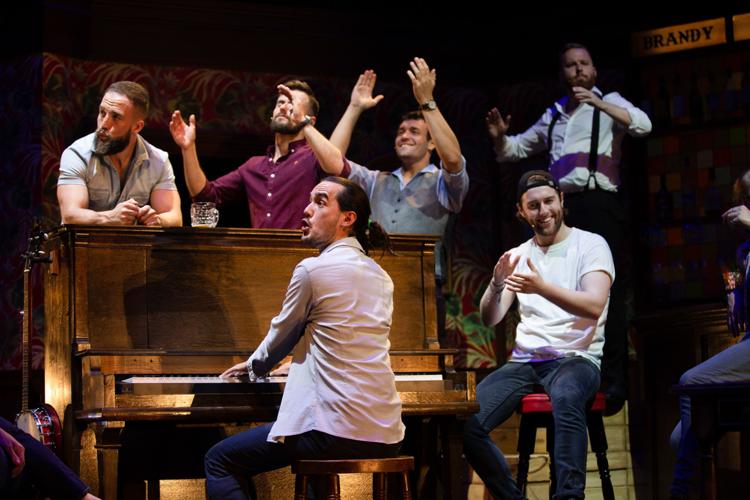 The stage at the Columbia Theatre for the Performing Arts will transform into an Irish pub when "The Choir of Man" comes to town.
The 90-minute show, more a concert than a play, begins at 7:30 p.m. Feb. 7 at the Longview theater. Audience members should make sure to arrive early for a unique aspect of the show, said Valery Ackley, show representative.
The venue opens about 20 minutes early so audience members can mingle with the cast on stage. The bartender in the performance is a licensed bartender in every state and audience members 21 years old and older can get a free beer. Columbia Theatre Executive Director Gian Morelli said a local brewery will provide the suds.
"It's just a fun, casual way to kick off the show," Ackley said.
That energy continues throughout the nine-man cast's performance, which includes covers of songs most of the audience will know, Ackley said, including songs by Paul Simon, Guns n' Roses, Adele, Queen and more. The show follows an overall narrative but is mostly music with only a small amount of dialogue.
The show includes interactive portions when audience members get pulled onstage, Ackley said.
"It's a real feel-good show and just makes you feel really great after," she said.
The show started in 2017 in the United Kingdom and has since toured on a couple different cruise ships, Ackley said. At least three casts are touring the show now, including this first U.S. tour, which kicked off last fall in Texas. She said people have "gone crazy" for the performances.
"It's been pretty on-par with the responses they've gotten overseas," Ackley said. "I think the U.S. is swooning over the accents a little bit more."
Morelli said the show is one of his favorites of the year. He said it is a great show to bring to Longview because the theater doesn't get many chances to bring in brand new shows.
"It's not that often that a show comes around that is of that caliber that we can slip in our schedule, and it's a real treat," he said.
Convincing people to buy tickets to an unfamiliar show can be difficult, especially in a smaller community, Morelli said. But "The Choir of Man" is a good quality event that will surprise the audience, he said.
"I think people will walk out and say, 'Wow, I gotta see this again,' " Morelli said.
"The Choir of Man" tickets are $40 to $48 per person and $20 for students.
The Columbia Theatre is located at the corner of Vandercook Way and Commerce Avenue in downtown Longview.