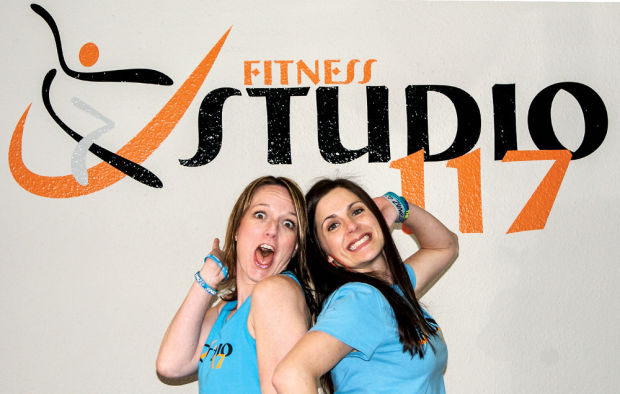 Alyssa and Jenny Carroll fell in love with Zumba five years ago — and now they're sharing their passion for the dance workout at their new Castle Rock fitness center.
On March 22, the sisters-in-law (they're married to a pair of brothers) opened Studio 117 at 160 Huntington Ave. The studio offers Zumba, Zumba toning, cardio/strength circuit classes, PiYO strength classes (which are Pilates and yoga inspired) and Turbo Kick classes (a cross between Zumba and kick boxing). With the exception of Turbo Kick, which is taught by Tracy Catlin, all classes are taught by the Carrolls, who are certified Zumba and PiYo instructors and are going through Ace Fitness group instruction.
Starting Wednesday, April 9, the Carrolls will teach a kids' Zumba class from 3:30-4:30 p.m. The drop-in fee is $5, or $30 for a six-week session.
"Kids love it. They get to dance around and be crazy and have a fun time," said Alyssa Carroll, 31, a half-time first-grade teacher at Barnes Elementary School in Kelso.
She and Jenny Carroll, 37, a Castle Rock High School para-educator and middle school wrestling coach, began taking Zumba classes together in Longview five months after Alyssa gave birth to her son.
"I just danced my way into feeling good about myself. It was amazing," said Alyssa Carroll, who enjoyed hip-hop and jazz dancing as a teenager but never considered herself athletic or "hard core."
"Zumba really transformed my whole idea of being fit and being confident," she said. "I never experienced the love of sweat until I could dance like that."
The Carrolls enjoyed Zumba so much that they became certified instructors and began holding classes at the Sunnyside Grange in Castle Rock.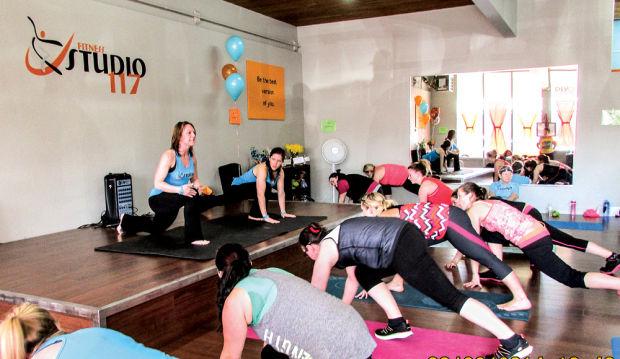 In a small town without a fitness studio, the classes led by two teachers were an instant hit, attracting up to 50 people.
"It was fun, it was different, and it was just special, I guess. ... The Castle Rock community embraced us and fitness and our love of it like you would never believe," Alyssa Carroll said. "It just exploded."
Since then, the Carrolls have participated in numerous "Zumbathons," which are two-hour classes led by several different instructors to raise money for various causes.
They now teach classes six days a week at Studio 117 (which got its name because their birthdays are Oct. 7 and Oct. 11), and they're hoping to add to the schedule. The drop-in fee for classes is $5, except for PiYO, which is $6. Punch cards are $50 for 10 classes.
"Everyone always just says you make it so fun to exercise. Our motto is have fun and keep moving," Alyssa Carroll said. "As long as you're sweating and happy to be here, that's all we care about."
Longview chiropractor Dr. Clay Bartness has closed Longview Chiropractic Clinic, which opened in 1976, and moved to Van Fleet Chiropractic Clinic at 1060 Hudson St. in Longview.
Bartness is practicing with Dr. Anthony Rodriguez and Dr. Clint Van Fleet at his new location. A chiropractor for 40 years, Bartness, 66, said he plans to continue working for another five years because he enjoys it.
Bartness attended the Palmer College of Chiropractic in Davenport, Iowa, and became licensed in Washington in 1973. He serves on the Chiropractic Advisory Committee of the state Department of Labor and Industries and is a former member and past president of the Longview District School Board.
Tina Cygrymus has joined the Community Home Health & Hospice board of directors.
She recently retired from Weyerhaeuser and International Paper, where she worked for 31 years in pulp and paper manufacturing and sales. She served 12 years on the local United Way board in various leadership positions as well as on the Weyerhaeuser Company Foundation Committee. She and her husband, Rich, a retired Mark Morris High School science teacher, have lived in Longview since 1982. They raised two daughters in this community.
Jason Meunier has joined the organization's Foundation Committee. He is a vice president/commercial loan officer with Twin City Bank in Longview. He is active with the Kelso-Longview Chamber of Commerce's Lower Columbia Professionals. Previously, he volunteered with the Tri-Cities and Fort Hood Chambers of Commerce, serving on the ambassador and golf tournament committees. He has coached youth sports, captained a Relay for Life team, and served on the Philanthropy Committee for Delta Sigma Phi Fraternity.
Amy M.E. Fischer covers Longview city government and local retail businesses for The Daily News. Reach her at 360-577-2532 or afischer@tdn.com.