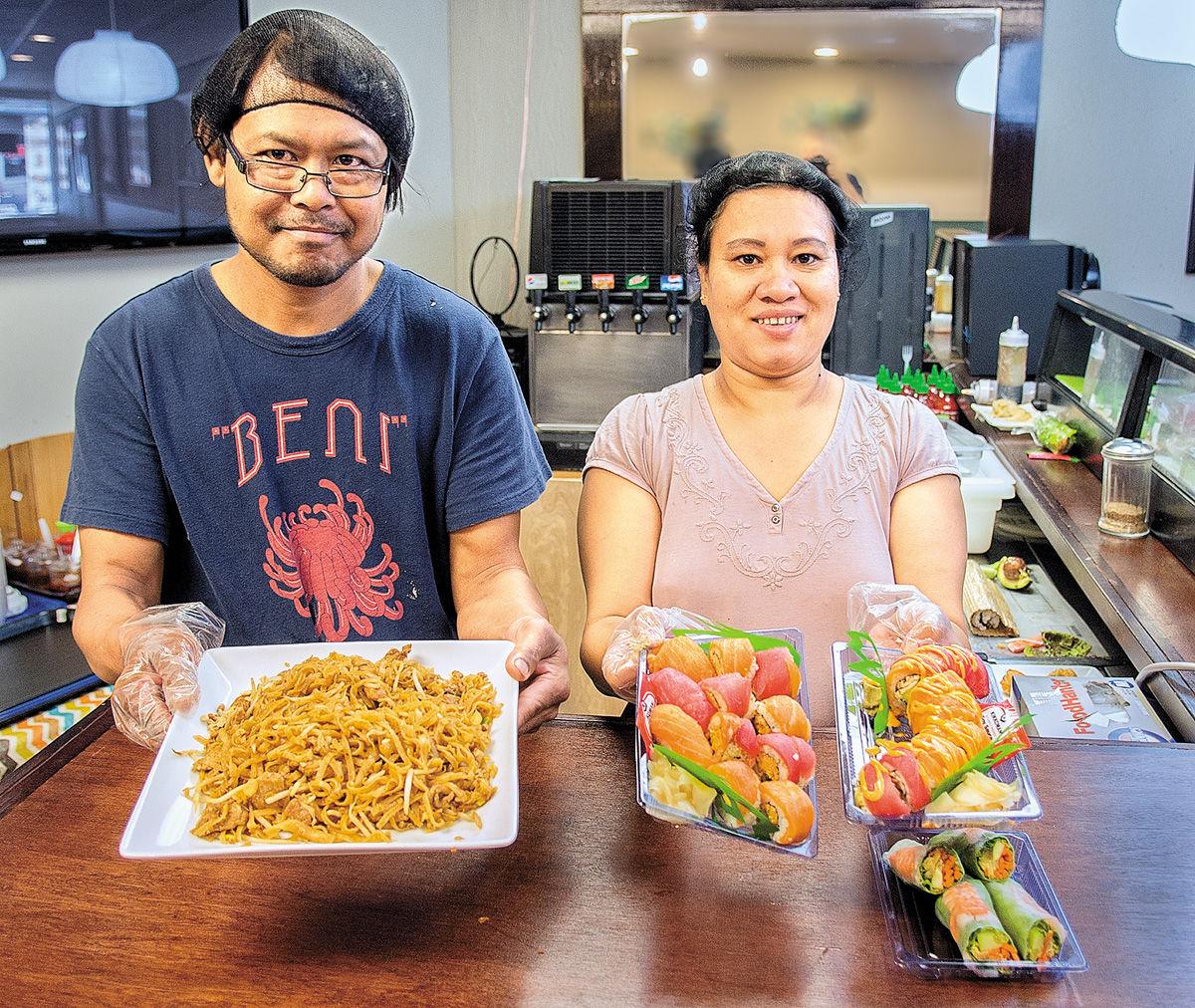 Thai cuisine has replaced the cooking of India on Commerce Avenue.
Gyee Lay Gyee opened last month at 1312 Commerce, where Ganesh Indian Cuisine used to be. The new restaurant offers fresh sushi and authentic Thai food, said owner Aye Moe, 43, of Portland.
Moe said she cooks family recipes handed down to her as well as recipes she learned while working as a cook in Thailand. She was born in Myanmar, located next to Thailand, and worked in Thailand 10 years. She moved to the United States 14 years ago.
Longview didn't have much Thai cuisine, and Moe, who owns two Haggen sushi franchises in Oregon City and Tualatin, said she wanted to open an independent restaurant.
"She wanted to make people happy in Longview with her food," said Moe's boyfriend, Kyi Aye.
Aye, Moe and Moe's older son are the only employees now, but Moe says she intends to hire more staff.
Aye and Moe painted the place and added a sushi bar, new kitchen equipment and new restrooms.
"When we came here all there was were tables and chairs," Aye said, adding that he and Moe borrowed $50,000 from family and friends to open the business.
Among the restaurant's most ordered dishes are pad Thai, yellow curry and tempura sushi, Aye said.
Jaclyn Kotkins and Ben Fenison, a Rainier couple dining in the restaurant last week, said they enjoyed Gyee Lay Gyee.
"I've had tempura at other places and this is good and really fresh," Kotkins said of her shrimp and vegetable tempura roll. Fenison agreed.
"I give it a 4.2 out of 5," Fenison said of his crunchy shrimp roll. "It's good and it's fresh. We would come again."
The restaurant is open from 11 a.m. to 9 p.m. Monday-Saturday and until 7 p.m. Sunday.
It offers a $8.99 lunch buffet from 11 a.m. to 2 p.m. Wednesday through Friday and takes orders to go. To place an order or for more information call 360-577-3956.
• Heidi Leigh of Community Home Health & Hospice recently received a registered nurse's license through Lower Columbia Community College. She has worked for CHHH for six years, first as a certified nursing assistant and then as a licensed practical nurse. She completed her RN degree while working full time and raising two children. With the designation she will be able to see patients who need skilled nursing care. She plans to work toward a bachelor of science degree in nursing.
• Fifteen employees of G.Loomis Inc. of Woodland were honored Oct. 2 for their length of employment with the company.
30 years — Doug Peacher and Donna Peacher, both of Woodland.
25 years — Janis Jakel of La Center, Wash.
20 years — Ed Smith of Castle Rock and Debbie Stump of Camas, Wash.
15 years — Linda Jordan of Woodland; David Moon and Phill Oliva, both of Longview; Kim Woody of Ariel; and Carol Zaharko of Kalama.
10 years — Bobbi MacDonald and Andrew Marshall, both of Woodland.
5 years — Mike LeFevre and Jenine Slade, both of Longview; and Hail Newberg of Vancouver.
• Two employees retired Oct. 1 from KapStone Paper and Packaging Inc. Michael Barbee retired after 40 years of service. He was a planner III in the maintenance department, Noel Nordquist, a No. 7 hydrapulper operator in the machines department, retired after 35 years of service.
• Dr. Vanessa Browne has joined the Smiles Dental staff in Longview. She will provide orthodontia services to patients of all ages. Before moving to the Pacific Northwest, she attended Baylor University in Texas. She continued her education in California where she graduated with honors from the Loma Linda University School of Dentistry. She completed her orthodontic residency at Oregon Health and Science University.
Shira Moskowitz covers Kelso city government, local social services and Columbia County (Ore.) for The Daily News. Reach her at 360-577-2542 or smoskowitz@tdn.com.