No more hole-in-the-wall tattoo parlors for Brandon Norton.
When the 28-year-old tattoo artist moved his Kelso shop to downtown Longview last fall, he invested $30,000 into creating a modern industrial space with an upscale, urban feel.
Downstairs at Hooligans & Co. Hair & Tattoo is a four-chair hair salon where a guy can get a hot lather shave while his lady gets her hair and eyebrows done. Then they can head upstairs for tattoos and matching piercings.
The stylists' rent for the salon chairs covers the shop's overhead, allowing the tattoo parlor to stay afloat during slow times, Norton said.
With just two-and-a-half years' experience tattooing, Norton is relatively new to the business. Yet the self-taught artist already has snared first- and third-place awards for traditional tattooing at the 2013 Vancouver Body Art Expo. In addition to traditional tattoos such as pinup girls, ships and anchors, Norton is known for his roses, color work and line work.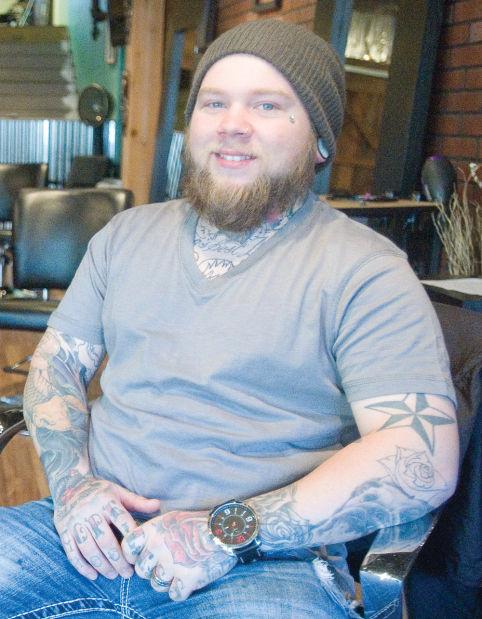 Originally from Vancouver, Norton loved art classes in high school. But his father (now his biggest cheerleader) said there was no money in art and steered him to welding and mechanics classes, he said.
After graduating from La Center High School in 2004, Norton built scaffolding locally and in Alaska at mill shutdowns, hotels and oil rigs for awhile before he got into building custom motorcycles.
Then someone sold him a tattoo kit and he was hooked. Norton did three tattoos on family members the first night.
"I've never done anything that was so natural feeling except working on a car," said Norton, who estimates he's inked more than 2,000 people in the last couple of years.
He started out tattooing in small rooms rented in friends' hair salons. In 2012, he opened Hooligans on Ash Street in Kelso. But the location wasn't good for walk-ins, and people didn't want to pay $10-$15 for a men's haircut, he said.
When his lease ended, Norton found the 2,500-square-foot storefront at 1242 Commerce Avenue for about the same price. He outfitted it with reclaimed wood from a 1918 home, an old barn door and reclaimed bricks to give it the feel of a New York studio. TVs hang on the walls in the salon and in the tattoo waiting area where people can watch sports or pictures of tattoo designs.
Norton said the staff makes an effort to make all customers feel comfortable and welcome, whether they're soccer moms or hard-core tattoo heads seeking custom artwork. That's why he steered away from gory art, red walls and thrash metal music and went for a family friendly ambiance.
"It felt like Longview-Kelso needed something different from a regular tattoo shop and hair salon," Norton said.
Hooligans has two licensed tattoo artists, Norton and Aaron Williams, and a licensed apprentice, Jeff Holmes. The barber is Kara Jo. Women's hair stylists are Olivia Lindquist, Ashley Fias and Abbie Cochran.
Hooligans & Co. Hair & Tattoo is at 1242 Commerce Ave., Longview. Walk-in hours are 10 a.m.-6 p.m. Tuesday through Saturday. Open Sunday by appointment. Phone: 360-353-5556.
Country Village Nutrition Shoppe completed an $8,000 remodel in September that enabled the addition of roughly 350 items to the store's natural food section.
The store rearranged its grocery section and added about 40 more feet of shelving, Country Village co-owner Chrystal Mead said Friday. The former book display room has been converted into a bulk goods room, which now has about 30 more bulk items, including organic flours, chia seeds, granola and nuts.
All categories of groceries have been expanded, such as gluten free, soups and flours.
Country Village is at 711 Vandercook Way, Longview. Phone: 360-425-8100. Hours: 9 a.m.-7 p.m. Monday through Friday, 9 a.m.-5:30 p.m. Saturday.
Eight people retired Jan. 3 from KapStone Paper and Packaging Corp. of Longview.
• 41 years — Daniel Gorans, senior shift electrician and instrumentation mechanic, maintenance department; and Alan Malone, No. 5 machine tender, machines department.
• 40 years — James Brekke, operator setup, box plant.
• 38 years — Robert Enbusk, senior shift general mechanic, maintenance department; and Morris Londo, warehouse trucker checker, logistics department.
• 26 years — Donald Conway, journeyman A electrician, maintenance department.
• 23 years — Larry Rogers, gamma lead trucker, machines department.
• 19 years — Jack Hummel Jr., power utility operator, steam and power department.