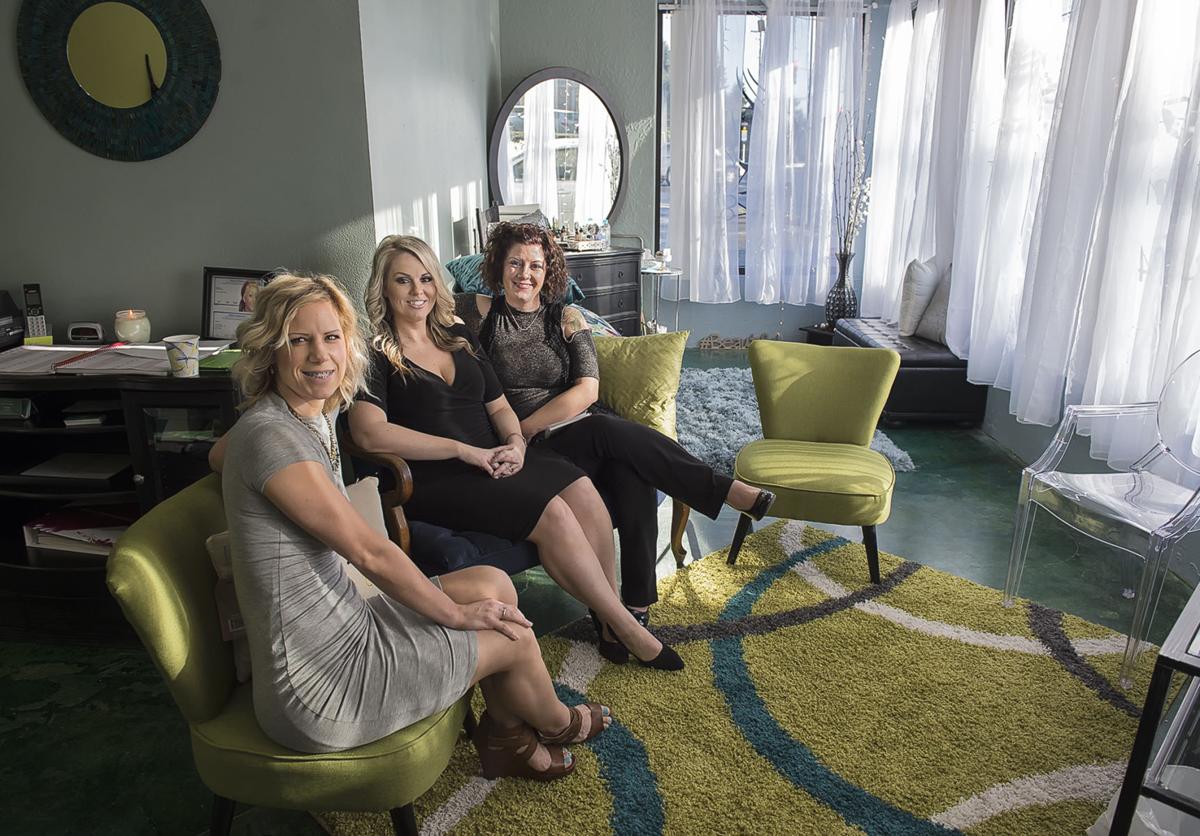 When a client comes into Tenile's Hair Design with Makeup by Mandy, the stylists' first priority to make them feel comfortable.
The salon, located on Northwest Fifth Avenue in Kelso, is decorated in bright blues and greens. When the sun shines, it shimmers through sheer curtains onto a comfortable waiting area with couches, fluffy rugs and a coffee and tea table.
The salon is staffed by three Kelso High School graduates: Tamara Walker, Mandy Johanson and Rachel Willet. The three have known each other graduating high school in 2000, but the salon just opened in October, when Johanson and Walker joined forces. Willet joined the salon in January.
Walker has always done hair: she had her own solo business, Hair by Tamara, before opening this one. Prior to that, she worked at Trendy's Hair Salon in Longview. Walker has also completed additional color training through Wella, a hair care product line with training studios in New York City. Johanson honed her craft at the Lancôme beauty counter at Macy's, where she sold makeup products and provided makeup services for nearly a decade.
Walker and Willet provide the majority of hair services, from cuts to color treatments and extensions to styling. Johanson does makeup, from full makeovers to makeup classes.
The salon has recently gained attention for giving away free makeovers once a month through its Facebook page. The salon then posts "before" and "after" photos of the winners, and the transformations are usually dramatic.
"We do separate work, but we quite frequently work as a team," Walker said. "And that's some of the best stuff that has left here."
Johanson said that since the shop started advertising the makeovers, more people have called in to make appointments for them, outside of the free drawings. Usually, makeovers will run about $100 − about $50 for the makeup and $50 for hair.
Men's haircuts start at $20 and women's hair cuts begin at $30. Those in need of a simple shampoo and style can get one for $20. Color treatment services, like ombre, highlights and bayalage begin at $85 and increase depending on the number of colors and amount of products used.
The salon provides group discounts for four or more clients, as well as military discounts and incentives for clients who refer their friends.
Right now the salon is open Tuesday and Wednesdays and every other Saturday and Sunday. The salon will likely be open Tuesday through Fridays in the near future, Walker said.
Johanson does makeup by appointment and drop ins during business hours.
"I do makeup anytime," Johanson said. "I've done it at six in the morning and I've done it at 9:30- to 10 o'clock at night."
She also travels to do makeup, as well. She has several clients participating in this year's Miss Washington pageant, which will require her to travel to Olympia in May.
Walker also works outside of the salon often, doing hair styling for editorials and entering competitions.
Her work was featured in an editorial for "Inspire" magazine in 2011, where she styled the hair for a makeover featured in an editorial spread.
"Eventually, you know, I'd like to be on one of the top stylist teams and work on coming out with next year's trend," Walker said.
For now, all three are working on educating themselves so that they can offer more services for their clients. Bother Walker and Johanson will be traveling to Los Angeles this summer for hair and makeup training sessions, respectively.
"I want to be that one where someone's like: 'Oh you want your hair done right? Go to Tenile's,'" Walker said. "I want to be the best."
Contact Daily News reporter Madelyn Reese at 360-577-2523
Get local news delivered to your inbox!
Subscribe to our Daily Headlines newsletter.