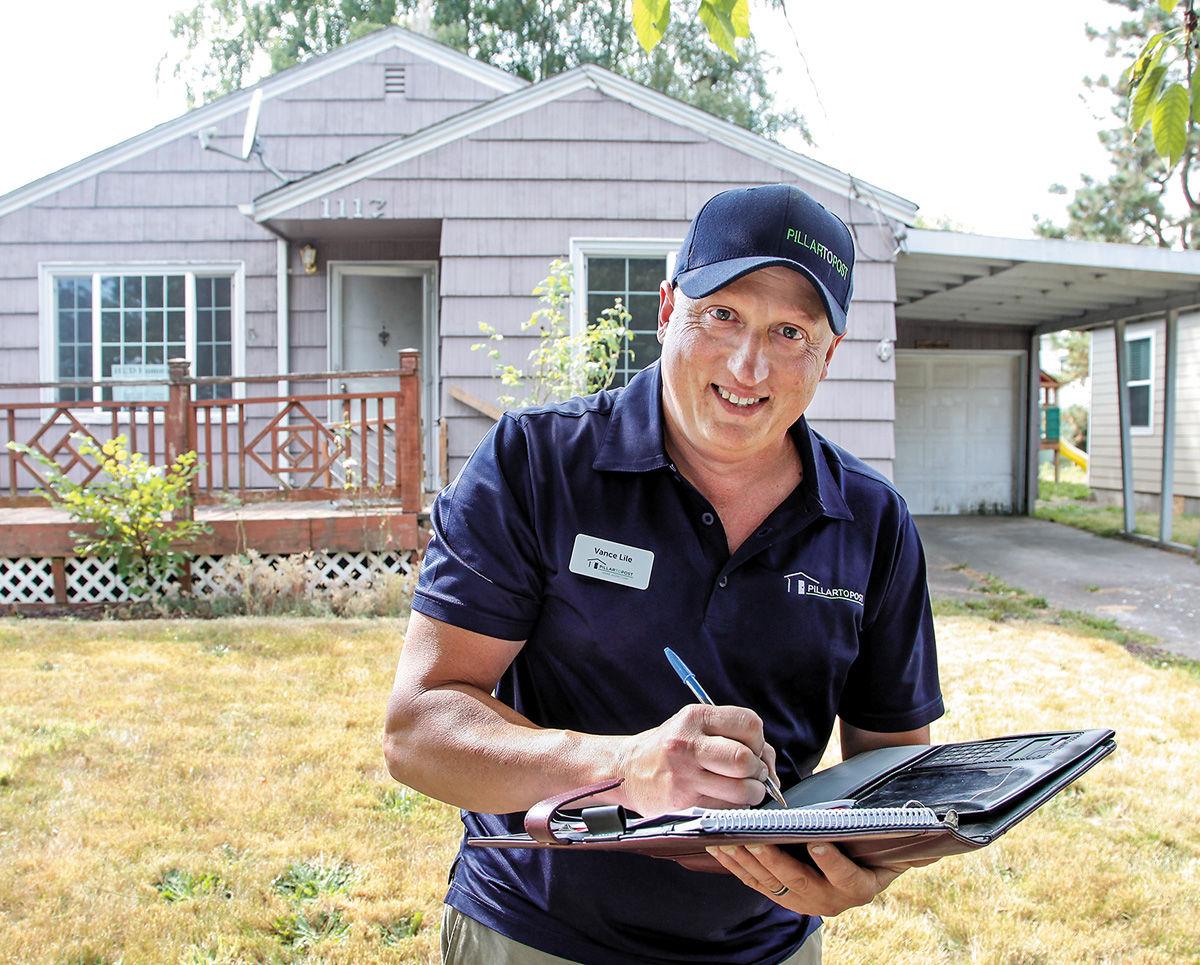 Vance Lile relied on his keen attention to detail and sharp situational awareness to stay safe every day during a decade-long career in law enforcement. Now he uses those same skills to inspect Longview homes.
"You have to know what's going on around you at all time," Lile, 44, described working in law enforcement. "You have to know exactly what you're looking at."
Lile began working as a reserve Longview police officer in 1997 but quit law enforcement in 2007 to pursue a career in building science. In April, he began assessing homes for Pillar to Post, a nationwide home inspection franchise. Within the last month, Lile says, he has become one of the few—if not the only—Longview home inspectors certified to examine pools, spas, four-plexes and log homes. He'll soon be certified to inspect septic systems and check for radon.
Lile describes himself as "mellow" and said he liked working with the public during his law enforcement career. But working with buildings affords him the chance to interact with people without having to watch his back all day long.
In 1999, while still working in law enforcement as a juvenile corrections officer, Lile started a side business Aftermath renovation and cleaning. He later left his corrections job to become an operations manager at General Growth Properties.
Inspections became the most enjoyable part of Lile's job at General Growth Properties, he said, and he always dreamed of owning his own business. So the former cop closed Aftermath and left General Growth earlier this year. Since then, he's spent about six months and tens of thousands of dollars setting up his new franchise.
Lile says he enjoys the freedom of making his own schedule and the "art" of running a small business.
"You've got to keep coming up with ways to promote it, and to keep it going, and to feed it," Lile said. "It's almost like a living creature."
Lile lives in Vancouver but hopes to move to the Longview area soon. His business serves Cowlitz and Wahkiakum counties.
Lile can't keep his business afloat with just specialty inspections—like examinations of pools and spas—he says. Regular home inspections still make up about 90 percent of his business, but his new certifications allow him to offer more hard to find inspection options to potential customers.
Even in Longview's temperate climate, Lile says a significant number of spas and pools need inspection each year. He has already examined five and expects to do more as winter approaches and people begin shutting down their pools for the season.
"That's when things go wrong," Lile said
During a basic "top to bottom" home inspection, Lile analyzes a home's structure, roofing, piping, wiring and more. Lile's rates vary depending on a structure's size, but he charges about $300 to $400 for his basic inspection of a typical, small home. In addition to his basic inspection, Lile also offers more expensive inspections that check for mold, use infrared to locate overheated wiring and search for other problems.
Lile usually inspects two houses a day—three in the summertime—and says he's had enough work to stay busy five days a week. Ideally, Lile would like to work six days a week, he said, but inspectors don't usually have that much work when they first launch a business. So far, business hass been great he said.
"We hit the ground running," Lile said.
Lile hopes to expand his business into Pacific County within the next year and bring his wife, Melissa Lile, on board to help with inspections.
Justin Pittman covers education and the city governments of Kalama and Woodland for The Daily News. Reach him at 360-577-2523 or jpittman@tdn.com