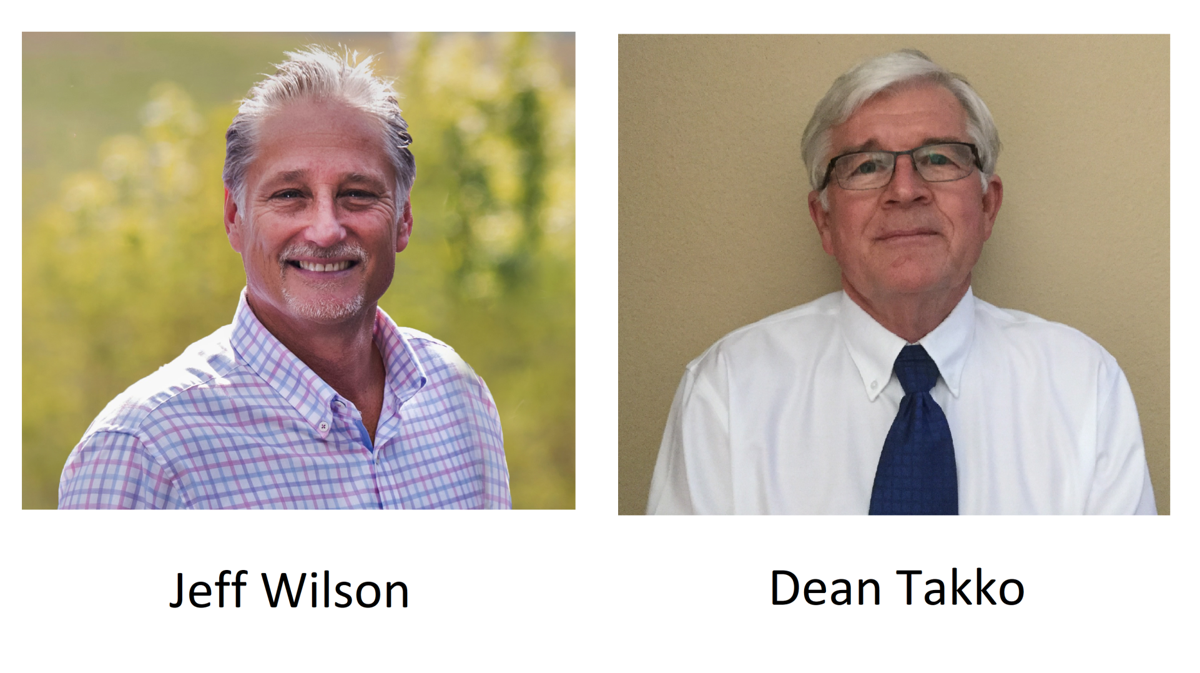 Two Longview men, incumbent state Sen. Dean Takko and Port of Longview Commissioner Jeff Wilson, will advance in the race for the state's 19th District State Senate seat.
Takko had 45.6% of the vote from across the five-county district, while Wilson had 37.2%. Wes Cormier, an Elma Republican and current Grays Harbor County commissioner, finished distant third with 17% of the ballots.
While Takko held the lead across all counties, Cowlitz County voters preferred Wilson with 47.5% of the votes to Takko's 43.6% of votes.
Despite an energetic campaign by Wilson, a Republican, Takko won the primary fairly easily. However, the two Republican challengers' combined vote total — 17,311 — outstripped the Democratic incumbent's tally, 14,547.
Wilson said the initial return "provides me with a mathematical opportunity" to bring Cormier supporters to his side in the general election. He added that the early count shows voters are "not in favor of the majority rule that's basically held Olympia" at the will of Democrats and "Seattle-style politics."
"Although the final ballot hasn't been cast yet, this is a clear indicator beyond any dispute that the voters are ready, willing and past due for change," Wilson told TDN Tuesday night. "I'm going to keep that promise to be that change."
Takko cautioned that the partisan split might not transfer directly into the general. For example, Grays Harbor County residents who voted for Cormier might switch to Takko because that county tends to lean Democrat, and Takko knows many constituents in that area.
"(Cormier) did fairly well in Grays Harbor County because that's where he's from. Now, I know people in Grays Harbor, so it's just hard to tell," Takko said. "When you have three people like that and such a vast distance from one end to the other (in the district), who knows who where ... plays into it."
Takko and Wilson will move forward to the Nov. 3 general election for a four-year term representing the 19th District, which includes a large part of Cowlitz County, all of Pacific and Wahkiakum counties and parts of Grays Harbor and Lewis counties.
Takko is running for a second term on the state Senate. He's served in the Legislature for 15 years. He bills himself as a moderate Democrat with experience working across the aisle to pass legislation that benefits Southwest Washington.
Takko, 70, said he wants to continue serving on the Senate to advocate for local transportation projects and to help local governments weather the COVID-19 financial crisis.
He said he "held back some" during the primary campaign because he was waiting to see who his opponent would be in the general.
"(Jeff and I) have completely different personalities, that's for darn sure," Takko said. "That's probably the main difference. And philosophy on some of the issues. ... He's hammering away against this sex education bill, and it isn't what most people are saying on social media. It isn't about teaching sex to little kids. It's about social emotional learning. It's so easy to spin that thing."
Wilson, a Longview Republican, currently serves as a non-partisan commissioner on the Port of Longview governing board. He says he's running for the state position to "restore the voice of the voters" in Olympia.
Wilson, 60, also wants to cut back what he calls "reckless" spending in the state budget, as well as improve government transparency by getting rid of title-only, or "ghost bills."
During the campaign, he said he will "keep the high road" and avoid "dark politics or mud slinging."
"There is time between now and November to continue to inform the voters so they can make the best choice," Wilson said. "I still have no doubt in November that my team will win. ... Really all I have to do is follow the will of the people and respect the Constitution. It's so simple."
Note: This story has been updated with Wednesday's election results.
Get local news delivered to your inbox!
Subscribe to our Daily Headlines newsletter.