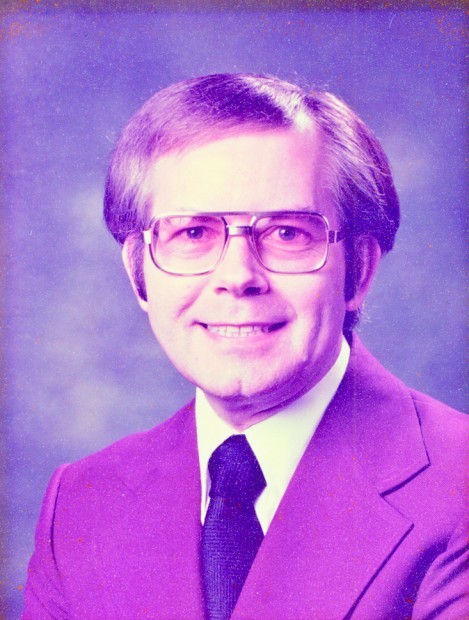 Bob Steen was made to teach fifth grade.
He was demanding, yet patient. Strict and caring. He taught accountability and responsibility as passionately as he taught math and writing.
For three decades, Bob took rambunctious crews of Longview elementary students and churned out well-prepared, semi-polite sixth-graders.
"He kind of matured you," said Micah Burr, who had Bob as his fifth-grade teacher at Robert Gray Elementary in the mid-1980s.
Bob taught for 33 years — 26 of them in the Longview School District and nearly all of them at the fifth-grade level. When his restlessness and sense of adventure took over, he'd travel overseas to teach children at U.S. military bases. But he always returned to Longview.
Bob Steen died June 10, a year after doctors diagnosed him with lymphoma. He was 72.
Born in 1939, Bob was the second child of Floyd and Alice Steen. He grew up in Longview, where he graduated from R.A. Long and Lower Columbia College before getting his degree at Western Washington University.
He began his teaching career in 1961 at Columbia Heights Elementary — one of four Longview elementary schools where he'd teach.
In 1967, he moved to Midway Island in the Pacific Ocean to teach children of U.S. Navy families at a Department of Defense school. When he returned a year later, he caught the eye of a fresh-faced rookie teacher who was eight years younger and liked to wear short skirts. Bob and Carol started dating, but it wasn't long before Bob was off on another overseas adventure, this time flying to Alconbury Air Force Base in England for another military teaching gig.
It also wasn't long before Bob got lonely.
Realizing he missed Carol, Bob proposed to her in a letter he wrote just a month into his England stint.
"I didn't take very long in answering," recalls Carol, who is now 63.
The two were married in 1973, and Carol joined Bob in England for a year before the couple returned to Longview.
Bob quickly developed a reputation as one of Longview's strictest and most demanding teachers. When students arrived in the morning, he often asked to see their hands. If they were dirty, he'd tell them to wash up. He encouraged students to go beyond the minimum requirements, and every assignment seemed to have an extra credit option.
But Bob could be fun as well. A talented musician who often sang with area groups, he delighted in teaching students how to play songs on the piano. He joined students for basketball games during P.E.
"He was my first male teacher and probably still to this day he's my favorite teacher," said Brent Bishop, 54, who was in Bob's class in the mid-1960s. "He totally challenged us, not only as a class, but as individuals."
Bob held himself to an even higher standard. He spent much of August making sure he was prepared for the upcoming school year.
"Bob was a nervous wreck the two or three weeks before school would start," Carol said. "He put a lot of pressure on himself."
Bob's favorite way to unwind was to travel.
"He loved being in an airport and the excitement of going someplace," Carol said.
During summers, Bob and Carol often traveled to new destinations with their two kids, Blake and Monica. Bob would get so excited for a trip, Carol recalls, "we'd have our suitcase out two or three weeks ahead of time."
The family even embarked on one more military-teaching stint, this time in Germany.
Bob retired from the Longview School District in 1994. However, he regularly kept tabs on how his former students were doing. When he read in the newspaper that an ex-student had graduated from high school, he'd send a card.
And when Burr, 36, bumped into him at a local restaurant seven years ago, Bob offered to help pay for his former student's tuition at nursing school. Burr politely turned down the offer.
Bob's health declined rapidly after his cancer diagnosis. Two weeks before his death, Bob was being transferred from St. John Medical Center's intensive care unit to a room on the hospital's fourth floor when he was introduced to the man who would be his nurse for the day.