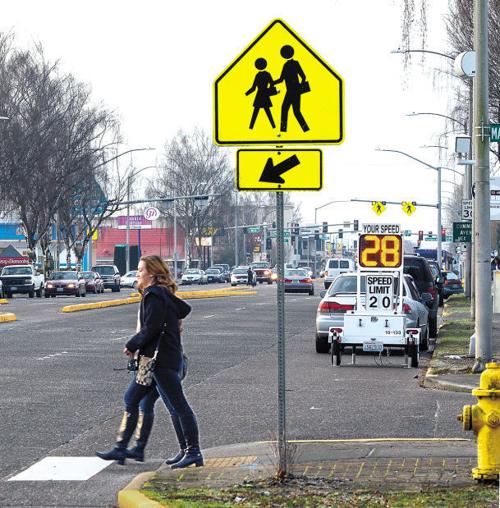 Aaron Roe is sorry. He said so in a letter to the city after getting a speeding ticket in the mail this week.
There's no way he was speeding earlier this month, he said. After fathering twins two and a half years ago, his eyes opened and his driving slowed.
But the speed zone cameras on Cypress Street outside St. Helens Elementary School said he was going 27 mph in the 20 mph zone.
Roe is one of a slew of drivers on the defensive after getting school-zone speeding tickets in the mail just in the last week or so, many for the first time.
"Are they different now than they were in the past in terms of speed tolerance?" Roe asked Wednesday afternoon.
About a month ago, the city quietly directed the company that owns and operates the cameras to lower what could be called a "forgiveness buffer" for those going slightly over the school zone speed limit.
"It was allowing people to go through at a higher limit than we had given the OK to," City Manager Dave Campbell said. "And that probably has resulted in some people now being cited, where they weren't in the past."
The change resulted in tickets being mailed out to first-time offenders en masse in recent weeks, judging from the flood of emails and calls about the matter to The Daily News this week. A count of recent offenders was not not available Wednesday.
"They may have consciously or subconsciously been able to drive through a school zone without being ticketed forever," Campbell said.
Meggan Zainfeld found a ticket in her mailbox Wednesday for going 26 mph near Kessler Elementary earlier in May.
"I'm super diligent about school zones," said the mother of a 1-year-old. "I live right next to Toutle Elementary."
Jeffrey Lawrence picked up a few tickets late in April for apparently going 26 mph through the Mark Morris school zone on 15th Avenue, the location of more than half of all the city's 2014 tickets among six school zones.
"It's kinda odd everybody's getting tickets at 26 mph," he said.
Though camera vendor ATS in Arizona processes the videos used as evidence for the tickets, a Longview police officer ultimately decides whether to issue a ticket.
"Bottom line, and I would always emphasize this: The speed limit in school zones continues to be 20 mph during the posted time of day," Campbell said. "There is still a threshold, it's just at a lower level than it had been in the past."
Those thresholds remain a secret to keep people from going more than 20 mph, of course, though some think the cameras may need further calibration.
Samantha Eisele said she saw the flash go off on 15th Avenue earlier in May and looked at a flat 20 mph on her speedometer. She later got a ticket for going 26 mph.
"I'm all for making sure people aren't speeding in school zones, but not when it's untrue."