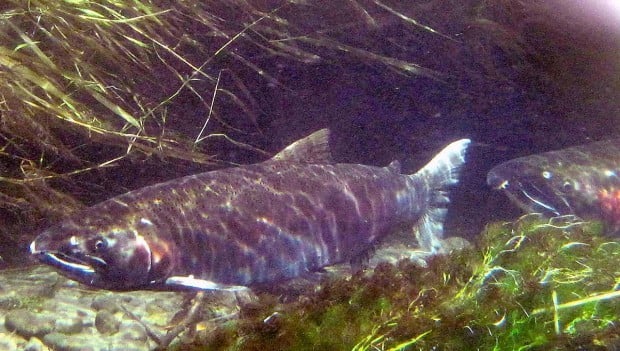 Coho numbers likely will dive in the Kalama River in the next few years — but anglers will have a better chance to catch fish in Riffe Lake.
Because of federal budget cuts and higher operating costs, the state Department of Fish and Wildlife plans to reduce coho production at the Kalama Falls hatchery by 400,000 per year. WDFW will also stop raising 200,000 coho in net pens in the Deep River that are targeted for commercial fishermen.
Those 600,000 juvenile coho, now about 5-6 inches long, have been released into Riffe, where they may eventually grow to 15 or 16 inches long, said Jim Scott, head of WDFW's Fish Program. Those fish were scheduled to be released next year into the Kalama River and Deep River net pens.
The number of steelhead released into local rivers will decrease by 24,000 per year starting in 2015.
The cut in fish production is a result of a funding gap of about $500,000 in federal Mitchell Act funds, according to a WDFW news release. The agency will reduce fish production at its North Toutle (Green River), Kalama Falls and Skamania hatcheries.
Scott said the changes are necessary because federal funding for the hatchery programs has dropped, while operating costs have increased to produce, feed and rear fish at lower Columbia River facilities.
"Hatchery salmon production on the lower Columbia River has been declining for the last decade because of insufficient federal funding for these programs," Scott said.
Under this year's funding reductions, WDFW will release 7 percent fewer coho from its lower Columbia River hatcheries, and nearly 2 percent fewer summer steelhead.
"We are working closely with our federal delegation to help ensure adequate funding is available for these facilities, but without an increase in federal dollars we will likely see a reduction in salmon production once again next year," Scott said.
Since the 1940s, Congress has appropriated funding for the operation and maintenance of state and tribal hatcheries in the lower Columbia River to compensate Northwest states for losses in fish production resulting from the construction of hydroelectric dams.
Federal Mitchell Act funds cover the costs of operating and producing salmon and steelhead at numerous Columbia River hatcheries, including eight WDFW facilities.
Scott said the Kalama was chosen for the coho reduction partly because of concerns that the fish would have an impact on wild coho.
Hatcheries on the Cowlitz and Lewis rivers are paid for with funding from the utilities that operate the dams there.
Tom Paulu is a features writer for The Daily News. He covers Outdoors and Entertainment, among other things. Reach him at 360-577-2540 or tpaulu@tdn.com.
Get local news delivered to your inbox!
Subscribe to our Daily Headlines newsletter.