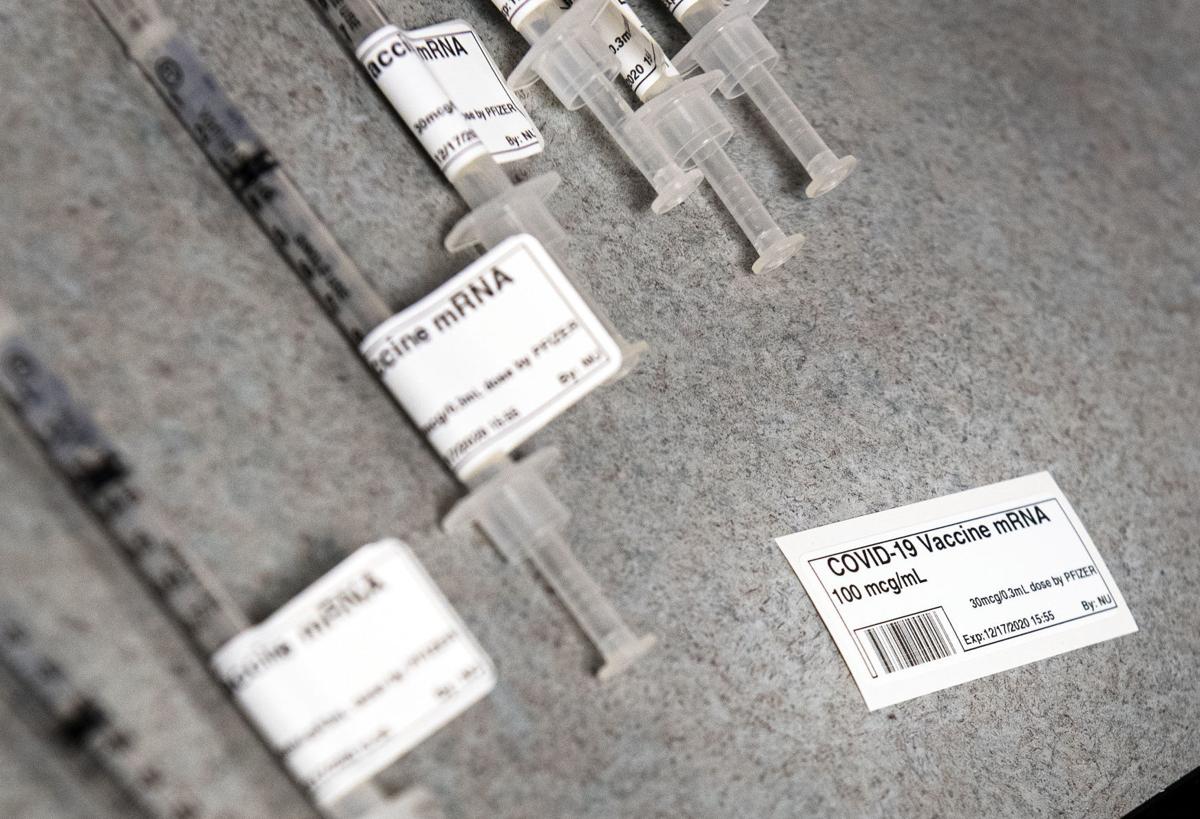 The state Department of Health on Wednesday announced changes to its COVID-19 vaccine plan after a slow rollout over the past several weeks.
Dr. Umair Shah, state health secretary, said that while the absence of a national strategy has impacted the state's response, ultimately the state has a responsibility to overcome challenges and get vaccines to residents.
"While we're making progress everyday, we recognize it hasn't been enough," Shah said.
In Washington, 201,660 doses had been administered as of Monday, about 32% of the 645,975 doses delivered to the state as of Wednesday, said Michele Roberts, one of the leaders of the state vaccine planning group. The number of vaccines administered is an undercount because of delays in reporting to the state, she said.
The number of vaccines administered each day has increased over time to about 15,000 to 20,000 daily, Roberts said.
To speed up vaccine administration, the Department of Health is making some changes "to deliver on the promise of vaccines" quickly, including accelerated timeline for moving to phase 1b in the coming days rather than later this month, Shah said.
Last week the department released guidance for phase 1b, which is broken into four tiers with people 70 and older and those 50 and older who live in multigenerational houses in the first tier.
U.S. Health and Human Services Secretary Alex Azar announced Tuesday all states should start vaccinating Americans 65 or older and people with underlying conditions that put them at higher risk for COVID-19.
Azar said the government will no longer hold back second doses from states, offered federal help to establish mass vaccination clinics and said the government would allocate doses, in part, based on which states were most successful at administering them.
In Oregon, Gov. Kate Brown announced Tuesday that all state residents 65 years and older, as well as childcare, preschool and K-12 school employees would be eligible for COVID-19 vaccinations starting Jan. 23, the Oregonian/OregonLive reported.
In Washington, childcare, preschool and K-12 employees 50 and older are included in the next priority group within phase 1b set to be vaccinated in February. Younger school workers are in the fourth tier of phase 1b and are estimated to be vaccinated in April, according to the state timeline released last week.
The state's teachers union and a bipartisan group of Washington legislators are pushing to bump up school employees on the priority list, the Seattle Times reported.
Shah said the state is not changing the priority groups right now, and it created the current guidance to focus on those who is most likely to be impacted by COVID-19 disease.
The federal announcement "left us uncertain," but what hasn't changed is that the vaccine supply expected next week, Shah said.
"The key is getting more doses into states so those states can get them to local communities and into the arms of people," he said. "However, without consistent and enhanced vaccine supply, by making pronouncements we're simply having people get into even longer lines, which only adds to frustration and consternation of everyone and does not help us get vaccines administered."
The state wants the federal government to increase the vaccine supply and for it to be consistent and timely, Shah said. Right now, the state is finding out how much vaccine it's getting days before and is not assured of a consistent amount, he said.
Roberts said the state needs information on the long-term stable vaccine supply so it can structure the vaccine program based on what will be available.
Before it can launch phase 1b, the state is monitoring the number of vaccines administered because it wants to have a sufficient number of people in that first phase vaccinated before opening it up, Shah said. State officials are also communicating with healthcare partners statewide to get a "lay of the land" for timing of 1b, he said.
Roberts said the state is making sure it has accurate information on what providers have vaccine and what their plans are for it. The state is moving vaccine around to get it to places where its needed, she said.
Roberts urged those currently eligible under phase 1a to get their vaccine now before the next phase opens up.
Hospitals, which have been a major hub for local vaccination, are "injecting people as fast as they can," but scheduling vaccinations has slowed administration, said Cassie Sauer, Washington State Hospital Association CEO.
Unlike with flu vaccines, the Pfizer and Moderna vaccines require second doses, which have to be tracked and scheduled, Sauer said.
Sauer said a federal requirement for hospitals to register everyone they treat as a patient is slowing vaccination of non-employees.
According to federal hospital regulations, "a medical record must be maintained for every individual evaluated or treated in the hospital."
Sauer said the association's request with the state to waive this for COVID-19 vaccinations is under consideration.
Dr. Steve Krager, Cowlitz County deputy health officer, said eligible people should get vaccinated as soon as they can.
"The sooner you can get vaccinated, the sooner you'll be protected and people around you will be protected more as well," he said.
Krager said the more people that are vaccinated, the more it will help slow COVID-19 transmission.
Cowlitz County Wednesday reported 36 new COVID-19 cases and two new deaths, a woman in her 90s with underlying conditions and a man in his 60s with underlying conditions who was hospitalized.
The county recorded 428 new cases per 100,000 people from Dec. 23 to Jan. 5, up from 402 cases per 100,000 from Dec. 16 to Dec. 29.
Like Thanksgiving week, the county recorded a temporary dip in case counts from tests collected Christmas week, according to the county's data report. The health department believes the dip reflects a decrease in individuals seeking testing that week as opposed to a true dip in COVID-19 activity, according to the report.