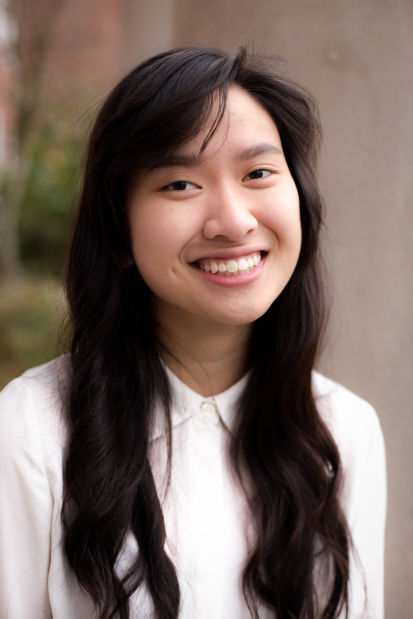 Kim Hua isn't having any of that talk of Longview's "good school" versus "bad school."
She's about to graduate from R.A. Long High School with a 4.0 gpa, $13,500 in scholarships and grants to the University of Washington and a seemingly limitless future. She can also name several other classmates in the same situation. So, while some may still call R.A. Long the "drop out factory" or inferior to Mark Morris High School, Kim says she's proof that's not true.
"If I could do this, anyone could," she said. "I don't think I'm special. I really believe both the schools are equal."
Despite her modesty, teachers say Kim has been a standout throughout her time at R.A. Long.
"She's brilliant," said English teacher Jan McIntyre, who raves about Kim's contributions to her classroom discussions. "Her insight and her willingness to share the world she lives in as a woman of color brought such a different perspective. ... She just brought a vitality and a compassion to the classroom that's remarkable."
"She's one of the best students I've ever had," added Paul Jeffries, her math teacher and advisor.
Kim's academic prowess began in math, which she said initially came easier than other subjects in elementary school because her family speaks only Vietnamese at home. Hua and her older brother were born in America after her parents immigrated from Vietnam.
"Math is the same no matter what language you speak," Kim said. She quickly made up ground, though, and now is fascinated with the mystery and potential in scientific research. She hopes to become a medical researcher.
"I'm interested in (producing) and researching new pharmaceuticals that could make someone's life better," she said.
When she's not hitting the books, Kim is playing music. She's played the piano since first grade and the violin since fifth grade and also composes her own instrumental music.
"It's another way to express myself," she said. "It's very different from the straight and narrow of math and science."
---
School: R.A. Long High School
Age: 18
Hometown: Longview
Parents: Duc Hua and Phuong Chau
Plans: Attend the University of Washington and study medicine or chemical engineering.
Kim Hua, in her own words
If you could talk to anyone, living or dead, who would it be?
"Malcom X. I wrote my Senior Thesis on him and what he said about institutional racism in the 1960s. ... If he were here today, I'd like to ask if he sees any progress on that. ... I also think it's cool he came from the slums of Chicago and not that great of background and still achieved a lot."
Who is your favorite teacher, and why?
Jan McIntyre (English). "She believed in me when I didn't believe in myself. ... I've always been a really shy girl, but she said, 'Your voice is just as important as other students.' She gave me confidence."
Paul Jeffries (math and advisor). "He's just funny. And he will explain things in different ways to be sure you understand."
If you could have one wish, what would it be?
"I wish the (higher) education system wasn't so expensive."
What is your secret talent?
"I made a recording of myself playing wine glasses filled with water. ... You rub your finger along the rims. It's sometimes called the glass harp."
Barbara LaBoe covers courts and law enforcement for The Daily News. Reach her at 360-577-2539 or blaboe@tdn.com.
Get local news delivered to your inbox!
Subscribe to our Daily Headlines newsletter.