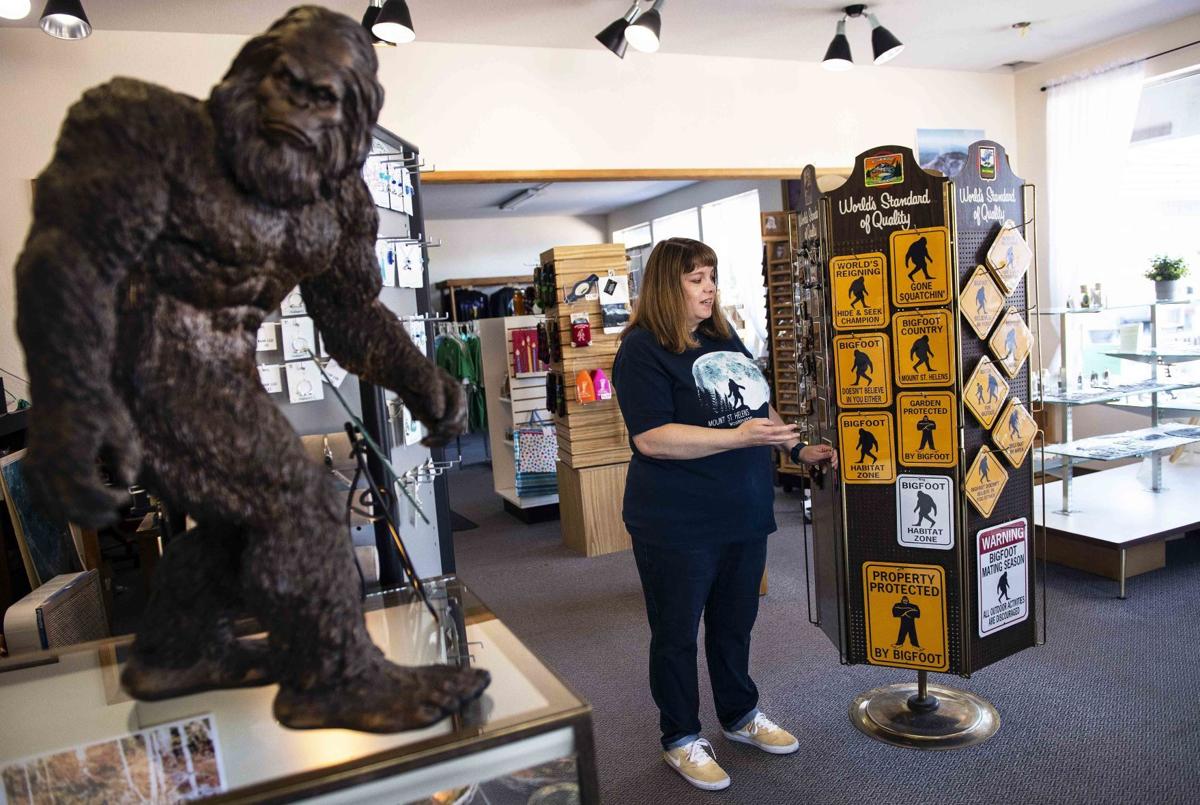 Spotting a Cowlitz County tourist in the winter can seem as elusive as seeing Bigfoot.
The annual Longview Squatch Fest centered around the mythical ape-like creature was created to draw visitors to the area during those months when businesses need an extra boost.
After a year of sheltering in place, social distancing and masking up, local event organizers are tentatively planning summer celebrations in …
This year, COVID-19 restrictions moved the event to summer, but it will return to the winter in 2022. The festival runs Friday and Saturday, just as local businesses need another push — after more than a year of declining sales due to the pandemic.
Bigfoot tourists
Campers, hikers and attendees of events — such as the nearly 30-year-old bike ride Tour de Blast — visit Mount St. Helens and surrounding parks and lakes during the summer. The area's gray winters entice fewer guests.
That's why Longview-Kelso Chamber of Commerce Project Coordinator Amy Hallock helped launch Squatch Fest in January five years ago. The plan to entice more visitors worked.
Local and national Sasquatch enthusiasts will get two days to celebrate the elusive beast at Cowlitz County's fourth annual Squatch Fest — and…
The annual festival has transformed from a one-day event of around 1,400 attendees, to a two-day celebration with an anticipated 4,000 guests this summer. Hallock said she is expecting attendees from 25 different states and Canada this weekend.
Over the past four years, the Kelso Super 8 by Wyndham has sponsored the event and almost always sells out, Hallock said.
Mt. St. Helens Gifts owner Carrie Powell said she annually sets up shop at the festival, and sees countless return customers to her Castle Rock store.
"We're unofficially the Castle Rock Bigfoot headquarters," she said about her souvenir shop off Interstate 5's exit 49.
TOUTLE — Each summer from 1994 to 2008, Marvin Cooper pedaled up thousands of feet in elevation through the Mount St. Helens blast zone.
Powell has owned the store for six years, but has worked there since 2009. Over the years, she said she's noticed more customers interested in Bigfoot merchandise, and fewer wanting Mount St. Helens gifts — the shop's namesake.
"People tell me about Bigfoot sightings all the time," she said. "I have talked to people who have seen him all over Mount St. Helens."
Powell closes her Castle Rock store when Squatch Fest runs to focus on festival sales — that's how profitable the event is for the small business owner, particularly after COVID-19 restrictions caused her to close her shop for nearly two months in 2020. The freeway was nearly empty then, she said. In April 2020, she earned $15.
"There was nobody around," she said. "This year is much better."
'True believers' and more
Attendees come for the lore of Bigfoot, Hallock said, while others attend for the festival's activities for different ages.
"Some are true believers, who respect the authors and speakers," she said. "But there are so many other things going on too."
The festival kicks off from 4 to 9 p.m., Friday, at the Cowlitz County Event Center in Longview with a panel discussion on the legendary beast, as well as a Bigfoot calling contest.
Additional speakers run from 10 a.m. to 3 p.m. Saturday, including Russell Accord, host of the Travel Channel's "Expedition Bigfoot," and Cliff Barackman, host of Animal Planet's "Finding Bigfoot."
Both days include craft and food vendors, a cornhole tournament, an ax-throwing contest, a beer garden and guitar performances by a sasquatch morphed with Guns N' Roses guitarist Slash called Slash Squatch.
Saturday, kids can create crafts with The Home Depot, watch a balloon artist clown and listen to stories from the local historical society.
And if you catch a glimpse of Bigfoot over the weekend, consider yourself lucky.