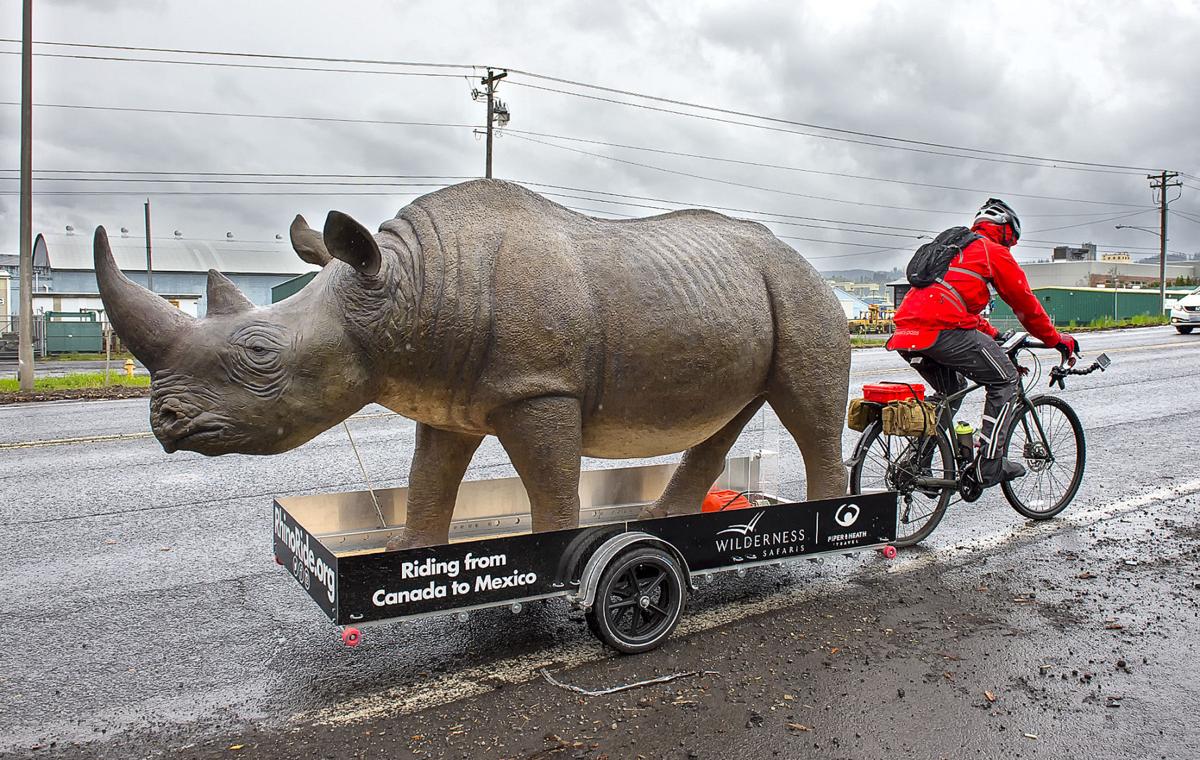 Until Tuesday, it was safe to say that a 300-pound rhinocerous replica had never been hauled by bicycle over the Lewis and Clark Bridge into Rainier.
Now Matt Meyer of Durban, South Africa, can claim that he was the first to do so.
Meyer, 31, is cycling down the West Coast with a life-sized, fiberglass rhino in tow to raise awareness for the plight of the critically endangered species. Meyer started his trip, called "The Long Ride to Free Them," in Blaine, on the Canadian border, on April 17 and plans to finish in San Diego in midsummer — a nearly 2,000-mile journey.
Traffic slowed to a crawl on Oregon Way as Meyer prepared to finish Tuesday's leg by crossing over the Lewis and Clark Bridge. Cars cruised by Meyer, astride his bike, towing "Lunar," the rhino replica.
Meyer has been a safari guide in his home country for the past decade, and said he was inspired to embark on this project a couple of years ago.
"There was a guy that was walking across South Africa with a replica much like Lunar, a little bit less of a distance, but he wasn't getting any traction or publicity or any funds or anything," Meyer said. "So we thought, 'Why not do something like that here?' "
The West coast of the U.S. has a large, illegal wildlife trading market, Meyer said. It also has a large population through which to spread his message.
Meyer is also raising money for three African conservation groups dedicated to saving the rhinoceros: Care for Wild Africa (a rhino sanctuary), Save the Rhino Trust and Ol Pejata Conservancy. His goal is to raise $250,000. As of Tuesday afternoon the website had raised more than $20,000.
Meyer and videographer/van driver Josh Lalley made their way into Longview via Westside Highway on Tuesday afternoon amid driving rain and wind. The two had started in Napavine that morning and would finish the day in Rainier.
Lalley, 38, has been driving a Jeep and towing a trailer with gear throughout the expedition. He's also been filming the entire journey to make a documentary at the conclusion. In the meantime, he and Meyer have been sharing their daily progress on Facebook and Instagram (@rhinoride2017).
Lalley had never met Meyer before this project. The two were connected through a mutual friend in Los Angeles, where Lalley lives and works as a filmmaker.
"Literally the day I got the offer to go on this trip was April 1," Lalley said. "And this guy is telling me that I need to follow a rhino from border to border... . I was like, 'okay, this is kind of strange,' and wasn't really sure."
He told his friend he would think about it. Within an hour he was calling the friend back, telling him he was on board.
Lalley said traveling through rural areas with Lunar the rhino in tow has been the most fun.
"The contrast of a rhino going down the road alongside cows and horses, it's pretty cool," Lalley said. "Cows, we've noticed, have been very interested. Horses seem to be startled and run off in a different direction."
The logistics of getting up and over the Lewis and Clark bridge were the most complicated of the trip so far, Lalley said. The two enlisted the help of their Longview host, Stan Smith, who housed them the previous night. 
Lalley walked over the bridge in the driving rain, video camera in tow, and documented every inch of Meyer's slog across the border into Oregon. Shortly behind was Smith, driving the Jeep and trailer with hazard lights on.
When the group finally pulled into a gas station in Rainier, everyone was exhausted.
"When you're going up a hill, if you slow down, there's no starting again," Meyer said. "So I think we're done for the day."
But that didn't stop him from posing for pictures with people who stopped to ask about the giant rhino next to him.
"A lot of people don't realize how much time we do have left with the rhinos," Meyer said. "If nothing is done now we will lose them in the next decade."
Not only will the rhino disappear, Meyer said, but all of the species dependent on them: dung beetles, the oxpecker bird and even certain species of grass.
Millions of rhinos roamed Africa and Asia a few hundred years ago. Now, conservationists estimate, there are about 30,000 surviving in the wild.
Rhinos are mainly poached for their horns, which many believe have magical or medicinal properties. In reality, the horn is made of keratin, the same material found in fingernails and hair.
"The only creature that needs a horn is a rhino," Meyer said, removing his helmet and rain gear. "No one else."
Contact Daily News reporter Madelyn Reese at 360-577-2523​