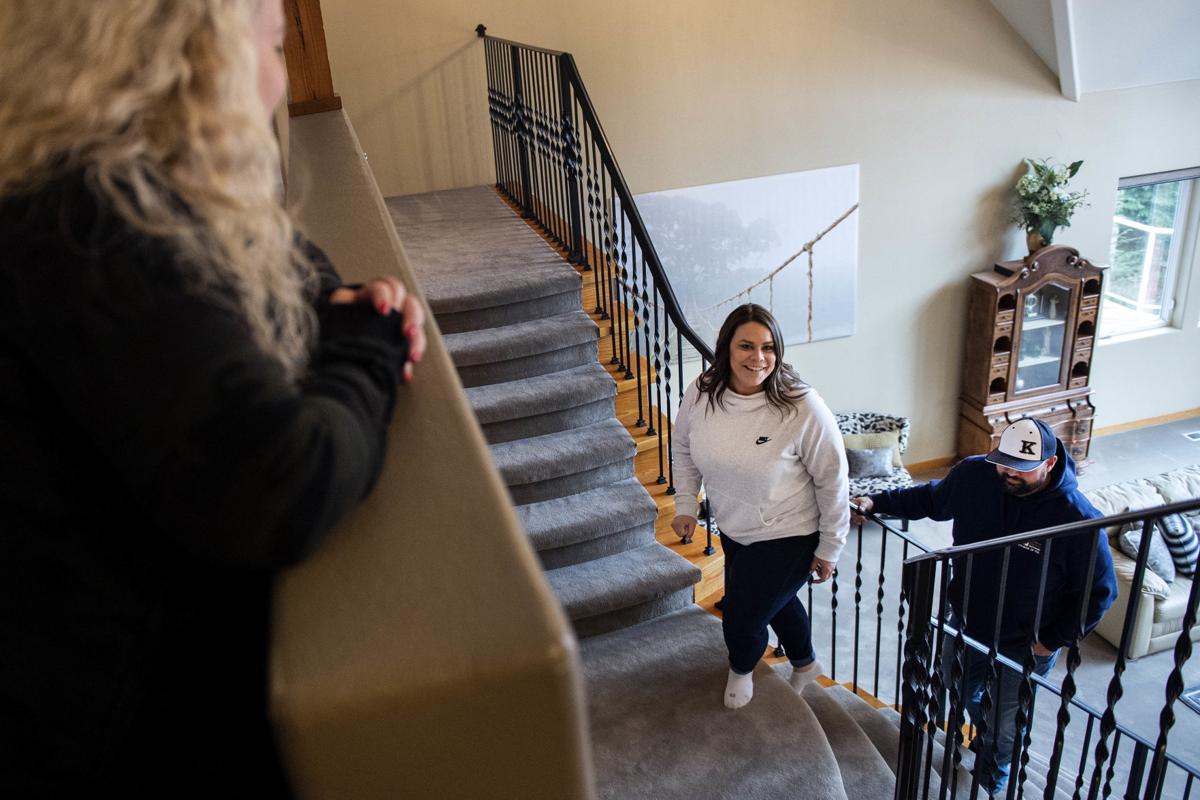 First-time home buyer Stacie Wishard started her house hunt with her boyfriend about a year ago, launching the first step in building a future together.
"We are on the edge of getting married and wanting kids," said Wishard, 30. "That's kind of on hold until we get a house. … We can't start the next chapter of our life yet. We are waiting for this house."
But the Longview couple quickly discovered that prices are high and pickings are slim. So far they have put down offers on two homes — both above asking price. And both times they were outbid.
"We've looked at houses that are $280,000 up to $370,000, just for a three bedroom/two bath. It's crazy," Wishard said. "If you don't go see it the day it's posted for sale or the next day, it might be sold that quickly. And it's a bidding war still."
Local Realtors say Cowlitz County's housing inventory is at a recent low, which is boosting demand and prices but also causing an unexpected side effect: People who want to sell and move to another house locally are hesitating because there is little out there for them to buy.
"My first question when I go to a listing right now is, 'Are you prepared to be homeless?'" said Kristin Cheatley, a broker with Real Living, the Real Estate Group. "I explain that if we price their house to sell, it is going to sell in this market. … From there, what is their plan? Sometimes they are not ready for that."
With strong prices and low interest rates, it's a great time to sell a house, but no one wants to, said Kevin Campbell, designated broker for Kelso-Longview Windermere.
"The main thing I keep hearing from my agents is that inventory is tight and that is keeping other people from hitting the market. They are afraid they won't find something to buy, which is kind of like a self-fulfilling prophecy" because it keeps inventory (of houses for sale) low, he said.
New listings often are snatched up in a matter of days, Campbell said. And the high demand for homes is nudging the county's median home price closer and closer to $300,000.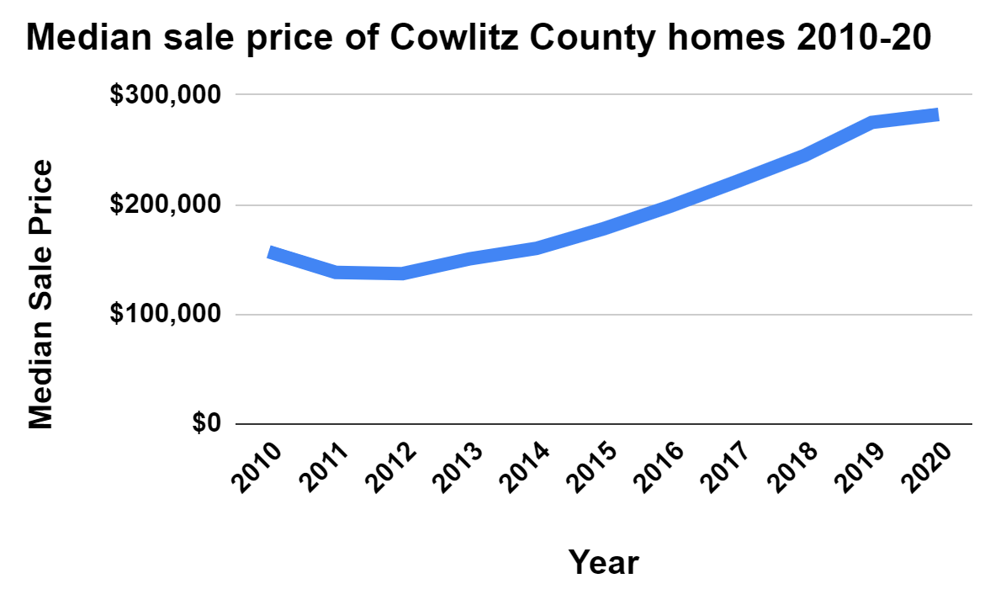 The median home sales price in Cowlitz County in January and February $282,000, more than the $275,000 for all of 2019. The median in 2016 was $198,500, the last time it was below $200,000.
"All across the state, prices are going up. We sometimes go, 'Oh my gosh, you got how much for that house?' ... and then we remember that we are considered affordable," Campbell said. "It's just really driven by the demand."
According to the Northwest Multiple Listing Service February housing report, Cowlitz County had just 1.3 months of residential housing inventory for sale. That's compared to nearly three months of inventory in February 2019.
Anything less than six months of inventory is considered a "sellers market," when it's easier to sell a home quickly and for more than its listing price, according to The Balance, an online personal finance publication.
"We've been here before, but we haven't had this low of an inventory for a while," Campbell said.
For Wishard and her boyfriend, lack of purchase options means looking at each new listing as soon as it posts — then putting in an offer that same day. Otherwise, they likely lose out to other bidders, she said.
As an example, Wishard pointed to a "huge fixer upper" she and her boyfriend looked at in Longview. The house was listed at 5 p.m. one evening and "by the next morning at 10 a.m. when we got there, there were already three full-price offers."
Although the couple didn't put an offer down for that house because it need too much work, they learned to "drop everything and go" when they hear a new house is up for sale.
"They only come up every so often," Wishard said. "It's really too bad."
Campbell said the main driving force for the limited inventory is a fear that upgrading homeowners won't be able to find a new place to move.
"What we continue to hear is, 'Yeah, we'd like to put our house on the market, but what will we buy?' This whole lack of listing inventory is actually keeping people from listing," Campbell said.
But watching houses getting bought up so quickly validates those fears, Cheatley said.
"It's really hard for people (looking to upgrade) right now because they don't have that in between place to go to throw their house up on sale," Cheatley added.
Under a typical housing cycle, listings usually pick up in the spring. And more listings could encourage wary upgraders to list their homes, as well, Campbell said.
"I think as we get into spring, we will start seeing people take the plunge. Maybe they have been scared and they will say, 'We will just try,' " he said. "I really think we've probably seen the low point."
In the meantime, Wishard and her boyfriend will continue looking.
"It is really hard. It gets discouraging. But hopefully someone puts their house up for sale. I've even driven past a house and thought, 'Oh I really like that house.' and I wrote them a letter , 'if you are thinking of selling, please contact me.' " Wishard said. "We are just really hoping a house will come up for sale."