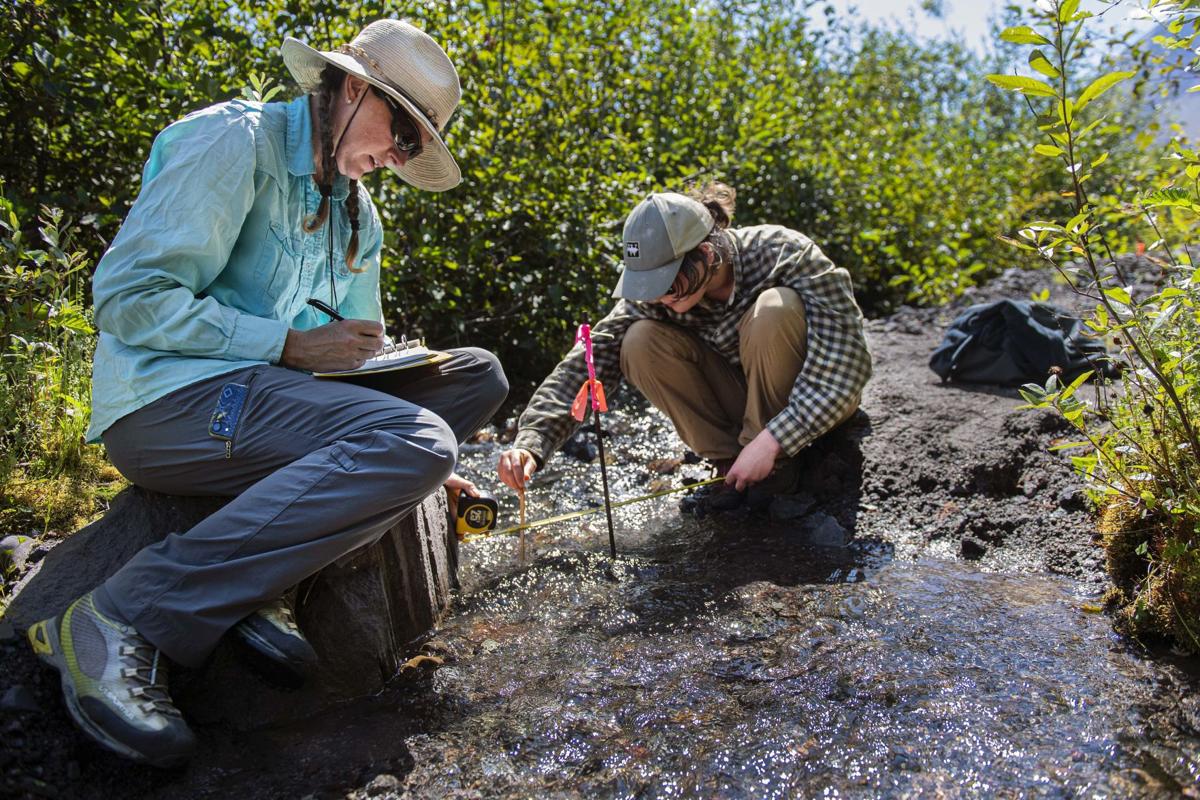 This is the 12th story in our ongoing series marking the 40th anniversary of the eruption of Mount St. Helens on May 18, 1980. Stories appear in a collection on TDN.com as they appear in print and online. Look in Sunday's Daily News for a special section commemorating the eruption and week that followed.
Perhaps nature didn't get the message about gender equality, at least at the creeks that ecologist Carri LeRoy is studying at the northern foot of Mount St. Helens.
Watercourses she has studied since 2015 are dotted with willow trees that have sprung from a layer of ash and pumice 300 feet thick. As it turns out, there are twice as many female willows as male willows, and they've taken root closer to the streams.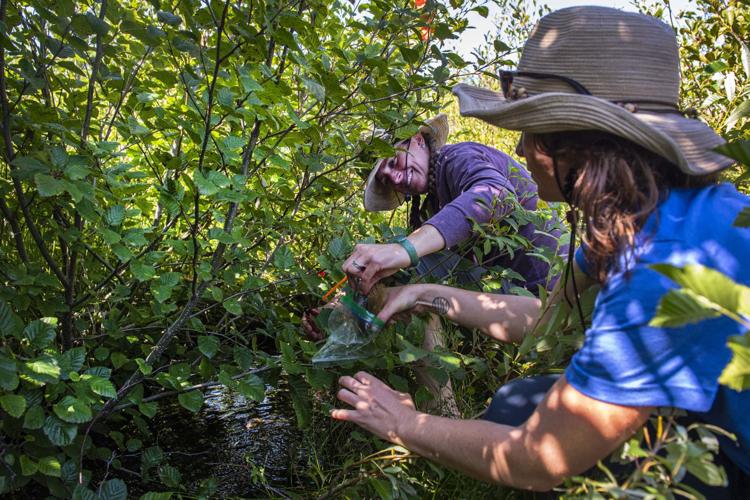 "So as these streams develop, they are being influenced by female willows" as their leaves fall, LeRoy said. "They have less nitrogen in their leaves and so they decompose slower than the leaves of male willows. Those leaves are a resource in the stream for a longer period of time. The aquatic insects that chew on them can tell when they are chewing on a male or female leaves. ... Plant gender can influence how ecosystems function."
Perhaps it's appropriate that this small but enticing insight into the role of sex should come from LeRoy, one of the few women to lead a research project into the complex evolution of the Mount St. Helens landscape.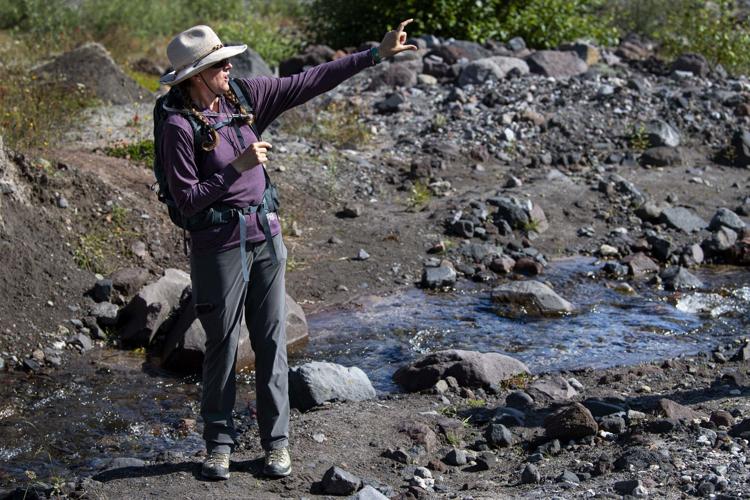 A researcher from The Evergreen State College in Olympia since 2005, LeRoy is tracking life emerging in five new streams formed after the mountain's eruption 40 years ago. They flow through the Pumice Plain, a broad fan-shaped area between Spirit Lake and the north slope of the volcano.
During the 1980s eruptions, the area was swept by pyroclastic flows, avalanches of hot gas and pumice that raced down the side of the mountain. Unlike other parts of the blast zone where surviving plants and small animals drove the early stages of ecological recovery, the Pumice Plain was left a lifeless wasteland. Except for colonizers that flew, floated or walked in, life in the Pumice Plain had to return from scratch.
"Think of it as giant sterile pumice field. It is a great starting place (to study) the formation of streams," noted LeRoy, 43. "Entire watersheds were created on the Pumice Plain because of the way water is coming off the mountain and coming through this unconsolidated pumice."
The area, she said, is a great place to study "how does a stream come to be and how a watershed comes to be? ... We have very few locations on Earth where we can explore brand new watersheds. This is one place on Earth where we can watch stream evolution from the start. It is a unique opportunity," LeRoy said.
The creeks under study are informally known as Willow Creek, Clear Creek, Geothermal Creek, Camp Creek and Goose Creek. All flow into Spirit Lake, and are evolving in a similar way except for Willow Creek, which is larger, gushes from a spring and is colder. Its faster current favors species of algae that cling better to rocks.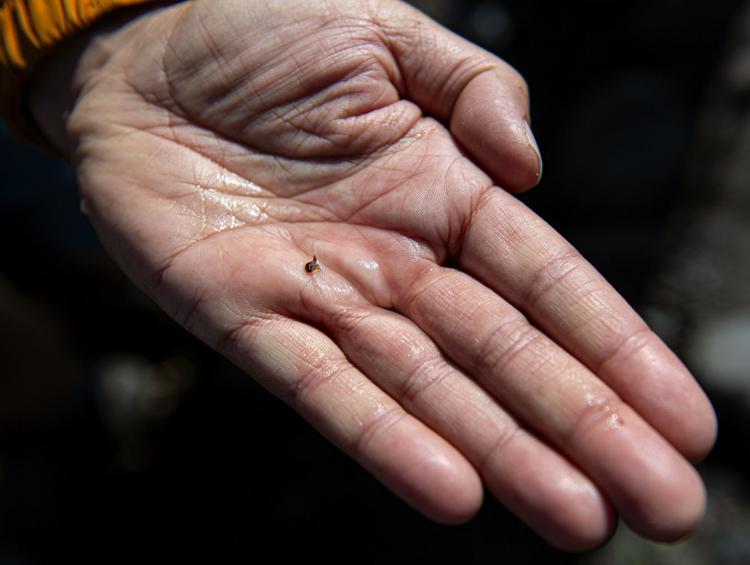 After five summers of surveying, she and U.S. Forest Service researcher Shannon Claeson have learned "these are complex little ecosystems. There are a lot of species. ... One thing that is funny is that people ignore the creeks. When we dug in, we started finding a lot of ... species of algae and micro-invertebrates — lots of stone flies, mayflies, little midges. We've found 85 different species of aquatic invertebrates in these streams that are only 40 years old."
So new, in fact, that a colleague, Missouri State University stream ecologist Debra S. Finn, learned they still do not have a "saturation zone," a flow of water under the streambed that most waterways develop.
However, the researchers have found 150 different species of algae.
"It was hugely surprising. People were saying, 'You won't find much. There has not been much time. They are just gravel ditches and won't be interesting,' " LeRoy said.
She's still speculating about how the algae got there, "Where did they come from? Insects can fly in. But how did the algae get there? On the feet of geese or elk? Are they bringing it in from other places? We have no idea," she said. "One of the sad things about my research is that no one got out there (right after the eruption) to look and see."
Why get jazzed up about algae and small aquatic bugs? Because they're the base of the food chain in streams and rivers, LeRoy said.
"One of the important jobs of a river is to transport material from the forest and process all this organic mater. Leaves and organic matter get processed in the stream, and that feeds all the things that we love in a stream, such as fish and frogs," LeRoy said.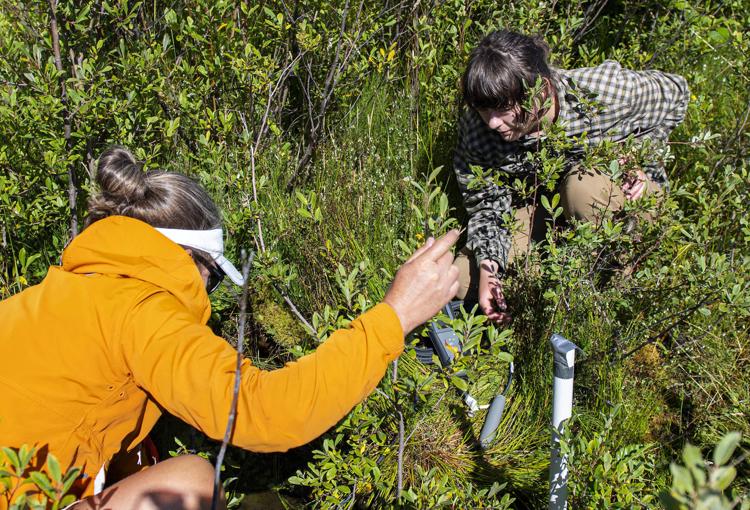 But she and Finn also have found something distressing: An invasive species — New Zealand mud snails. It is one of the top invasive species in Washington, LeRoy notes, but she has no idea how it got there. It nevertheless is an ominous finding. They've spread to three of the creeks, and they've also been found in the bellies of fish in Spirit Lake.
"So they're spreading," said LeRoy, calling the discovery "an unfortunate surprise."
"They can reproduce without sex and can make millions of clonal replicas in just a few years. If you have a lot of snails, they will eat the algae and take up all the nutrients and make (the streams) a dead zone" or at least make the ecosystems far less diverse and complex.
This discovery is one reason she's so concerned about a U.S. Forest Service plan to re-establish a road to Spirit Lake to study the debris blockage holding back the lake and repair the lake's drainage tunnel. The road will cross some of the streams and possibly introduce more invasive species clinging to earth-moving or drill equipment, she fears, despite Forest Service assurances that the equipment will be vetted and cleaned before arrival.
The Forest Service should give stronger consideration to helicoptering the equipment in, she said. "Unfortunately, now my research will be about what does building a road in a stream do to the stream, which is not interesting. We already know what they do to streams, and it is not good."
To LeRoy, who grew up in a Portland suburb and who later earned a doctorate in biology from Northern Arizona University, Mount St. Helens always has been a special place. As a preschooler, she remembers watching the eruption and running outside with her rainbow umbrella while ash fell.
She spends summers at the volcano with her daughter Alice and husband, Dylan Fischer, who does research on plant recovery in the volcano's tephra, or ash fallout zone. Last summer she hoofed nearly 300 miles walking in and out of the Spirit Lake basin to the Pumice Plain.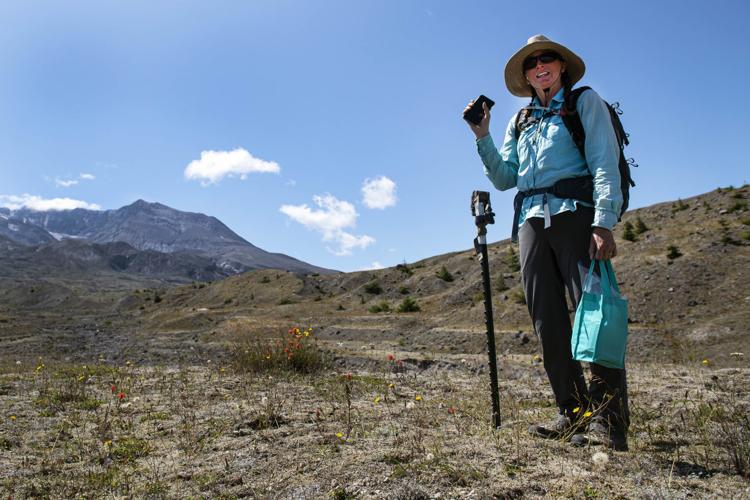 She called the blast zone "a beautiful and sublime landscape. It is dark and scary and is subject to extreme heat and cold."
It's character, she said, "makes it a great place to ask questions. The starkness of the landscape crystallizes research questions. There are tons of research questions you can ask about streams when you work in a place where everything has been simplified."
Contact City Editor Andre Stepankowsky at 360-577-2520.
Get local news delivered to your inbox!
Subscribe to our Daily Headlines newsletter.