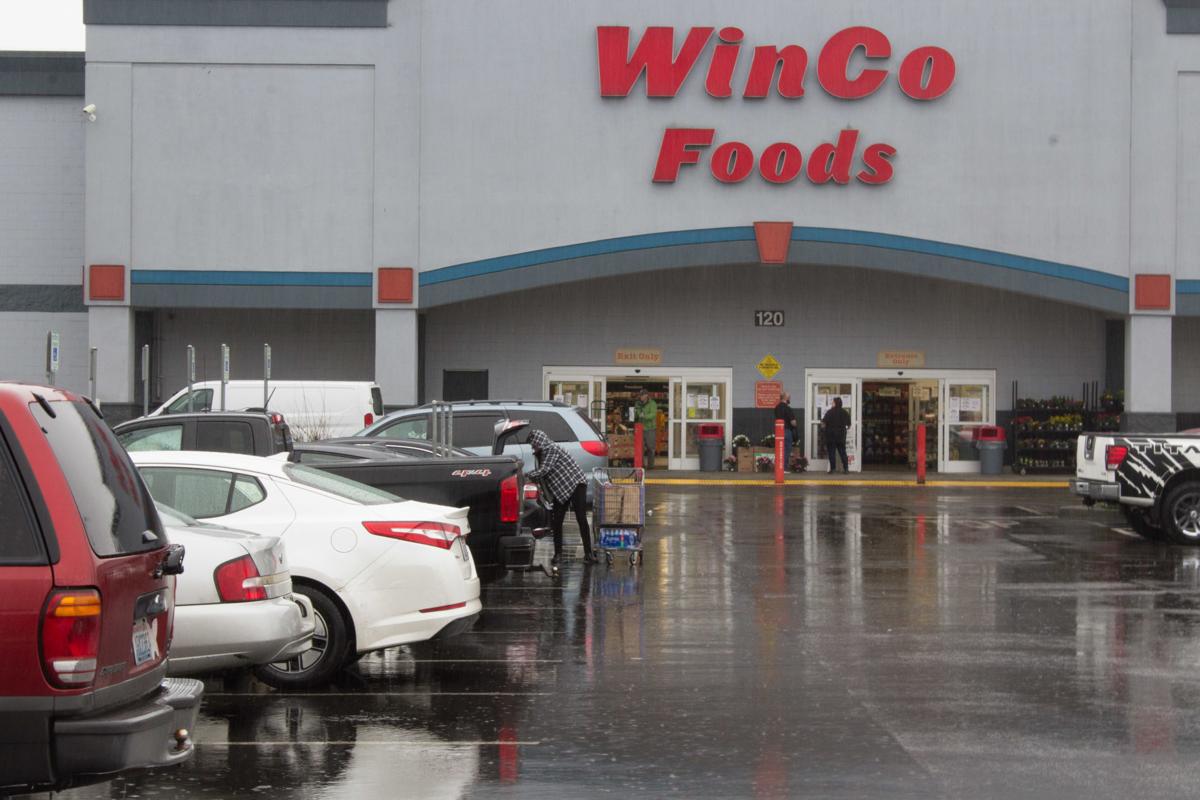 Shoppers jammed the the Longview Winco early Tuesday morning, when the low-cost grocery store opened its first senior hours since the coronavirus outbreak began.
Shopping carts were even scarce.
It is unclear whether the throngs of buyers were responding to Gov. Jay Inslee's stay-at-home order, which does not apply to grocers, or just pent-up shopping demand. Inslee appealed to the public not to engage in panic buying when he announced the order Monday evening. Officials have repeatedly said the nation's food chain is not in jeopardy.
By contrast, Fred Meyer was busy during its senior shopping hours Tuesday morning, but lines were moderate, more like a typical Saturday.
However, in a Facebook comment, one Fred Meyer cashier said she was greeted by a line at the front doors "and a swarm of people running in and straight to the toilet paper (aisle)" when she opened the store at 7 a.m.
Business at WinCo had settled down by 8:30 a.m., about an hour after senior shopping hours ended. Longview resident Brenda Young said she and her husband stopped by the store in the morning to try and avoid long lines.
"We thought we could hit it early, before everyone got in, but I think everyone is in the same mindset," Young said as she loaded her car with groceries around 8:45 a.m.
The store put up signs to encourage customers to social distance at check out stands, and most customers did a good job abiding by the recommendations, Young said.
"But there's still some people who push their cart right up to yours, or who will get a little too close to get something off the shelf in front of you."
Despite the morning rush, WinCo was well stocked, and the Youngs were able to get all of the "staples" they needed.
"We bought things you can actually make something with: butter, apples and potatoes," Young said. "Potato salad can go a long way in these times."
The couple also scored a package of toilet paper, one item widely coveted by shoppers. WinCo had a fairly healthy supply left Tuesday morning, though the store limited shoppers to one pack each.
Young said her family plans to "buckle down" and avoid "venturing out" for the next 14 days.
Gov. Inslee on Monday stressed that his order is not a "shelter in place" command. "It is still safe to go outside using social distancing; the grocery stores and other essential businesses will remain open," according to a statement his office released.
Renny Jungclaus, 68, of Winlock, also hit Winco early. She said she's avoided shopping for the last couple of days, but she had to visit Longview to do some banking.
"I wanted to get it all done while I was here. ... So I bought enough for two weeks, maybe three, instead of having to do it weekly," Jungclaus said. "I don't want to come back."
Jungclaus thinks Inslee's stay-at-home order was a good idea. She works at a Winlock gas station and said she often scolds local kids for coming out to buy snacks when they didn't need to.
"I talk to the kids like I'm their grandmother. I say, 'If you give it to me, I'll die.' "
She also reminded other shoppers to social distance, including one woman who stood too close in the meat aisle, causing Junclaus to step back and wait to load her cart.
"After she finished I said, 'Please remember to social distance.' "
Concerned about COVID-19?
Sign up now to get the most recent coronavirus headlines and other important local and national news sent to your email inbox daily.