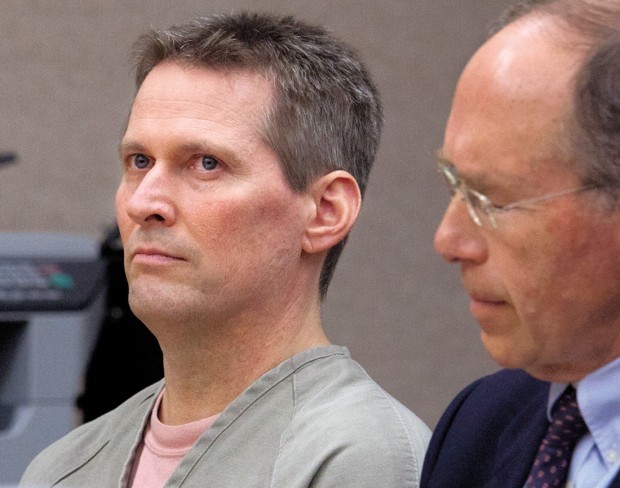 TACOMA — Martin Arthur Jones — still protesting innocence — was sentenced to 50 years in prison Wednesday for trying to murder a state trooper in Long Beach last year.
The 46-year-old Seaview heavy equipment operator will be an old man when and if he gets out — unless he's successful in the appeal he vowed to file while addressing the judge.
"I'm going to tell the court again that I did not do this," Jones told Pierce County Superior Court Judge Vicki Hogan in a Tacoma courtroom. "We started out with one victim and his family and now we have two victims and (two) families."
Jones was convicted of attempted murder last month for shooting then-state Trooper Scott Johnson in the back of the head Feb. 13, 2010. The jury also found that Jones committed the crime with a firearm and against a law enforcement officer — which qualified him for a potential life sentence.
Jones repeatedly denied any involvement in the shooting, testifying that he was home at the time.
Johnson was shot after 12:30 a.m. while impounding a van belonging to Jones' wife along Highway 103 in Long Beach. Johnson, a veteran trooper, has recovered from his injuries and was elected Pacific County sheriff in November. He identified Jones as the shooter during the trial. Johnson also spoke at Wednesday's sentencing, saying Jones not only hurt Johnson but society as a whole.
"This was an attack on every sworn police officer in the state and on the peace of the community," Johnson said. "This type of violence tears at the very fabric that holds our community together."
Jones' lawyers and family members pleaded for leniency and a 20-year-sentence, noting he'd never been in trouble before.
Jones' brother said his own wife is a police officer and the family has always supported law enforcement. Todd Jones said he was sorry for what Johnson and his family have gone through, but he said he didn't believe his brother was the shooter.
"He's a warm, caring, loving and compassionate man," Todd Jones said. "I admire him and am proud to call him a brother."
Prosecutors argued that Jones deserved an exceptional sentence, noting that Johnson is alive through luck and his ability to fire off shots at Jones.
Johnson's survival "doesn't change what the defendant tried to do," said Assistant Attorney General John Hillman.
Hogan agreed, sentencing Jones to 45 years in prison with an additional five years for using a firearm in the crime.
After the sentencing Johnson said he was pleased with the outcome.
"Justice was served," he said.
The trial was moved to Pierce County because of concerns local publicity of the shooting and that Johnson's campaign might influence a jury.
Jones next faces a $3 million civil suit filed by Johnson for medical bills and pain and suffering. A hearing in that case is expected in Pacific County in April. Jones' lawyers said he's broke and that Johnson already has filed a lien against his house. Johnson's civil lawyer, though, said the case will continue.
"It's the principal," said lawyer Jeff Campiche said. "If you shoot a police officer you're going to have to pay in criminal and civil court."