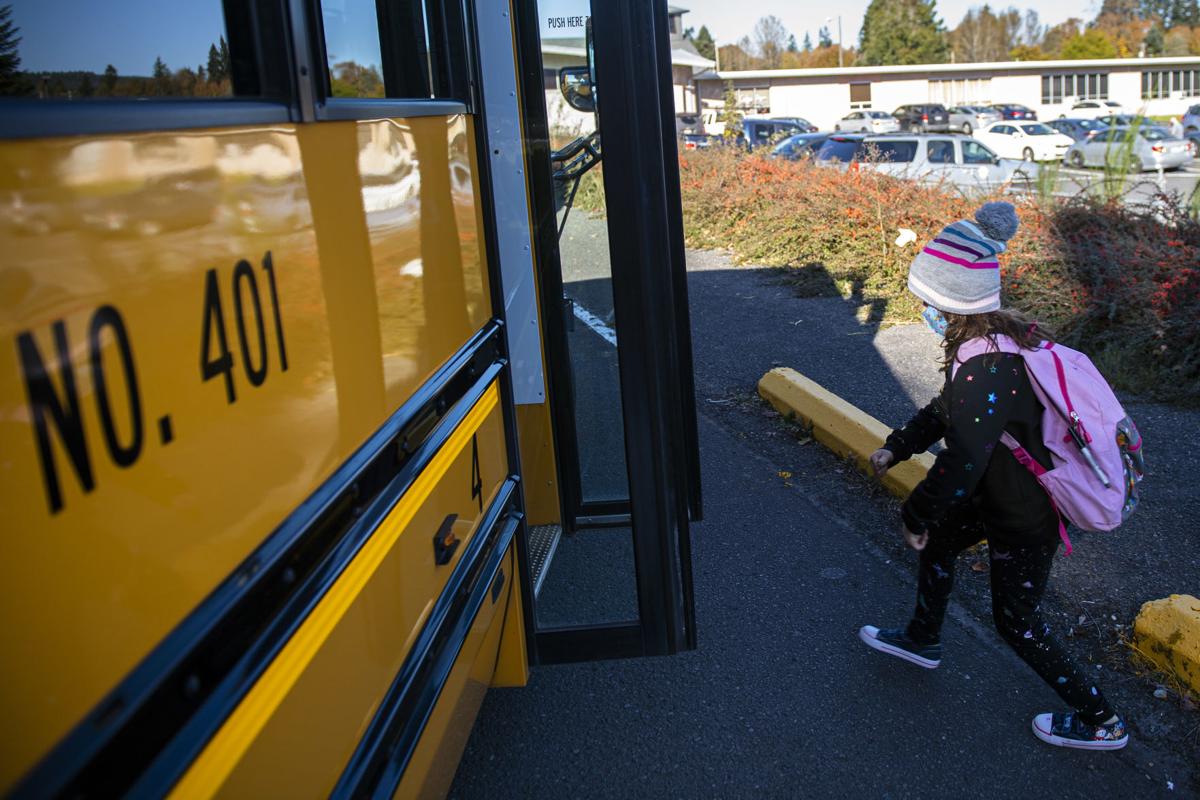 The tightened pandemic-response restrictions Gov. Jay Inslee announced Sunday do not affect Cowlitz County schools, but schools are still bracing for change as COVID-19 cases continue to rise.
At St. Helens Elementary in Longview, things changed this week.
After several St. Helens Elementary students tested positive for COVID-19 over the past week, the Longview School District decided to return the school to fully remote learning, effective Tuesday. All other schools are unaffected and will remain in hybrid.
According to an email to parents from Superintendent Dan Zorn obtained by TDN, the decision was made "out of an abundance of caution and due to several recent positive student COVID-19 determinations."
St. Helens will remain remote until "it is deemed appropriate to again provide in-person instruction at the school," Zorn wrote. The district did not release the email to the general public.
"I want to thank our staff at St. Helens for their professionalism during this difficult time," he said, and reminded everyone to continue to follow safety protocols like wearing a face covering and staying six feet apart at all times.
According to current state guidance, once a county enters a "high" level of COVID-19 transmission, which is more than 75 cases per 100,000 residents over a 14-day period, bringing additional students back to hybrid should pause.
Cowlitz County entered the "high" phase with 100 new cases per 100,000 population in the reported time range of Oct. 21 through Nov. 3. Between Oct. 15 And Oct. 28, the county also had a 5.2% test positivity rate, which is just above the 5% rate at which the state recommends caution for school reopening.
Prior to entering the "high" level, the county was in the "moderate" level for four weeks, and many schools brought back older students. So far, only a handful of COVID-19 cases have been reported in schools: at least two students in Longview, two students in Kelso, two staff members in Woodland and one student in Castle Rock. However, there is no centralized data base for sharing cases reported in schools with the public. Health officials say it is up to schools to notify the community.
If a county stays in "high" for three consecutive weeks, "we will recommend that the most recently-added groups of students return to remote learning, until rates decrease and remain in the moderate range for three consecutive weekly reports," the health department's Nov. 9 school report said.
"If rates remain high we will recommend that further groups of students return to remote learning over time," it added.
Castle Rock Superintendent Ryan Greene paused the return of Castle Rock middle and high schoolers, who were supposed to start Nov. 9 and Nov. 16, respectively. He said looking at the rising case rate, "it was the right thing to do" to keep everyone safe.
He said Monday that as the district has only had one elementary student test positive for COVID-19 after nearly a month in school, he hopes that Castle Rock could get a department of health wavier to keep K-5 students in school even if the county remains in "high" for three weeks. If not, then fourth and fifth graders would have to return to distance learning, as they were the most recently added group.
"It's worthwhile to keep it going," Greene said, pointing to low transmission rates in schools and the benefit of having students learn in-person. He said the largest in-person class in Castle Rock only has 13 students in it, and most classes have far fewer students, making social distancing easier. Students have also been consistent with mask-wearing, he said.
Greene said like most area superintendents, he is waiting for more information to see the true effect of the new orders on schools and school sports.
"I hope they keep it how it is," with elementary students allowed to stay in hybrid, Greene said.
Get local news delivered to your inbox!
Subscribe to our Daily Headlines newsletter.