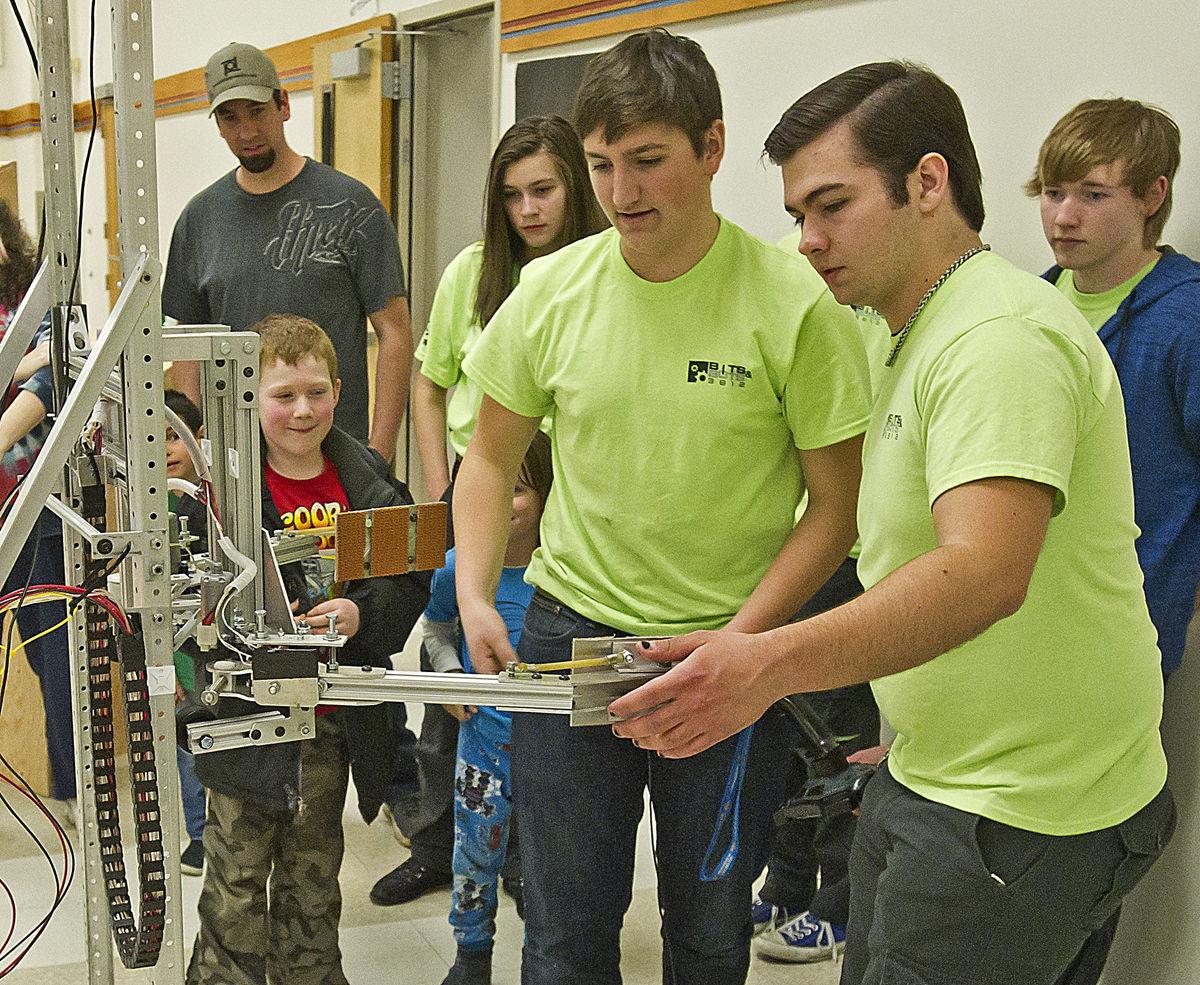 Mark Morris senior Avery Herbert said watching "BattleBots" on television when he was younger was once the extent of his interest in robots.
It's been four years since he joined the Longview/Kelso robot-building team "Bits & Bots 3812," and Avery, who wants to become a mechanical engineer, isn't looking back.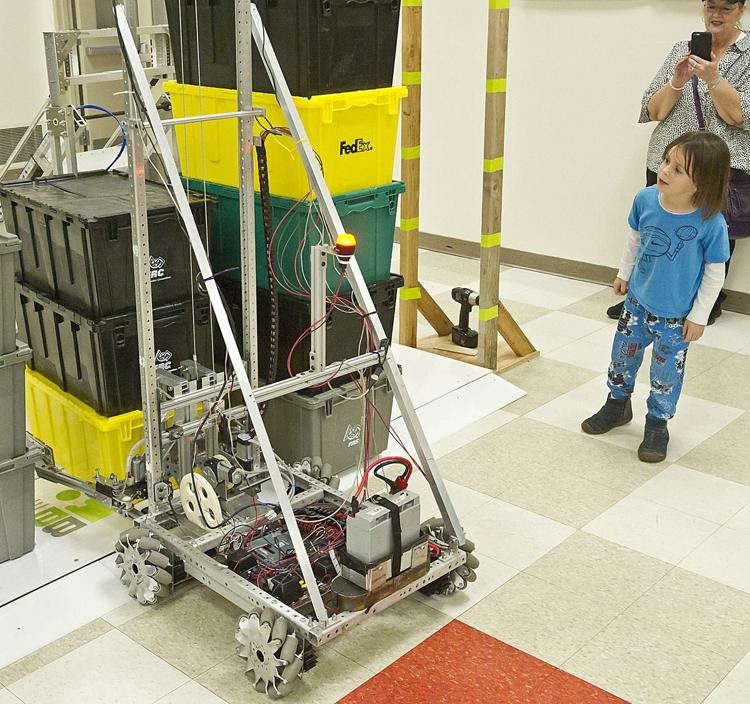 "I came in not knowing how to wire or program," said Avery, who's the current team president. "(Now) I know how to use all the machines in the shop. It's like my job that I don't get paid for."
At an open house Monday, Avery's 14-member robotics team and the five-member "Metal Mallards" from Toutle Lake High School showed off the robots they've made from scratch over the last six weeks. The open house was an opportunity to both test the robots' abilities and to get other young people interested in For Inspiration and Recognition of Science and Technology (FIRST), a nonprofit founded 23 years ago as an international robotics competition for high school students. Both the Mallards and Bits & Bots are a part of FIRST.
The two teams will compete in a district tournament next weekend in Oregon City and will be judged on how well and quickly their robots can stack plastic bins. They also get "cooprition" (a cross between competition and cooperation) points for working with other teams to stack the bins in the right order.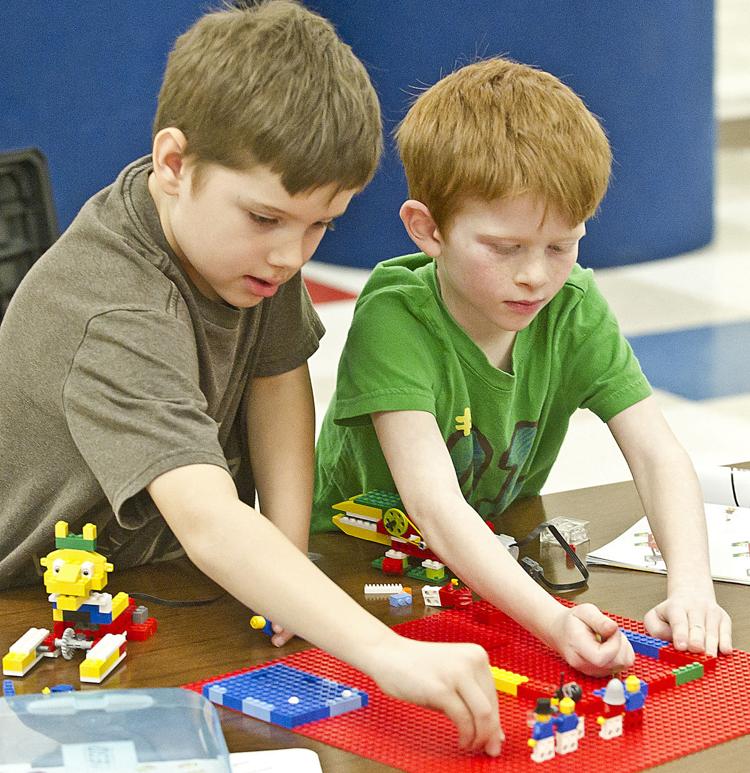 The two robots at Monday's open house looked a lot like Mars rovers: metal cages about 5 feet tall with wheels, small batteries to power them and arms used to pick up and stack plastic totes that together can weigh up to 60 pounds. The robots' movements are controlled using a computer program students write to translate the motion of a joystick into actions by the robot.
"It was a shock to see the scale of it," team captain and Mark Morris senior Payton Barker said of the robot.
Like Avery, Payton has been a part of the club since he was a freshman and said the team has only grown since he joined. Last year, the team made it to World Championships in St. Louis.
"At first joining the team, it was a hit to have to (put in) so many hours," said Payton, who has worked four days a week for the last six weeks with his team to build the robot. "I really like being here. It's all hands on for students, and you're able to work in a profession."
Building robots and competing isn't cheap. Both teams estimate their robots are worth up to $4,000 each. Bob Koenig, the Longview School District's engineering instructor and Bits & Bots founder, said building the robot and taking the team to its competitions cost around $50,000 last year, about 65 percent of which Koenig estimates was provided by sponsors such as Weyerhaeuser, Boeing and the state.
Kirk Reinbold, engineering instructor at Toutle Lake High School, said the robotics program has contributed about $70,000 in upgrades to Toutle's technology program in the last three years. The robotics team needed an advanced computer program to write the codes that guide the robots, but a company donated the program to the entire school.
Reinbold said the team also has helped the students grow by teaching them real-world skills.
"It exposes kids to what they're going to see in industry," Reinbold said. "The competitions are high-pressure and on short deadlines."
Dylan Iverson, a sophomore at Toutle Lake, has been a part of the Metal Mallards since their inception three years ago. Last year, he wrote a state grant application that helped start a robotics team for younger Toutle students.
"It helps us as a team," to have a younger kids involved, he said. "Judges like hearing that you're helping the bigger picture."
Though the high school students may have moved beyond plastic building blocks, elementary students Nevin Koenig (Bob Koenig's grandson) and Presley Fortner are still perfecting the art. At Monday's open house, Nevin and Presley built a zoo out of Lego-brand blocks and had to develop a story that explained their Lego project to an audience. They explained that the Lego zoo animals had escaped and it was their job to help get them back into their cages. Nevin, Presley and Megan Wallingford make up the Lego Gears team that will present the same story to audiences at the Oregon Museum of Science and Industry in two weeks and at the World Championships in St. Louis.
"Everything I think about, I just make it," said Presley, who was putting the finishing touches on a Lego crocodile he had worked for two days.
Get local news delivered to your inbox!
Subscribe to our Daily Headlines newsletter.