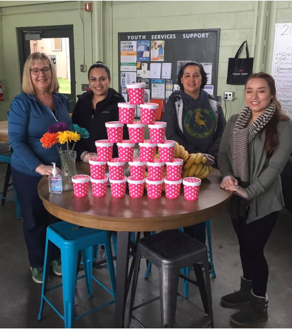 Just over one year since it opened, the Longview School District Family and Community Resource Center faced its biggest challenge yet: A pandemic that forced the closure of schools and businesses.
Longview school families needed support, and that's exactly why the center was created, said Amy Nieman, director of State and Federal Programs. The center handed out 750 emergency food boxes from mid-March through the end of June, all supported by thousands of dollars in community grants and donations.
"The purpose was to give a hand up to our Longview students and their families that had emergency food needs," Nieman said. "We don't intend to become a food pantry or anything like that, but we're there to stand in that gap."
The center's efforts recently received a boost from the Community Foundation for Southwest Washington, which awarded it a $25,000 grant to add more staff. The part-time hire will act as a receptionist, greeter and a volunteer coordinator, Nieman said.
Right now, only one staff member is in the center on a daily basis, homeless and foster care liaison Mollie Dubois. "She does a beautiful job, but she had a huge job already," Nieman said.
The center, located in Monticello Middle School's former wood shop, provides food, clothing and hygiene and school supplies to any family with a child enrolled in the Longview School District.
It also connects families to other community assistance programs, such as the Lower Columbia Community Assistance Program and FISH of Cowlitz County, Neiman said.
When school buildings shut down in March, the center went into overdrive, according to St. Helens Elementary family liaison Cynthia Hanson. Hanson volunteers at the center.
"Parents are stressed. Grandparents are raising kids and are stressed. Anything we can do to ease their load or burden we did it," she said, including dropping off supplies to families unable to drive.
Volunteers starting passing out emergency food boxes, Nieman said, which each included about $70 worth of fresh and dry groceries. The center also handed out $600 worth of diapers, 100 personal hygiene bags and 150 school supply bags.
"During the time of economic hardship for people out of work we wanted to be able to be a hub that could bring all of those resources together and get then distributed out," she said.
The food boxes were mostly funded by Fibre Federal Credit Union, which gave the center a $50,000 donation through Meals of Hope fundraiser to purchase food, Nieman said.
The center also got a $15,000 grant from the Washington State Student and Youth Homelessness COVID-19 Response Fund to buy groceries, and Lower Columbia School Gardens, Farm to Family and a host of others all donated food as well, she said. WestRock donated the boxes.
"I cannot believe how many different individuals and organizations within the Longview-Kelso area just step up to help when there's a need," Nieman said. "It's such a generous community."
Hanson said the hours she spent unloading food, packing boxes and passing them out were heartwarming. Not only did she get to see students she missed, she said, but she saw how generous the community is.
"What I really found endearing was the families, if they didn't need something, they would say, 'Oh we don't need milk this week, give it to someone else.' They were paying it forward," Hanson said.
The center is not school-funded, Nieman said, but it is staffed mostly by school employees. Community support is an important piece of the puzzle, she said, because she's seen in other districts how such centers are typically the first things to get cut when the budget gets tight.
"It will make sure we're poised for when tough budget times comes because, quite frankly, that's when the center needs to be able to step forward and fill some gaps," she said.
Looking toward to future, Nieman said she'd like to add a crisis mental health specialist to the center "to get the conversation started and get the connected into the community."
"We aren't trying to be a clinic any more than we're trying to be a food bank, but want to be that conduit to connect families with resources," she said. "We're anticipating that when all of this is over ... there's likely to be some mental health needs."
In the meantime, the center will continue to pass out food over the summer to families in need, Hanson said, and she hopes that when the school year restarts that more Longview school families will take advantage of the center.
"It was in a terrible time and families are stressed and trying to learn how to get the kids in remote learning. But we were able to at least say if there's anything you need please let us know," Hanson said.
"It's very rewarding to know that our kids weren't going hungry," she added.