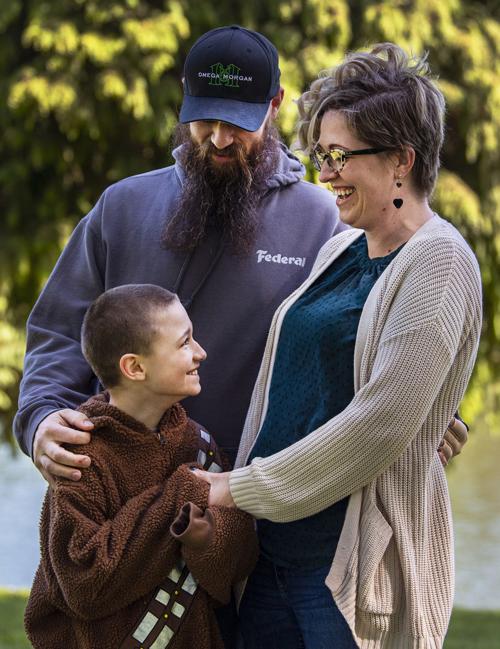 For Sarah Carman's eight-year-old autistic son Rem, learning he wouldn't go back to Kessler Elementary School this year was "devastating." While he doesn't usually show much emotion, the news caused his lip to quiver, she said. He's having trouble focusing on lessons and losing recently acquired communication skills.
"This was the worst possible timing," Carman said of the virus-related school closures. "We just got him to a place where he was figuring it out and making leaps and bounds."
Danille Miller's daughter Hali, who has multiple disabilities and attends Longview schools, is so upset by the changes in her routine that her mom is reeling.
"My loving sweet child, and many children like her, are telling their parents they hate us and they don't want to live with us anymore. It's just a stress response and in a little bit they'll calm down and forget all about it, but we have to try to let it go a thousand different times," Miller said.
The school closure is hard on all students, but for students with special needs, the sudden transition to a new form of education has been particularly difficult, according to Arzu Forough, president and chief executive officer of Autism Alliance Vancouver. The loss of their daily routine can be damaging, computer-based learning can be impossible and parents may be unequipped to handle their education even with teacher support, she said.
"Some students cannot access distance learning at all. Some are attempting to, but because of their specific disability they're not able to access it because they can't retain information while scrolling between websites," Forough said.
Not all special education lessons translate to video well, especially social behavioral therapy. Carman said Rem isn't able to interact with classmates now, which he needs and which is why he normally spends 90% of his time in the general classroom.
"He's not as challenged with us, or grandma, or the adults he's Zooming as opposed to in the classroom setting," Carman said.
And the nuances of social interactions are hard to read over Zoom, even for adults, she said, "let alone a student who can't pick up on social cues."
Students who are non-verbal have an even bigger challenge with online learning, said Kelso High School special education teacher Cody Brogan.
And Director of Quest Academy, Sara Paul, said her teachers and therapists can't push students in the same way over video, because "the ultimate challenge is our kiddos can turn off the screen if they're done."
Other families have had similar frustration with learning new technology, Brogan said, especially communication devices students might typically only use at school.
"A lot of students do use communication devices and they're not often sent home for everyone to use and see, so that has posed a whole new challenge," Brogan said. "Parents are now the IT department as well as teachers and occupational therapists and physical therapists."
Huntington Middle School special education teacher Kay Andersen said some parents are fretting about being the reason their student is held back, especially if students refuse to do homework. Andersen said she reassures parents that isn't the case.
"There's a lot of coping struggles anyway with our special education families so I think it just makes it harder for them," Andersen said. "Middle school kids in the best of times don't want to do stuff."
Forough points to another worry: Widening the learning gap been general education students and special education students if students can't access distance learning without specialized support.
"We know that students have been backsliding across the board and when they do return to school ... the learning gap in skill deficiency is going to be wider," she said. "They'll be less successful in participating in general curriculum."
Carman said Rem has certainly lost some hard-won skills, such as staying on topic.
"He's good for five minutes, then he's done," she said. "The only time we can get him to sit in front of the computer (for a long time) is for Zoom meetings with his teachers."
The only way to improve Rem's experience, Carman said, would be having him back in school.
The state directed that in severe and special cases, special ed students can come back into buildings for instruction, but most local districts say they don't foresee that happening. Longview, Kelso and Woodland officials said services are provided remotely to comply with virus safety guidelines.
Carman said she would be comfortable sending Rem back to school, even with the risk of COVID-19.
"We're in a place where we wouldn't want to put anyone else at risk, but we're not worried about the risk to us," she said.
But for Hali Miller, online learning is striking a different chord. Her mom said she spends more time on schoolwork now than ever before.
"She doesn't have the distraction of getting overwhelmed by the large amount of children in a school setting, so I think when it comes down to it she's spending more time on academics than she does in a brick-and-mortar school," Miller said.
Maintaining relationships
The Carman and Miller families say they feel their schools are doing the best they can, and teachers say that for now, a successful remote learning experience is more about maintaining relationships with students than grades. Paul, the Quest director, said her teachers aren't introducing difficult new concepts and are keeping a focus on families and staying connected.
"Education is very important, but first and foremost we want to establish and maintain the relationships with the child and family," Paul said.
And Brogan, the Kelso special ed teacher, said her main focus has been keeping up her students' normal routine by posting videos of typical class activities.
"It worries me," she said. "They do thrive on routine. Unlike some teenagers, they really enjoy school."
Another part of schools' responses is making sure families have food and basic supplies. Karen Scott, a care coordinator at Quest Academy, said educators are reaching out to "wrap around the whole family." She's been dropping off food bags, and teachers are sending home activities like rice crispy making kits.
"(Students) like to get things from us ... to know we care," Scott said.
Even when students can return to school buildings, COVID-19 learning challenges won't end. The transition back is "not going to be just walking in and things are going to be back to normal at all," said Anderson, the Huntington teacher.
"We were having struggles with kids this year working in groups anyway, and now we've removed them from groups more," she said. "A lot of kids really start to mature this time of the school year, and they've missed all that."
Carman said her family knows reentry "is going to be tough." Rem needs to see the classroom early and meet his new teachers under normal circumstances, Carman said, so that will be doubly important now.
Miller is considering keeping Hali in online school, though she hasn't made a decision yet.
"(Online school) works well with her attention span and she's spending more time on it than asked of her," Miller said. "We're liking it."
While there have been challenges, Holly Budge, Kelso's director of special programs, said she's found plenty to celebrate, such as the "incredible collective effort to support students with disabilities in our district."
Budge said teachers and parents have been working closely, with parents guiding teachers on "what they need more of, what they need less of and how a student is responding or not responding" because the home and school environments are so different.
This crisis may even strengthen some programs, Budge said: "Already we've learned some things about our process and platform or data tracking systems that we can improve."
Paul said the experience has given families a chance to see the level of engagement and potential in their students. Scott echoed that, saying the distance format "almost brings them into the classroom."
"They can understand better the stress and frustration their student may experience, or the fun and joy," Scott said.
Carman said she and her husband have really enjoyed being a part of Rem's classroom experience and doing activities with him. It's improved their understanding of how he thinks, she said.
"It's been fun to see his brain working ... and learning new things from him," she said.
Get local news delivered to your inbox!
Subscribe to our Daily Headlines newsletter.