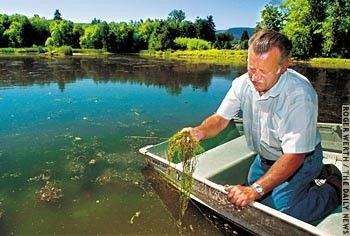 Ryderwood is looking to clear a neighboring pond as an emergency water supply.
Leaders of the small, isolated planned retirement community are seeking financial support from Cowlitz County to help them clean out the silt, weeds and other overgrowth that have shrunk the pond's size and limit its effectiveness in the event of wildfires or other water emergencies.
The town is under the jurisdiction of Cowlitz-Lewis Fire District 20. A representative of the Ryderwood Improvement and Service Association (RISA) attended the fire commissioner meeting last week, where they successfully lobbied for the commissioners to write a letter of support for the cleanup project.
District 20 Chief Richard Underdahl said the concerns about emergency access were largely based on the limited size and access to the pond. The pond originated as Ryderwood Lake, which was built in the mid-1950s around the time the town transitioned from the logging business into a community for people ages 55 and older.
"I think that over time they have not had the funding to keep the vegetation back. It's kind of choked out the water supply," Underdahl said.
Underdahl said the fire commissioners' letter will be sent to the Cowlitz County Department of Emergency Management with a request for funding and support in the Ryderwood cleanup. The cleanup process likely would focus on removing the brush surrounding the water to provide easier access during an emergency and the aquatic plants which have reduced water levels.
RISA President Donna Vaughan initially pushed for a town meeting Thursday to get local and regional politicians to support the cleanup effort. Vaughan sent an invitation letter to Underdahl and Cowlitz 2 Fire and Rescue, the state Department of Natural Resources, and the offices of Gov. Jay Inslee and Rep. Jaime Herrera Beutler.
"Although a small community, we're concerned that 300+ residents attempting to evacuate on a two-lane state highway ... could result in a disaster for everyone," the letter said.
The town has run into challenges with water access in the past. Campbell Creek, the main source of fresh incoming water, has dried up during at least two previous summers and forced residents to enact strict conservation measures. The pond cleanup project would offer limited assistance when it came to the day-to-day water supply.
"We will always endorse getting more water supply, so we will back that up," Underdahl said.