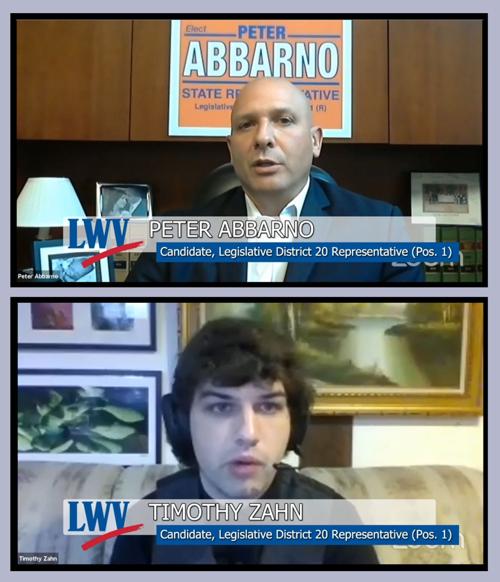 If the recurring talking points from a recent candidate forum are any indication, bringing broadband internet to rural Southwest Washington will be a key focus for whomever replaces retiring state Rep. Richard DeBolt.
Candidates Peter Abbarno, a Centralia Republican, and Timony Zahn, a Toutle Democrat, spoke to broadband's importance in response to several different questions during a digital forum hosted by the Cowlitz County League of Women Voters on Sept. 18. One inquiry focused specifically on the matter, and both men also mentioned broadband in discussions about the COVID-19 pandemic, capital projects and economic improvements.
Both men agreed that internet access in the 20th Legislative District needs improvement and expansion.
"I have had the same quality of internet for the past eight years. It hasn't gotten any better," Zahn said during the digital forum. "It's been difficult to find anywhere in the local area where there is better internet, and that's got to change."
"I live three blocks from downtown Centralia, and I was just talking about how my wife, as a teacher, will be conducting a Zoom class and my kids will be on iReady, and the internet locks up and shuts down," Abbarno said.
Abbarno highlighted broadband as one area the state could learn from the current pandemic to improve future responses to emergencies. Residents and schools were not prepared for a shift to digital learning at the start of the pandemic, he said. Improving local internet access could resolve that problem.
Internet access also will help boost job growth and strengthen the state economy, and it's one of the capital projects Abbarno said he would advocate for in the state's budget.
Zahn sided with his opponent on both points.
"A business is not going to come and start it up where they do not have access to fast internet because they would be putting themselves at a disadvantage to areas that already have good internet," Zahn said.
As for how to make actual improvements, Abbarno suggested using a "large infrastructure package" to connect Lewis, Thurston and Cowlitz counties to better broadband connections already established in the Vancouver area.
"What we need to do with rural broadband is we need to start thinking more regionally and not piecemeal rural broadband together," he said.
Zahn said lawmakers can work with internet companies to bring broadband connection to rural communities, but that's only a short-term solution.
"I think in the long-term we should at least consider the possibility of making broadband internet a public utility. That's how we got electricity to the United States. … I believe that would allow us to expand the internet everywhere it's needed at much higher speeds than if we wait for companies to do so," Zahn said.
Zahn's platform also includes several other "fairly unique" solutions to improve policy, programs and day-to-day life in Washington. That includes a temporary 1% wealth tax on people with more than $10 million in assets to help address the state's projected $8.8 billion budget shortfall through 2023.
"This (wealth tax) would completely cover the budget and provide us with enough revenue to make sure we could weather any more unforeseen problems coming our way," without hurting groups that are already struggling due to the pandemic, Zahn said. "It would allow us to protect small businesses. It would allow us to protect jobs and essential programs. ... And it would keep the state running," Zahn said.
Abbarno said he wants to encourage economic development, strengthen family programs and improve aging public works infrastructure, including bridges and roads. He opposes a capital gains tax and the expansion of the business and occupation tax.
He also opposes the state's new comprehensive sexual education bill, which is being challenged by a referendum this election.
"My family helped gather signatures for Referendum 90. I believe sexual education is best decided at the local level," Abbarno said. "Sexual education is one of those sometimes uncomfortable discussions that parents have with their kids. But in that discussion, it strengthens that relationship and builds stronger families. To have government come in and take that away from families shouldn't happen."
Zahn did not take a position on the sex ed bill because it is "in the hands of the people now," so "my opinion as a Legislator doesn't really matter much."
Abbarno won endorsement from DeBolt, a longtime Chehalis Republican; Republican state Sen. John Braun; and Republican state Reps. Ed Orcutt and Jim Walsh, among others. He is currently on the Centralia City Council.
Zahn earned endorsements from the Thurston County Democrats, Cowlitz County Democrats and Lewis County Democrats, among others.
Abbarno leads the fundraising, with about $63,700 in contributions as of Sept. 16. His campaign had spent nearly $25,000. The majority of his donors are individuals, followed by businesses and political action committees, according to the Public Disclosure Commission.
Zahn has raised $4,000 from individual donations and local democratic committees. He has spent about $2,800.
The two men are running to replace retiring Rep. DeBolt, who has held the seat since 1996.
The voting period for the Nov. 5 General Election begins Oct. 16.