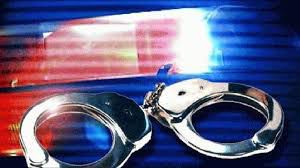 A Thursday morning rollover accident sent a runaway driver to jail and his passenger to the hospital.
Richard William Vandusen, 25, rolled a 2000 Chevrolet Blazer on Nichols Boulevard just north of Louisiana Street, according to a Longview police report. His passenger, a 21-year-old woman, was ejected from the vehicle and ended up under an SUV, witnesses told police.
The woman was taken to PeaceHealth St. John Medical Center for treatment. Police did not release her name, and her condition was not immediately known Thursday afternoon.
Vandusen fled the scene of the accident, which happened around 8:10 a.m. Police responded to the area immediately to close a portion of the street, set up containment and look for the driver with the help of a police dog, according to a news release. Officers closed Nichols Boulevard from Louisiana Street to Ocean Beach Highway for about four hours to investigate.
R.A. Long High School officials put the school on temporary lockout while police searched for the driver.
District spokesman Rick Parrish said the school lifted the lockout around 8:40 a.m., right around when a patrol officer found Vandusen.
The officer arrested Vandusen on suspicion of hit-and-run, vehicular assault and third-degree driving while license suspended. He was taken to the Cowlitz County Jail.
Police reopened Nichols Boulevard around noon after investigating the scene. According to the police report, Vandusen "veered off the road for an unknown reason and struck a tree" casing his Blazer to roll.
Get local news delivered to your inbox!
Subscribe to our Daily Headlines newsletter.