Jay Boiselle is adamant that fears about the Three Rivers Mall dying are unwarranted.
He's so confident that the mall has "nowhere to go but up" that he and his wife, Jai, opened a second retail store in another wing of the mall just six months after starting the Twisted Monkey novelty gift shop.
"We wouldn't have opened a second shop if we didn't think it would be permanent," he said.
The Rochester, Wash., couple moved the Twisted Monkey to Kelso in May. That shop sells "odd, unique and unexpected" gift items, such as sports apparel, skateboards, men's jewelry, Kit-Cat Klocks and smoking pipes.
Last month they opened the Magic Pop Shop, so they'd have more room for inventory, said Boiselle, 52. The new store also emphasizes their collectible Funko Pop figurines and merchandise for magicians. The store is one of two full magic shops in the state, he said.
"We specialize in two things. One of them is a massive selection of Funko Pops. The other is ... the largest selection of magic for amateur and professional magicians," he said. (The store also sells stuffed animals, board games and other children's toys.)
Nearly 1,500 of the big-headed, cartoonish Funko Pop figurines line one wall of the new shop. The buy, sell, trade-style store has limited-edition Funkos that usually are found only at the company's Everett-based factory or annual Funko conferences.
"We've had people travel all the way down from Canada just to find Funkos they couldn't find (elsewhere)," Boiselle said.
A display case in the back of the shop is filled with dozens of decks of cards, linking rings, magician's wands, cup and ball sets and other classic magic trick sets. Instructional DVDs for beginner magicians fill nearby shelves.
"After the start of the year, I want to build a magic theater (in the store) … to have birthday parties and a meet up space for magicians," said Boiselle, a member of the Black Hat Society of Magicians, a regional chapter of the Society of American Magicians.
The magic theater can also be used for live shows or demonstrations, he said.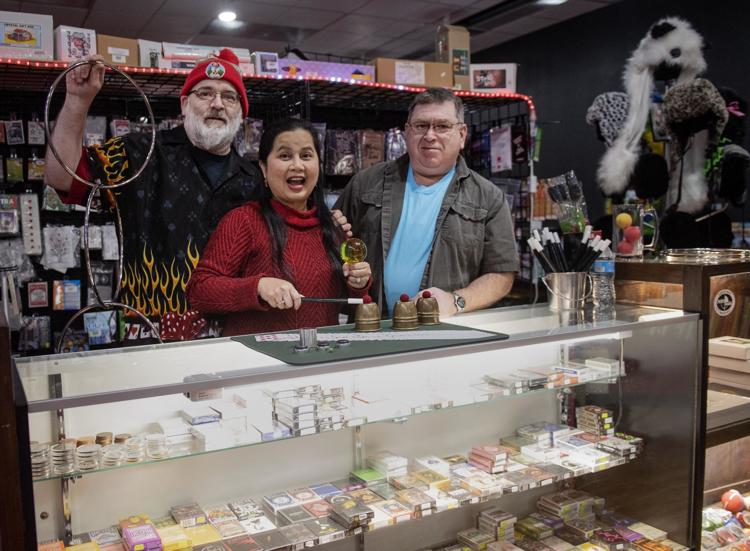 You have free articles remaining.
Although magic and the Funko Pops are two "very unique markets," the Boiselles are used to pairing "niche" products that shoppers usually don't see together. After all, that's the basis for Twisted Monkey.
"The stock we have now is because of our customers. We listen to them and what they want," said Jai Boiselle, 50.
The new store brings the Boiselles back to their entrepreneurial roots. Their first store, which they opened seven years ago in Seattle, specialized in magic. They continued to sell magic merchandise when they opened Twisted Monkey, which had been located at malls in Auburn and Olympia before settling in Kelso.
Funkos were one of the first non-magic items the Boiselles started selling as they branched out their stock, and owning a shop with a large, rare inventory of figurines became "one of our dreams," Jai Boiselle said.
They moved to the Three Rivers Mall in May, attracted to the low rent, proximity to Interstate 5 and a recent upswing in shopping traffic.
"We looked at (Three Rivers Mall) a few years ago when there was no one else in the mall, and we said no," Jay Boiselle said. "But now … there's no place to go but up in the mall. It's reinventing itself."
Boiselle noted the influx of new, permanent stores in the mall, including a papercraft store, an antique store and a paint and sip studio, which have all opened within the last year. And more than 1,000 people visited the mall this Halloween for a trick-or-treat event, he said.
"People think the mall is dead, but there's a lot here. … There are only about four vacant retail spots left, except for Macy's and the food court," he said.
Opening the Magic Pop Shop adds to the selection of shops within the mall while allowing the Boiselles to cater to a different type of client than they might at the Twisted Monkey.
"The Twisted Monkey is geared toward teens to 50-year-olds. It's more grown-up," Jay Boiselle said. "Here it's geared to people that are into magic and … the kid in all of us. You'll come in here and experience something you've never seen before."