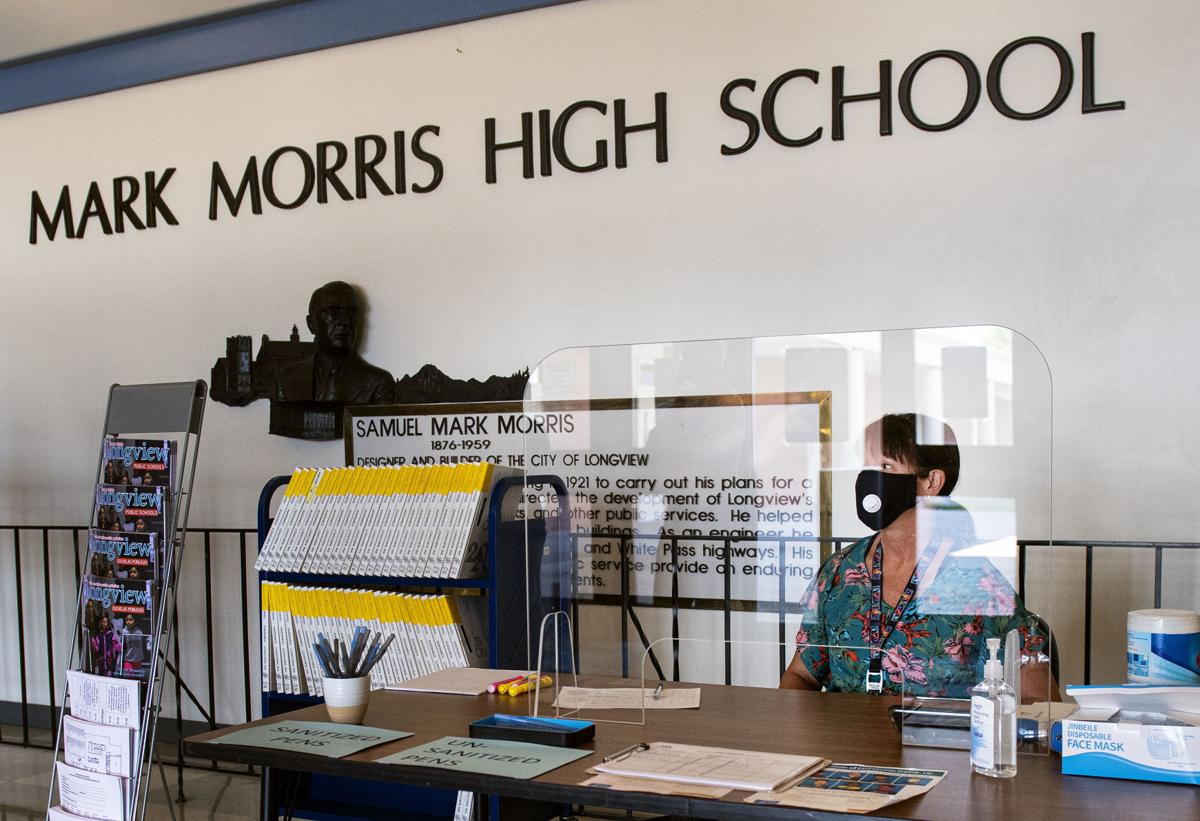 When students eventually return to Mark Morris High School, they'll be met with school-branded social distancing signs, posters reminding them to wear masks in three languages, Plexiglas barriers at lunch and mandatory health checks.
However, the district will not make a decision about
returning to school for at least several weeks. Mark Morris Principal Brooks Cooper said while COVID-19 safety measures will look a little different at each school, in Mark Morris that will mean one-way hallway flow in narrow highways and barriers in larger hallways to separate directions.
Lunch tables have plastic separation barriers, staff will have navy masks with the Mark Morris crest and thousands of social distancing markers have been placed throughout the school.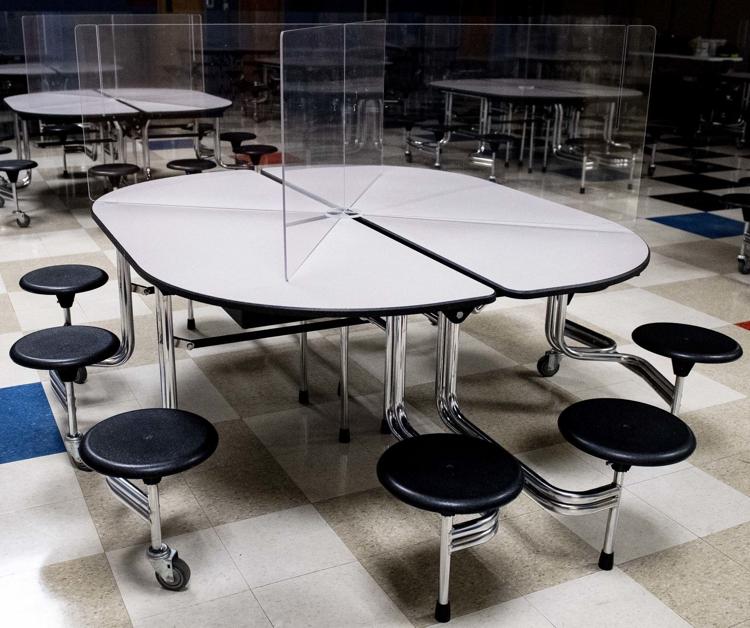 "These are the first steps so far," Cooper said. "There's still a lot more to do."
Although the district is waiting until the end of September to make a decision about moving to a hybrid schedule to see if Labor Day causes a spike in cases, preparations are moving ahead in all schools, spokesperson Rick Parrish said.
"The district is prepared, from a safety standpoint, for
in-person learning," he said.
According to a Sept. 8 health department report, Cowlitz County is currently at a moderate level of COVID-19 activity, with 36 cases per 100,000 population in the past 14 days. The guideline for that level is to continue distance learning "with gradual expansion of in-person education beginning with elementary students."
The changes to the school day will start before students even leave the house, Parrish said. At home, students will have to do an online health attestation on the school's Skyward student information system.
It asks students to self-verify that they do not have symptoms of COVID-19 or known exposure to the disease. If they answer that they have none, they get a green checkmark and the district can see that they have completed it, Parrish said. If they have symptoms or exposure, they get a message to stay home and call the school.
Cooper said he's been emphasizing that staff needed to do it before getting to school.
"We tell the staff to do the attestation right away because we don't want you to be in your room first for a while (if you don't pass it)," Cooper said.
Superintendent Zorn said employees have been using the same system since they returned to school buildings. If someone forgets to do the attestation, they're automatically prompted by email, he said.
"We're trying to expedite the moving through (when students get to school)," he said.
When students arrive, they will be directed to various doors and have their temperature taken, Parrish said. If anyone has a temperature over 100.4 degrees, they are sent to special quarantine room until their parents can pick them up. Then they do remote learning until they're cleared.
Parrish said if a student does get tested for COVID-19, they will be told to quarantine by their doctor until the results come back. During that time, they will do remote learning, he said.
"We're working closely with the county health department to develop a step-by-step process should we have a positive test," Parrish said. "If there is a positive test, we'll go back into the system and look at what classes or classrooms that person was in, who they sat next to and give it to the county health department."
The Sykward system the district uses will allow officials to rapidly generate a report and send it to the county for contact tracing, Parrish said.
"Using the system allow us to get the data to the county health department quickly, which is really important because the longer you wait the more potential there is for people to get sick," he said.
The student or staff member's doctor will control when they can return to in-person school, Parrish said.
Parrish said the district plans to use a multi-level notification protocol. When the district learns someone is being tested, they will notify anyone who was in direct contact with the person that they had contact with someone who is being tested. Those people will also be told if the test comes back negative.
If the test comes back positive, Parrish said the district will broaden the scope of notification and send letters to families that there was as positive case in their class or school.
Cooper said while the district doesn't want to create unnecessary stress with the notifications, it also wants to ensure everybody has the information they need.
"We don't want to cause panic, but we want to be transparent," Cooper said. "We want to find that sweet spot."
Parrish said the district worked with the health department to create the letters, using language that is purposeful and hopefully avoids causing that stress.
Parrish said soon, the district will do a "test run" of the entire protocol, to "figure out what we did well and what we didn't."
Zorn said there have been a few staff members tested over the summer, and only one was positive. While that person had not reported to work yet and there was no school exposure, Zorn said they notified that person's co-workers anyway.
"We have a responsibility to each other to make sure we're being transparent," he said.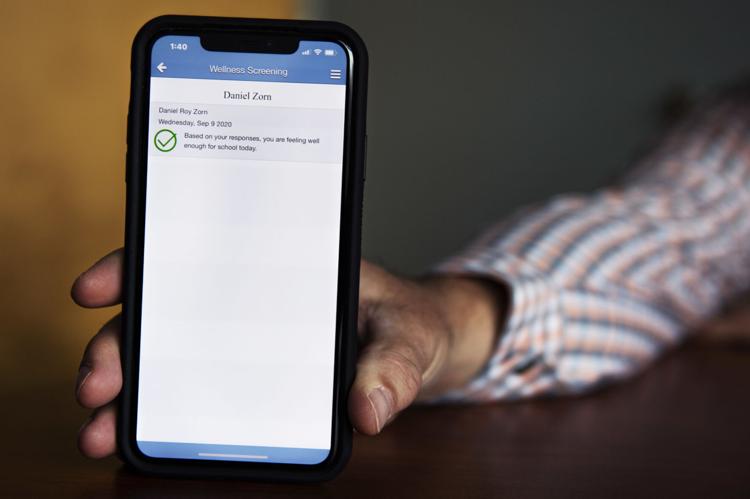 The district is also stepping up cleaning procedures and has purchased thousands of face coverings, as well as gloves, face shields, plastic "sneezeguards" and cleaning supplies, Parrish said.
Over the summer, the district also started upgrading its air filters to a higher level of filtration during routine maintenance, he said.
"We're making sure we have the cleanest possible air and the maximum airflow," Parrish said.
Zorn said in addition, the district purchased $100,000 worth of iWave devices, which bolt onto the existing air filter system and uses bi-polar ionization to break down particles in the air like pathogens, allergens, particles, smoke and odors in the air.
Parrish said the iWave devices for each building haven't arrived yet, but "hopefully the supply chain holds up and we get those soon."
While he didn't have a total cost for all upgrades and COVID-19 related purchases, Zorn said CARES Act funding has so far covered the costs, and the district is also working with FEMA to help pay for the filters and iWave system.
"We're making a significant investment in safety," Zorn said.
He added that the help reduce the cleaning load, shared, high-touch items in younger grades like blocks won't be used, or paper, disposable items will be used.
Cooper said Mark Morris has purchased bags of poker chips that teachers will use to mark areas that need to be cleaned outside of the normal high-touch surfaces.
Zorn said he hoped transmission rates stay low so the district can bring students back into the buildings soon.
"Our people have been creative to date and will continue to be as we work through it," Zorn said. "We need to make sure we get things ... taken care of so people feel good about bringing their kids back."
Get local news delivered to your inbox!
Subscribe to our Daily Headlines newsletter.