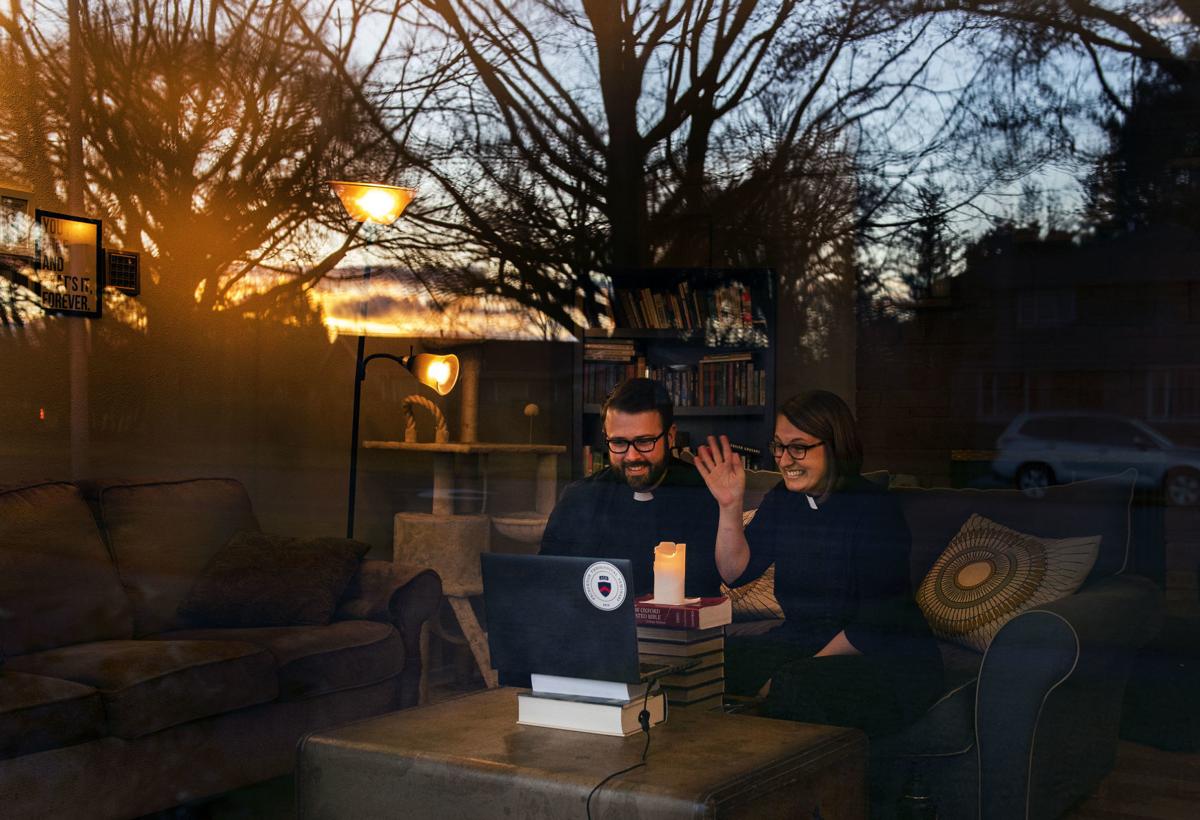 Father Bryan Ochs is striving for ordinary this Easter week. With the world upturned by COVID-19, this holiday might not have the usual Easter season trappings of family and food, but local churches are trying to give people a sense of normalcy and comfort.
"We're not trying to complicate things," said Ochs, the pastor of St. Rose and several other Catholic churches in the area. "We're just trying to give people something as ordinary as we can."
Today is Palm Sunday, the day that starts Easter week in the Christian faith. For several weeks, churches have been ordered closed to prevent the spread of the virus. While they've been adapting by using online services, local pastors say there's certainly something missing.
The first Sunday that Longview Presbyterian pastor Dexter Kearny preached over the internet, he and his wife, the Rev. Liz Kearny, decided to broadcast from the church.
"It was weird because we were looking out and all the seats were empty," he said. "We would sing the song and it was only our voices that we heard, which is sad."
Since then, they've switched to broadcasting from their home and reflected on "how much the physical interactions mean" and how much he misses the congregation.
"Whether it's a handshake or a hug or just being physically close to someone, perhaps you once took it for granted," Kearny said. "Now there's a loss of some of that intimacy. But on the other hand, I'm seeing people step up and develop different kinds of intimacy and relationships as well."
Father Ochs said not being able to see his congregation has been a challenge personally, though teleservices have been going very well.
"I look forward to Sunday. Sunday is my favorite day of the week because I love seeing all our parishioners," Ochs said. "So not being able to have that is sad, but it just makes me appreciate the people more."
He said he's planning his normal Easter and Holy Week services, with bilingual masses offered over Facebook live. On Easter, there will be an English Service in the morning and a Spanish service in the evening.
"It's certainly a very different experience, but people understand the situation and are very positive," Ochs said. "And from what I've seen, people are happy to participate in the online celebrations, even though we all can't wait to get back to being able to offer mass in our own church."
Pastor Vonda McFadden with the Kelso United Methodist Presbyterian Church said she will hold Zoom services throughout the week and on Easter Sunday. She has invited all the musicians in the congregation to join in the music.
"For me its different, obviously because I'm sitting in the sanctuary all the by myself," McFadden said. "But what I've told them it is just warms my heart to see all those little (picture) boxes on the screen."
McFadden said all churches are worried about covering costs because of the absence of Sunday collections. Parishioners still are giving, but it's a tough time for everyone, she said.
"We're hopeful and cutting expenses as best we can," McFadden said. "And we understand people are going through a difficult time financially and otherwise."
This Easter, Kearny said, he's urging people to celebrate that there is still hope of new life. He's asking Longview Presbyterian members to send in pictures of ways they're seeing new life grow around them, metaphorically or literally. He and his wife will continue their planned Holy Week services, though online, and they're trying to keep as close to normal as possible.
They will go over the range of texts from Palm Sunday to the Good Friday trial and crucifixion, then the Easter Sunday resurrection of Jesus, in a series of special services, he said.
To connect with people watching from home, Kearny said people will be encouraged to do activities such as washing their hands for the Thursday Maundy service, which is a reminder that Jesus washed his disciples' feet and commanded them to love one another.
However, he's most proud of Good Friday's planned noon service for people to reflect on the cross.
"In many ways I think there's some parallel between what people are feeling now and what some of the feelings a Good Friday services leads them to," Kearny said. "It's not a one-to-one comparison, but there's so much loss and grief being experienced in our community and in our country and in our world (because of the pandemic)."
He said that a Good Friday service gives people space to lament and grieve before Easter, which is a "bright spot of hope in the Christian calendar."
"We remember that grief and death and pain and evil exist in this world, but we believe in our faith that God has conquered those things and that gives us a chance to conquer those things as well," Kearny said.
Today, on Palm Sunday, members of the Church of Jesus Christ of Latter-day Saints in Longview will watch from home as church leaders hold their semiannual worldwide general conference, according to Rick Marshall, LDS stake president for Cowlitz County and eastern Wahkiakum County.
"We're not 100 percent sure yet (what we will do for Easter services) but there are some things in place," Marshall said.
Members of the church are also encouraged to follow along with the home-based study lessons church leadership has been organizing for the past several years, Marshall said.
"The topic we're encouraged to study between now and Easter is the atonement, crucifixion and resurrection of our savior Jesus Christ, which is the Easter message," Marshall said.
And while the 4,100 church members in Cowlitz County are anxious to gather in person again, Marshall said they've been donating face masks and disinfecting supplies to "be of service as much as we can" while observing social distancing and self-isolation.
And for those who may be struggling with being isolated this Easter, Marshall said he encourages them to "focus on reading their scriptures at home and especially reading things from the Bible and scripture that brings us closer to our savior Jesus Christ."
Sometimes, times of crisis can bring people closer to religion, but it can also push people away, Father Ochs said.
"I think it's still too early to tell what long-term impact this will make on someone's faith, positive or negative," he said.
Ochs said the number of people tuning into the Facebook Live masses has been rising as he solved technical issues and word got out. He's also in the process of calling every parishioner to check in, and he said so far everyone seems to be appreciative of the church's efforts to move online.
Kearny said his church has been using Zoom for services so people can actively join in. While he's seen a lot of familiar faces, he's also seen new faces.
"There appears to be about the same number as in worship, but interestingly we're starting to see some new and different people," Kearny said. "Whether its friends or family of the congregation who are in different cities and states who are jumping in to join us ... (or) other people for whom perhaps stepping through church door was too intimidating but clicking to join a video call online was a lot more accessible."
Kearny said some old members of the church who moved away have joined in online services, as well, leading to a "great range of new and old faces."
McFadden said her congregation has asked that the online services continue even after the church is allowed to hold in-person services, as a supplement.
"We still want to be the church," McFadden said. "But this building isn't the church. We are the church."