After she graduated from R.A. Long High School on June 8, Kylee Jacobson planned to study nursing at Lower Columbia College.
But everything changed for Kylee and her blended family when she was diagnosed with a rare and aggressive type of cancer one week before graduation.
Now her family is scrambling to raise money to pay for lodging in Seattle for the next 10 months while Kylee gets chemotherapy and radiation treatments.
"Instead of college bills, we'll have medical bills," Kylee, 18, said in an interview on Tuesday.
At the time of the interview, Kylee and her family believed she had a rare bone cancer called Ewing sarcoma. They anticipated three months of chemotherapy in Seattle.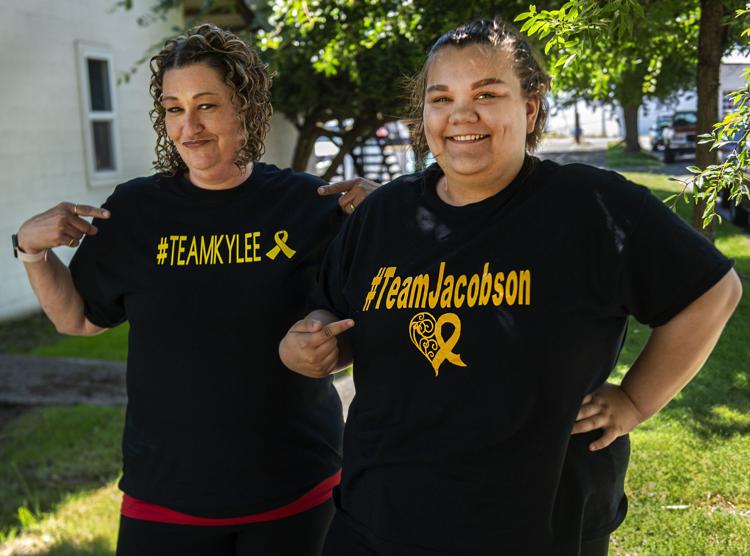 However, on Wednesday Kylee was diagnosed with a far more aggressive cancer called cic dux4 sarcoma, which starts in the soft tissue and then moves to the bone, Kylee's sister Samantha Roske-Regas told The Daily News on Thursday. (This type of cancer does not have a stage, she said, but is very aggressive.)
There's a 50% chance the chemotherapy won't be successful, Roske-Regas said. Beyond that, she said, they don't know what the next step would be.
"This is devastating. It's not what we expected," she said. "From late May to now, our entire lives and Kylee's life has been flipped upside down, rolled down a hill and crashed into a tree."
'I had this pit in my stomach'
Kylee said she first noticed a lump in her right leg near her groin in March.
It was large and round like a softball, but felt "fluidy and squishy" in some places, Kylee's stepmom, Kayla Jacobson, said on Tuesday. ("We call it 'bonus mom.' We don't say 'stepmom.' We don't like that word," Jacobson said.)
Kylee's primary care doctor in Longview thought the lump might be a boil or a fluid-bearing cyst. They told her to spend the next month using hot compresses to bring the lump to the surface of her skin. But nothing changed, so she returned to the doctor in May for a CAT scan.
Three days later, doctors said she needed an emergency biopsy surgery. The operation at PeaceHealth St. John Medical Center on May 22 was supposed to last one hour. After three and a half hours, Jacobson said she knew something was wrong.
The surgeon had removed an 8-by-9-inch mass in the lymph node. He told the Jacobsons that it was likely an infection and that he was 85% sure it wasn't cancerous.
"Everyone makes mistakes. He was a great doctor. He was wonderful to us. He treated her very well," Jacobson said. "He obviously didn't know because he wouldn't have said he was 85% sure that it wasn't cancer."
The surgeon put a draining pump in Kylee's leg to remove fluid and said she would heal in a week.
"I could feel it when it was sucking stuff and having difficulties because it felt like it was ripping your hair out. Just imagine that for five minutes every couple hours," Kylee said.
On assurances from the doctor, Kylee's dad, Jon, brother Nathan, and Jacobson went ahead on their trip to Arizona the next day. Kylee stayed home so she could return to the doctor in a week to have the draining pump removed.
They were supposed to stay in Arizona until June 3, but Kylee's dad and stepmom woke up in the middle of the night on May 29th.
"It was like I had this anxiety, this pit in my stomach that there was something the matter. That there was something we just didn't know," Jacobson said.
So the three of them started driving the 25 hours back to Washington.
The next day, while the Jacobsons were en route to Longview, Kylee went to a follow-up doctor's appointment with her biological mom, Jennifer Bougie, and her stepmom's sister.
After he removed her draining tube, Kylee's doctor said her pathology tests found she had a rare form of bone cancer called Ewing Sarcoma.
"My sister was very upset. Kylee's mom was a mess and Kylee was a mess," Jacobson said.
Jacobson was in Woodburn, Ore., when she got a text from her sister saying they needed to talk as soon as she was back in Longview.
"Right then and there, I knew Kylee had cancer," Jacobson said.
'Poked and prodded'
The family spent the next week trying to figure out where they needed to go and what they needed to do. Kylee didn't attend the last two weeks of school, but R.A. Long froze her grades (3.5 GPA) so she could still graduate.
To maintain some normalcy, Kylee went to prom two days after her diagnosis.
"It was really emotional because I hadn't seen my friends in forever," Kylee said. "Then I saw some of my favorite teachers and I had a mental breakdown and I told them. They hugged me and told me it was okay."
After that, Kylee said, she was able to "block out" her diagnosis and enjoy prom.
On June 7, the day before R.A. Long graduation, Kylee went to Seattle Children's Hospital to get "poked and prodded" all day while the staff performed a litany of tests.
Kylee was back in Longview the next day for graduation.
During the Seattle visit, doctors found something more in her leg, Jacobson said, but they didn't know if it was fluids, scar tissue or if the mass grew back.
In a June 17 letter to The Daily News authorized by Kylee's family, Seattle Children's Hospital confirmed Kylee's cancer diagnosis and said her treatment will "keep her in Seattle and in and out of the hospital for the next several weeks to months."
Kylee will undergo 31 weeks of chemotherapy followed by 10 weeks of radiation, her sister said. She started her first round of chemotherapy on Friday.
After test results come back on Monday, the family will know if the cancer has reached Kylee's bone marrow, which would be "far worse" than what she's diagnosed with now, Roske-Regas said.
She needs to live within 25 miles of the hospital for her treatment, so Kylee and her family are looking for lodging in Seattle. Right now, their plan is to stay in a hotel for a week, then another hotel for a week. Then a family friend loaned them an RV, which they will stay in until the end of August. Kylee's mom, dad, stepmom, aunt and sisters will take turns staying with her for a week at a time.
However, after learning that Kylee will have to stay in Seattle for 41 weeks — much longer than the couple months they anticipated — the family has to come up with a long-term plan, Roske-Regas said.
The family has already spent $4,500 on lodging, with financial help from family members and friends, Jacobson said.
'We could use the strength of our community'
The Longview community is already rallying around Kylee, Jacobson said. Neighbors and friends have held garage sales, fundraisers and T-shirt sales to support the family. And many local businesses have set out donation bins.
Any support and comfort helps, she said.
"At this point, we're all going to be out of work for at least 20 days in the next two months," Jacobson said. "I don't have enough sick time and vacation time to cover it."
Kayla Jacobson is the Social Services Director at the Salvation Army. Her husband is a laser operator for Pacific Stainless Products in St. Helens, Ore.
Together, they have four children. Their son, Nathan, is 16. Roske-Regas, 25, is Kayla Jacobson's daughter from a previous marriage. The Jacobsons also informally adopted Roske-Regas' best friend, Erin Malave.
Kylee was six when her dad started dating Jacobson. The pair got married two years later in 2008.
"Her mom and I are friends, which is really great. We work together on everything with Kylee," Jacobson said. (Kylee's mom, Bougie, declined to comment for this story.)
In addition to her blended family, Kylee said her best friend, Mazy Collier, has helped her through the last few months by texting her and spending time with her.
Kylee is insured through Apple Care, which is the state version of Medicaid. But the family hasn't received any medical bills yet, so they don't know how much their insurance is going to cover.
"We could really use the strength of our community," Jacobson said. "I get that not everyone can help financially, (but) we're definitely in a pretty vulnerable position at this time and we hope that our community will be supportive."
Kylee said she had wanted to study nursing, but now she's not sure about that: "I don't know if I'd be able to handle it, especially being in the room when the doctor gives you bad news."
Her family says they are staying positive and rallying around Kylee. Prayers and support from the community will help, they said.
"Her life just started and now it's coming crashing down," Roske-Regas said. "But she's a strong girl and we're a strong family. We're going to take it one day at a time and ban together and fight with Kylee so she can make it through this. That's what's most important."