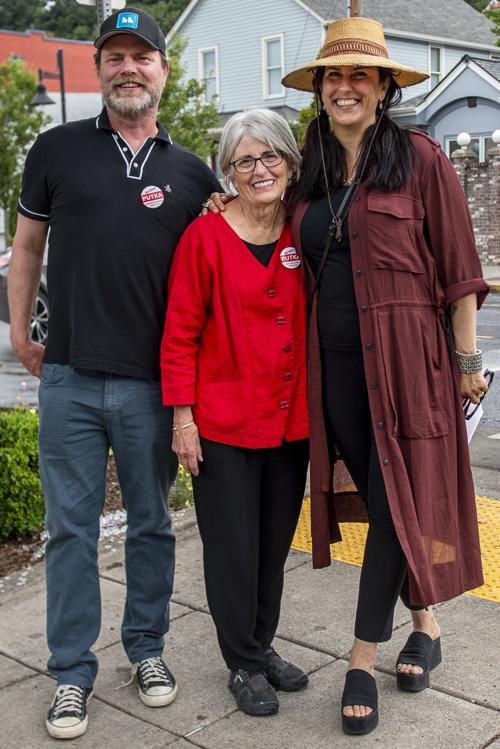 Actor Rainn Wilson claims Kalama is one of his favorite Pacific Northwest cities because it's "native translation is 'Eat beets, buy paper.' "
But the more likely reason the NBC's "The Office" star, who plays the aloof salesman Dwight Schrute, enjoys visiting the riverside city is because it's home to his parents-in law — and it's a quiet place where he can evade the limelight for a short while.
Wilson and his wife, Holiday Reinhorn, dropped into town for the Kalama Community Fair parade Saturday, though few residents seemed to notice their presence.
It was a modest visit made in support of Reinhorn's mother, Mary Putka. Putka is running for re-election to the Kalama City Council; she's served since 2011.
"We've seen all the different improvements my mom has made. She really is an inspiration," said Reinhorn, a published short-story author.
Reinhorn marched in the parade with her mother's campaign float. Wilson waited until the event wrapped up to meet with his mother-in-law downtown, a "Re-elect Putka" button pinned to his plain black polo shirt.
As Los Angeles residents, neither Reinhorn nor Wilson can cast an official ballot for Putkta. And Wilson said he doubted their celebrity will give Putka any sort of competitive advantage in the race.
"The people of Kalama don't give a rat's ass that Mary Putka's son-in-law played Dwight Schrute," Wilson told The Daily News after the parade. Voters will choose the candidate they feel is best qualified for the job, he added.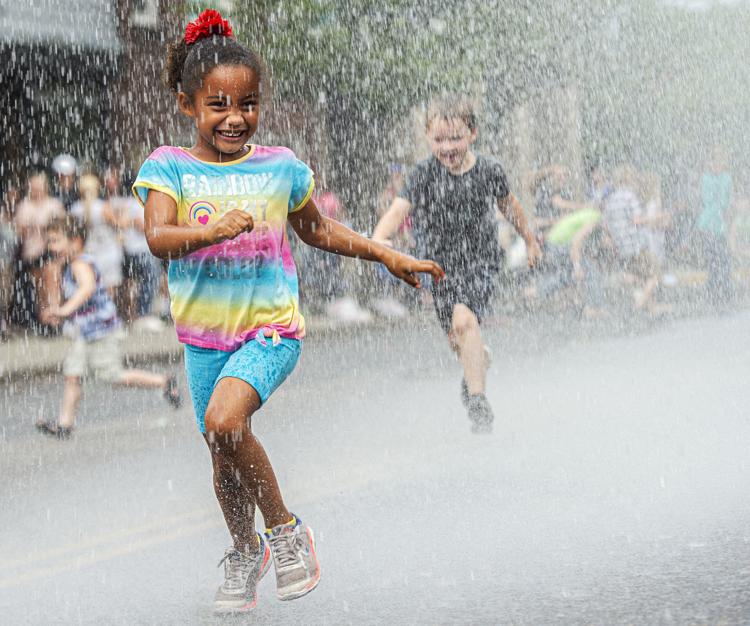 Though neither Wilson nor Reinhorn was born or raised in Kalama, they "have a long history" with the town, Wilson said. "We've been coming here for over 25 years."
They started visiting the city around 1991, when Putka and her husband, retired Cowlitz County District Court Judge Ed Putka, moved there. (Reinhorn grew up in Portland, and Wilson in the Seattle and Olympia areas.)
Wilson and Reinhorn were married in 1995 on the banks of the Kalama River, Wilson said.
"Holiday came down the river in a canoe with her father," he recounted fondly.
Wilson and Reinhorn kept their visit to Kalama brief Saturday, leaving to visit more friends and family in Seattle shortly after the parade wrapped up.
Wilson and Reinhorn both grew up in the Northwest, and they frequently make trips to the region, they said. Kalama is often a stop on their visits.
"But not often enough," Mary Putka quipped.
When they do drop into Kalama, the couple enjoys taking the river walk, going to McMenamins and shopping downtown, they said.
"We've done a lot of antique hunting here over the years," Wilson said, pointing out the Kalama Vintage Warehouse as a new shopping spot added since their last visit.
"We love to see how Kalama has been growing and changing and thriving," Wilson said.
Get local news delivered to your inbox!
Subscribe to our Daily Headlines newsletter.