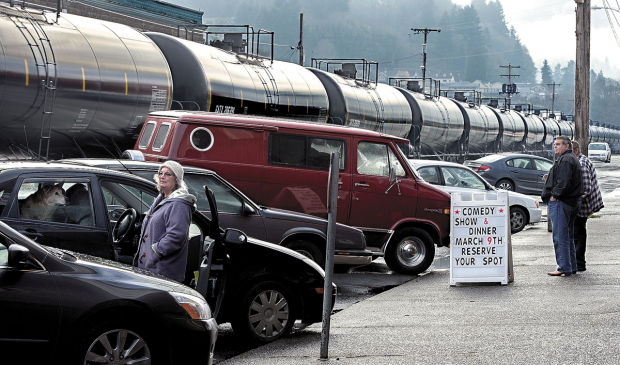 A plan to double the number of crude oil trains going to Port Westward could create 30 new jobs but is meeting resistance from Rainier officials and some residents, who have safety concerns and want improvements in the town's notoriously cramped rail corridor.
Port of St. Helens commissioners are considering Global Partners LP's request to allow up to 34 crude oil unit trains a month to call at its oil export terminal at Port Westward. The commission is scheduled to make a decision at 8:30 a.m. Wednesday at the Columbia City Community Hall, 1850 Second St., Columbia City.
The port now restricts the number of oil trains at Port Westward to 17 a month. Port Westward is the property of the Port of St. Helens, and the commissioners must decide whether the area can handle the additional trains safely.
Currently, 12 crude oil trains a month travel to Port Westward. However, Massachusetts-based Global said raising the cap would allow the company to make up to $70 million in improvements to its export facility, which it purchased from JH Kelly of Longview in February.
Trains of crude oil and logs rolling through town often disrupt businesses and traffic going through A Street, which has no barrier between the rail line and car and pedestrian traffic. The oil "unit" trains are so long they essentially cut off the whole waterfront and take seven minutes to pass through town.
"A unit train of 100 cars or more blocks the whole town, so there's no alternative. You can't drive around," said Darrel Whipple, a precinct committeeman with the Columbia County Democratic Central Committee, which adopted a resolution last week opposing the rail increase.
"It's not a good idea for the community to have train traffic preventing access to senior housing, the river front park, the post office and all the A Street businesses."
Global did not return phone calls for comment Thursday. Company officials said the improvements could create 100 construction jobs and 30 permanent jobs at its export facility, The Clatskanie Chief newspaper reported last week. The company does not have a start date for construction.
Rainier city officials and residents are concerned the potential increase in train traffic could compromise the safety of residents who live or work near the city's rail corridor. The Quebec oil train disaster last summer, and a smaller incident recently near Edmonton, Alberta, dramatized the potential for accidents and raised safety concerns about the oil tank cars rolling through Rainier.
Rainier Councilman Steve Massey said without safety improvements to A Street, he and the council would be opposed to any increase of rail usage, though it the city doesn't have authority to block the plan.
"If (the request) is pushed through, we would need a quiet zone and help with funding a non-vibration track to decrease the noise," Massey said Wednesday. "Those things would be needed to make (increased rail usage) livable for the city of Rainier."
Council members also want to install safety barriers along A street and an overpass at Veteran's Way so cars can drive over train traffic and not be trapped on either side of the tracks.
State Sen. Betsy Johnson, D-Scappoose, said she favors increasing the number of trains that can serve Port Westward because it would boost the economy. Rail safety improvements in Rainier are already in development regardless of a decision on increased rail usage from Port of St. Helens commissioners, she said.
"We're certainly working full speed ahead on Rainier. That process is underway ostensibly independent of anything else," Johnson said.
A $2 million ConnectOregon transportation grant will be used to pay for safety improvements in Rainier once the engineering and design phase is finished, and Johnson said she is working with Rainier city officials, state and private organizations to identify additional financial sources to pay for the projects, which could cost about $6 million.
"We recognize a small city like Rainier cannot undertake the cost of a project (alone). It is a mosaic of funding to solve the problem," she said.
Johnson said there is no fixed timeline on safety improvements in Rainier, but the city is at the top of her priority list. "We must affect safety improvements in Rainier before (a train) kills somebody," she said.
Lyxan Toledanes covers health and social services for The Daily News. Reach her at 360-577-2586 or ltoledanes@tdn.com.