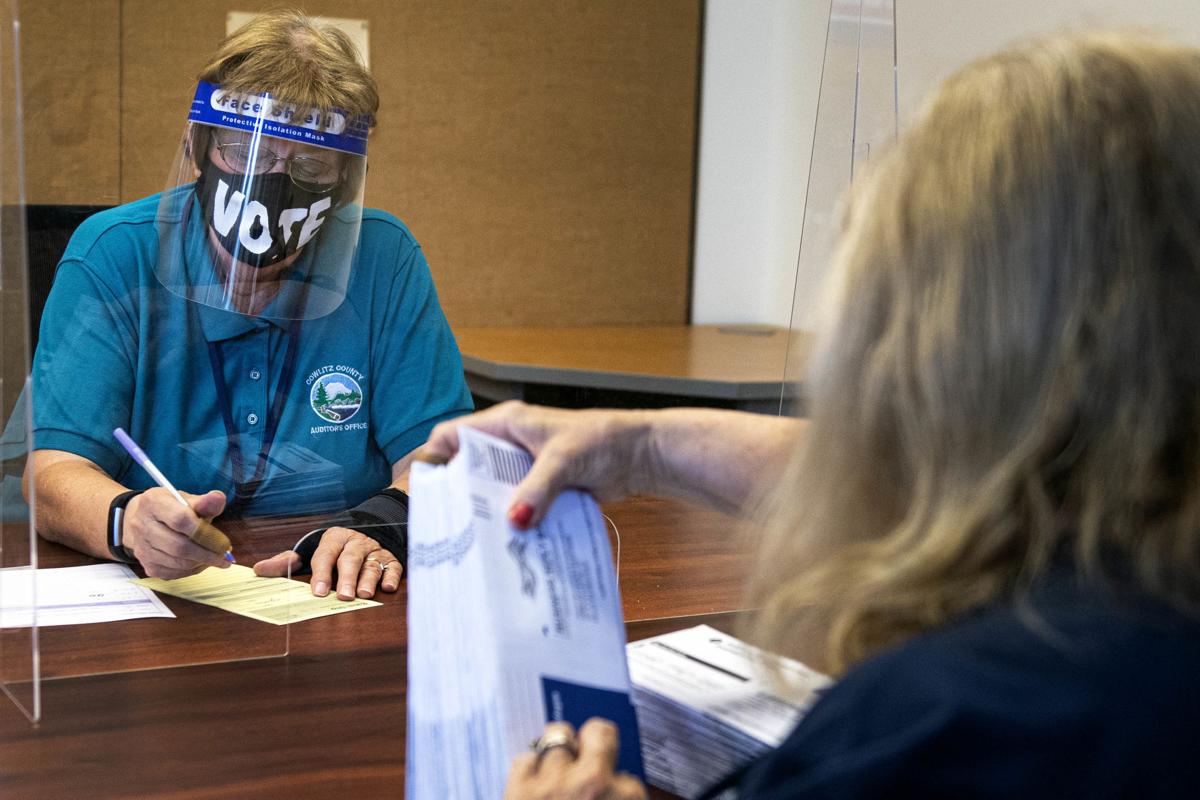 Cowlitz County voter turnout for Tuesday's primary election is so far exceeding officials' expectations.
As of Friday, 25.8% of the county's 67,760 registered voters had returned their ballots, according to the election's office.
"I was very surprised by the turnout in the spring election, and I'm surprised so far at the turnout for this primary," Auditor Carolyn Fundingsland said Friday.
Historically, even-year primary turnout averages around 35%, said Jeremy Heffernan, elections manager.
Typically, the county receives 50% of its ballots in the three days leading up to the election, Fundingsland said. Since the turnout has been higher than usual so far, the county likely won't receive that percentage on those days, she said.
"I'm not sure we're going to see the huge push towards the end (that) we usually see," she said.
The elections office, like the rest of the county departments, has adopted a variety of safety measures because of the COVID-19 pandemic. Fundingsland said workers are using the county employee cafeteria as the public lobby because it is much larger than the elections lobby and allows for social distancing.
Instead of hiring a "small army" of temporary staff, Fundingsland has diverted staff from other departments under the auditor, such as recording and licensing, to help fill the gap. County staff are already accustomed to safety procedures and will help keep elections employees safer than bringing in outside people, she said.
Prior to the pandemic, the county had invested in a mail ballot sorter, which counts the incoming ballots, takes a photo of the envelopes and batches them, Fundingsland said. The new equipment performs many of the time-consuming and labor-intensive work previously done manually and allows for fewer people in the office, she said.
The elections office is open and people can call to set up an appointment to register to vote in person through Aug. 4. On election day, lines could be longer than usual because of social distancing but anyone in line before 8 p.m. will be able to vote, Fundingsland said.
Voters will decide the top two candidates who advance to the general election in races with three or more candidates. That includes several state legislative positions, as well as two county commissioner seats.
For positions representing a specific district, only voters living in that area can cast a primary election vote.
An online voters' guide with information on each of the candidates is available at votewa.gov. A collection of 2020 election stories is attached to this article at TDN.com.
Ballots can be mailed or placed in ballot drop boxes located throughout the county. Postage is prepaid on ballot return envelopes, so no stamp is needed.
The deadline to place ballots in drop boxes is 8 p.m. Aug. 4. Mailed ballots must be postmarked by Aug. 4 to be valid. Ballot drop box site are available at:
Longview: 1525 Broadway near Longview City Hall or in the Civic Center Circle near the veterans memorial.
Kelso: Bridge Market Lane between LJ's Furness Drug Co. and the Allen Street Bridge.
Castle Rock: 137 Cowlitz St. in front of the Castle Rock Library.
Kalama: 514 North First St. near the post office.
Woodland: 336 Davidson Ave. in the city parking lot at Davidson and Second Street.
Ryderwood: 208 Morse St., just to the side of the Ryderwood Library.
Get local news delivered to your inbox!
Subscribe to our Daily Headlines newsletter.