September is trying to shrug away its reputation as one of the region's driest months.
An early autumn wind and rainstorm rolled into Longview on Tuesday morning, bringing showers, periods of drizzle and gusts up to 30 mph into the Kelso-Longview area. The wind caused power outages for hundreds of Cowlitz PUD customers, and wet road conditions also caused a semi-truck to jackknife and block two lanes of Interstate 5 northbound near Castle Rock.
Though some rain and wind are common this time of year, this September is off to a particularly wet start, said David Bishop, a Weather Service meteorologist in Portland.
According to the AccuWeather Almanac, about 2.35 inches of rain has fallen in the area in the last 16 days. That's more rain than Longview average's for the entire month of September (2.06 inches on average).
Retired University of Washington meteorologist Cliff Mass wrote in a Sept. 14 blog post that "if the model forecasts are correct, this is going to be one of the wettest Septembers in recent memory. And it is clear: Wildfire season is over." (Wahkiakum County, in fact, ended its outdoor burn ban on Wednesday.)
Mass also noted that this week a string of showers is likely to leave the region "thoroughly soaked."
In the last three days, about 1.2 inches of rain fell in Kelso, according to the Weather Service gauge. Tuesday was just a little taste of that, with about a third-of-an-inch of precipitation between 5 a.m. and 2 p.m.
The rain came paired with 30 mph wind gusts that peaked around 10 a.m.
Cowlitz PUD estimated that nearly 2,000 customers experienced weather-related power outages, many due to tree limbs and other vegetation downed by the wind.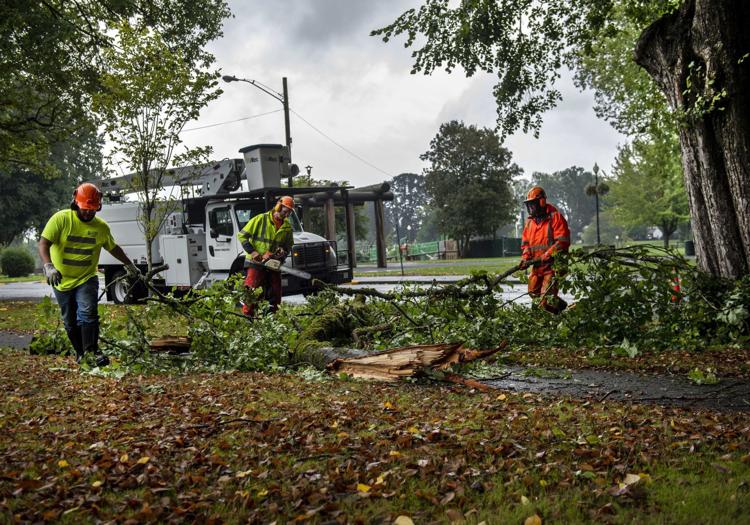 PUD crews worked through the morning to restore power and got most customers back online around noon.
Some areas remained without power well into the afternoon, though, including about near 44th Avenue and Ocean Beach Highway. Power was not restored to that area until about 4 p.m.
Another 130 customers in the Toutle area lost power around 1 p.m. after many of the outrages elsewhere had been fixed. PUD restored power for those customers shortly before 3 p.m.
You have free articles remaining.
In addition, downed power lines on State Route 4 near Cathlamet caused a brush fire shortly after 11 a.m., according to the Washington Department of Transportation. The fire and power lines were cleared about 15 minutes later, but the PUD remained on scene, alternating traffic to work on the power lines.
Though the wind speeds were weaker than those that usually cause "wind impacts," the Weather Service said it would "not be surprised" by downed branches or trees due to moist soil conditions and full foliage on the trees. It also noted that "we have not had similar frontal winds in a while."
And "you can't rule out that an 'unlucky' branch might take out a power line as it is going down," Bishop said.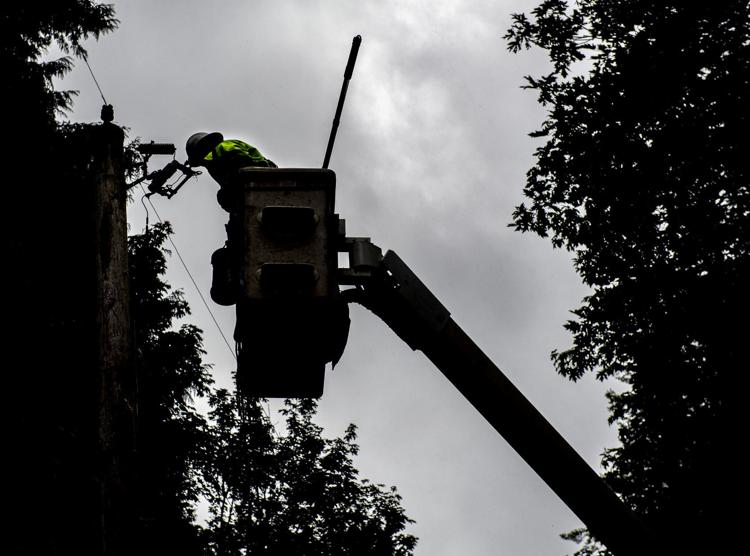 According to the Washington State Patrol, wet roadways caused a mid-morning accident in which a semi-truck driver lost control while trying to pass another driver just north of Castle Rock. The semi-truck struck a concrete barrier, causing the truck to jackknife.
The accident blocked two northbound lanes for several hours, though traffic flow had resumed to normal levels by Tuesday afternoon, said WSP trooper Ryan Tanner.
The state Department of Ecology cleaned up a small diesel spillway while the lanes were closed, and there were no reported injuries, Tanner said.
Winds weakened in the afternoon, with gusts peaking at about 20 mph. And though forecasts show that rain is possible every day this week, the likelihood for showers will greatly diminish as the weekend nears.
Local residents are not accustomed to sloshing around in rain or mud puddles at this time of the year. September is typically the fourth driest month in Cowlitz County, and during the last decade the majority of Septembers have had below-average rainfall.
Despite the recent dampness, the region's annual rainfall total still lags, Bishop said. About 20 inches have fallen so far in the Kelso-Longview area; that's about a 10-inch deficit from normal.
But, as usual, regional precipitation will likely pick up over the next few months for the "wet season," Bishop said.
"With fall coming around, now is the time to start looking into cleaning storm drains and gutters, when appropriate. … We don't have that much debris now, but it's a good idea to keep an eye on it for now," he said.