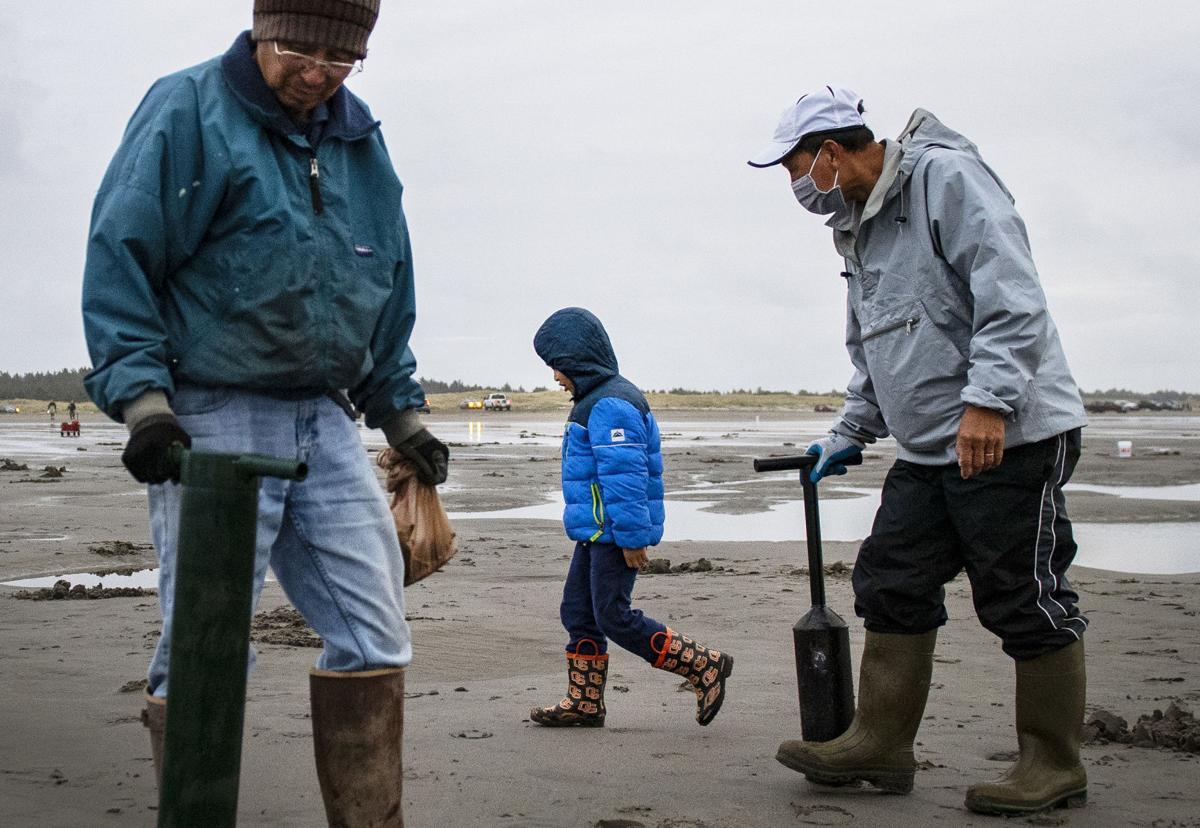 In 1991, a series of coincidences led to the discovery of the neurotoxin domoic acid in Washington's razor clams. Since then, clamming dates, and sometimes entire seasons, have been axed due to the toxin — most recently November's digs.
Washington Department of Fish and Wildlife Coastal Shellfish Manager Dan Ayres said that when he first got the call on Veteran's Day in 1991 to shut down beaches due to a new toxin it "dramatically changed the way we mange razor clams."
"We had a baptism of fire," Ayres recalled. "None of us knew what we were turning people away for, besides it would hurt you. It caused a big panic. The Department of Health closed down shellfish fisheries all over the place not knowing how widespread it was."
What is domoic acid?
Domoic acid is created by a specific kind of algae, Ayres said. Many kinds of algae create substances that are toxic to humans as part of their life cycle, and domoic acid is one of the more dangerous ones.
While shellfish and fish can accumulate domoic acid without harming themselves, it can be fatal for humans. If people eat enough contaminated shellfish, it can cause amnesic shellfish poisoning and there is no antidote, Ayres said.
The threshold for safe human consumption is of 20 parts of domoic acid per million, which is set by state public health officials. In November, tests showed clams exceeded those levels at Long Beach, Twin Harbors, Kalaloch and Copalis.
One meal of clams that have high enough levels can be fatal. A new federal study shows razor clams containing low levels of domoic acid may cause memory problems for those who eat large amounts year-round, so the Department of Health recommends you eat no more than 15 razor clams each month for 12 consecutive months.
Ayres said there has never been a human death from domoic acid in Washington, "in part because we've been very careful about how we open and close fisheries."
Cooking or freezing shellfish does not destroy domoic acid, Ayres said, and "it's not visible, it's not anything you would taste in the clams so people are totally at the mercy of our ability to monitor it."
Within 24 hours of eating too much domoic acid, people will experience vomiting, nausea, diarrhea and abdominal cramps, according to the WDFW website. In severe cases, neurological symptoms develop within 48 hours. That includes headache, dizziness, confusion, loss of short-term memory, motor weakness, seizures, profuse respiratory secretions, cardiac arrhythmia and comas.
Domoic acid had popped up a number of times in the past 30 years, Ayres said. In 2015 razor clamming and commercial and recreational crabbing were paused, and fisheries were disrupted into 2016 and 2017.
In 2005, WDFW closed Long Beach for two days, and in 2004 Kalaloch Beach was closed for much of the season. Three razor clam seasons were completely canceled due to domoic acid levels, in 1991-92, 1997-98 and 2002-03.
But that 1991 closure "was our introduction to the wonderful world of domoic acid," Ayres said.
A series of coincidences
Before that introduction, Ayres said WDFW tested clams for toxins once at the beginning of the season, specifically paralytic shellfish poison.
In 1991, the clams had come back clean. A WDFW employee was in Long Beach inspecting a commercial plant, and Ayres said the employee on a whim decided to send one more batch of clams for testing.
"He decided there's nothing on TV, I'll go dig clams and send them to be tested for something to do," Ayres said.
By happenstance, the chemist at the lab had just attended a conference in Los Angeles about a new marine threat: domoic acid, Ayres said. At the time, they used a mouse bioassay to test for toxins, where the chemist would inject mice with a concentrated solution of the clam's liquids, then watch the mouse's behavior.
California chemists had noticed domoic acid made the mice "itch like mad," Ayres said. When the Washington chemist ran the Long Beach sample, "this mouse began to itch like crazy," Ayres said.
The lab sent the samples to an FDA lab in Alabama and "lo and behold, very high levels of domoic acid," Ayres said.
The WDFW and the department of health then started testing old razor clams people had canned or frozen, and the earliest instance of detectable domoic acid came from a 1982 can of razor clams, Ayres said. But it's hard to tell how long the toxin has truly been around, because "we just didn't know about it."
"We know that the algae species had been around, but nobody was looking regularly at water then," Ayres said.
Health officials also tried to use old hospital records to see if anybody had been hospitalized for symptoms similar to amnesic shellfish poisoning, but Ayres said they couldn't find anything.
Questions remain
Since that first shutdown, "so much technology has developed ... but still we can be surprised, as we were somewhat this time," Ayres said.
The WDFW did have a small heads-up this year, Ayres said, because twice a week they test the water from the surf zone of each beach. Chemists were starting to see the algae that produces domoic acid bloom.
"We had a bit of a heads-up here that something was cooking before we saw the toxin in razor clams," Ayres said, which is why they closed the beaches before the official clam results came back.
"That meant having to go out and block beach approaches and get people off the beach ... And it was a good thing we did, because when the clams finally did get to lab, they were high."
While nobody truly knows what environmental factors lead to the blooms, Ayres said warmer ocean temperatures tend to trigger blooms, especially "the blob," an area of warmer-than-average water off the west coast of North America.
"We've been hearing throughout the summer that the blob was back, but it didn't seem to be as bad," Ayres said. "We've been watching and it looked like the blob was beginning to wane and cool down. Then pow, we got hit. Whatever it is, it doesn't happen regularly, but when it does happen it seems to come in with a big punch."
While other species like crabs and hard shell clams will purge the toxin more quickly, Ayres said razor clams "hang on" to the toxin for a long time.
"What razor clams do is they bind it up in their fat, and they're a fatty clam," he said. "That's why we like to eat them."
The next test
Ayers said they'll test the clams again Nov. 16 to see if December digs can proceed.
Washington is lucky, because the Department of Health's public laboratory in Seattle has an entire lab dedicated to shellfish testing. Ayres said that means they get clam results "dependably in 24 hours."
"That's a pretty great asset to an agency like mine," he said. "My colleagues in Oregon struggle a little bit from time to time. They don't have that same capacity."
Domoic acid "isn't an easy molecule to test for," Ayers said, requiring an expensive high pressure liquid chromatography test. The dozen clams from each beach are blended together to make a beach-specific slurry that is then put in a machine. The machine passes the slurry through a column of different materials which separate the molecules in the liquid, allowing chemists to see what is in the clams.
The sale of shellfish licenses help pay for the testing, Ayres said, and that also funds the agency's share of a Olympic Region Harmful Algal Bloom partnership with the coastal Mahkah, Hoh, Quileute and Quinault tribes, the University of Washington and the National Oceanic and Atmospheric Administration.
He said he thinks domoic acid levels haven't peaked yet, which doesn't bode well for what was supposed to be a bumper season of clamming.
"There's certainty the potential it will be closed for the entire season because razor clams are high and we know that they're just not going to lose the toxin," Ayres said. "We'll know by the middle of next week where we're headed and if this will be a blowout or not."
So far, WDFW has seen "near record participation on recent digs," with razor clam diggers making more than 80,000 trips and harvesting nearly 1.2 million clams in 2020, according to Nov. 4 WDFW press release.
"It was the strongest coastwide opportunity I've seen in my career," Ayres said. "It was very strong on every beach and we were anticipating opening as many days as we possibly could."
Ayres said the recreational razor clam is the largest recreational fishery in the state, projected this year to be valued conservatively at $50 million. COVID-19 threw the first wrench in that season, then the acid levels. But "the good news is razor clams aren't affected by the toxin," Ayres said.
"There could be a loss of razor clams for an unrelated reason, but short of that there will just be more of them, and bigger clams, when we come back."