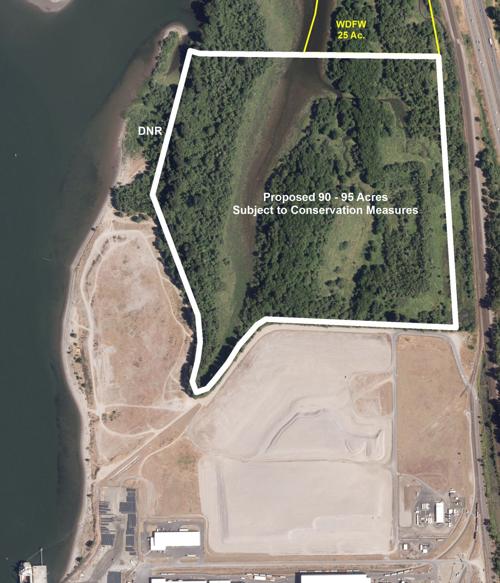 In response to concerns that arose during a three-day hearing this week, the Port of Kalama moved swiftly to beef up its plan to compensate for environmental damage from the proposed methanol project.
Port commissioners Wednesday authorized setting aside up to 60 acres of wetlands for additional ecological mitigation of Northwest Innovation Works project. The land is north of the 90-acres that Northwest would lease from the port for its $1.8 billion plant. The move came after county hearing examiner Mark Schiebmier suggested that he didn't think proponents had gone far enough to make up for the project 's impact on the shoreline.
"We proposed what believed was a solid mitigation plan. During the hearing, it became apparent that the hearing examiner would like to see some additional mitigation; he brought up that subject multiple times," said Port spokeswoman Liz Newman. "So we went back to see what we had available."
It's not clear yet whether all of the 60 acres will be used or whether the port would receive lease revenue from this additional land.
Project proponents have until Jan.31 to submit additional information to Schiebmier, and the public has until Feb.7 to comment. Schiebmier is expected to make a decision by mid-to-late February.
While Wednesday's action may have seemed quick, Newman said the port has owned the property for 20 years and had already identified it as an area for future development or possible mitigation.
Setting aside the additional land for Northwest Innovation Works, the China-backed methanol developer, would not affect future projects, Port Executive Director Mark Wilson said. He said the port has a substantial amount of land it can still use for environmental mitigation purposes. The port could not be specific Thursday about how much additional land it had.
The extra mitigation land would be on top of what proponents had already planned for compensating for the plant's effects on wetlands, aquatic lands and wildlife habitat.
As part of its permit application, Northwest had proposed removing 157 pile dikes to improve fish access; installing eight engineered log jams to create space for salmon to forage or hide from predators; restoring 1.41 acres of riparian habitat next to the project site by removing invasive species and planting native plants; and restoring 0.58 acres of wetland buffer. Adding a parking lot to improve recreational access to the shoreline was also a condition of the county's approval.
But Schiebmier was skeptical. During the hearing, he compared the methanol proposal to another project on the Columbia River, which recently received a shoreline permit after a lengthy legal battle. Columbia River Carbonates has proposed to build a new barge facility in Woodland. The calcium carbonate company proposed building a 6.3 acre nature refuge, which would be nearly twice the size of the 3.75 acre barge project site. It would also install several engineered long jams, among other actions, Schiebmier said.
"That project, which was a much smaller project, has on its base a much larger mitigation plan," Schiebmier said.
During the methanol plant hearings, opponents raised concerns about explosion risks, air pollution, effects on fish and climate change.
"Northwest Innovation Works (and the port) moved very rapidly to accommodate (and) to fix a problem they knew they had all along," said Jasmine Zimmer-Stucky, organizer for Columbia Riverkeeper, which opposes the project.
"The onsite mitigation is one important component, but they have not yet committed to greenhouse gas mitigation for the proposed project. Wetlands will not offset the carbon pollution form the proposed facility," Zimmer-Stucky added.
Northwest Innovations says is using the latest technology to control greenhouse gas emissions.
Comments on the shoreline application can be sent Ron Melin, Senior Environmental Planner, at 207 4th Ave. North, Kelso or emailed to MelinR@co.cowlitz.wa.us.